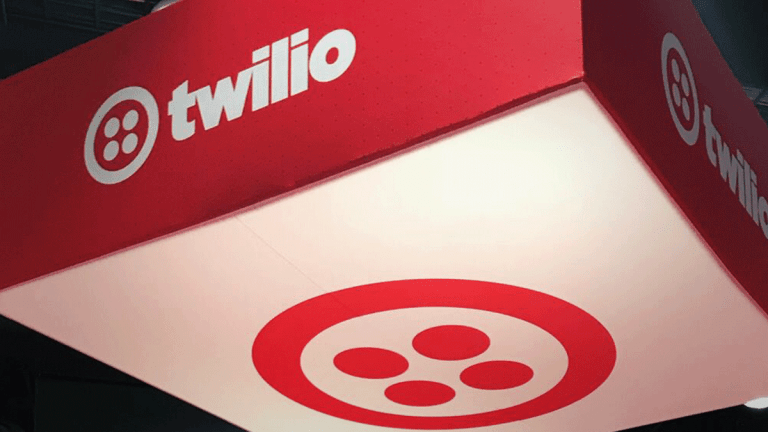 Twilio CEO Touts Big Communications Trends Working in Its Favor
The cloud communications firm rolled out a slew of new tools and updates on Tuesday, and is also making a play for the healthcare sector in 2020.
Twilio (TWLO) has the wind at its back in more ways than one, CEO Jeff Lawson told an audience at its annual developer event in San Francisco on Tuesday.
Twilio, which provides cloud-based communication platforms for customer service use, rolled out a slew of new tools and improvements that make up the next wave of its products. Twilio shares ticked up 0.95% on Tuesday and have had a strong run overall this year, with shares up 43% since the beginning of 2019.
The announcements included a new capability called Twilio Conversations, which will allow companies to link together communications from multiple channels -- such as SMS, WhatsApp and chat -- into a single stream. This could especially benefit companies that need to accommodate different preferences in how customers want to get service -- for instance, Facebook's (FB) WhatsApp is far more popular than SMS in many international markets. 
With the $2 billion acquisition of SendGrid, which closed about five months ago, Twilio added email to its portfolio of communication APIs. SendGrid CEO Sameer Dholakia introduced new advertising capabilities, such as the ability for customer leads to sign up for email lists directly from a display ad on Google (GOOGL)   Facebook or Instagram. SendGrid currently has 80,000 paying customers, adding to Twilio's 160,000. 
According to Lawson, Twilio's fortunes will only rise with the rise in use of technologies such as 5G and RCS (Rich Communication Services) messaging, a new protocol that is expected to gradually replace SMS. RCS works more like a chat service than texting, and allows for higher-fidelity multimedia messaging, among other improvements. Other tailwinds for Twilio include advancements in AI that allow for more sophisticated response to customer queries, and "bring your own device" trends in the workplace that will demand more flexible and secure ways to handle communications. 
"Conversations are eating apps as the easiest way to interact with companies," Lawson said. "It's easy, there's nothing to download, there's no call to action...people are tired of having to download apps for absolutely everything."
Companies that want to survive in the current digital age should embrace the "natural behaviors" of their customers, Lawson argued, such as responding to a text the same way you would with a live person. 
"You will be able to book an airline ticket, or make an appointment through messaging....all of these things will become possible in the next 12 to 24 months," Lawson predicted. 
Over the past several quarters, Twilio has racked up new customers at a solid clip, reporting 161,869 active customer accounts last quarters versus 57,350 in the year-ago quarter. 
Lawson signaled on Tuesday that Twilio is also taking aim at the healthcare industry, a hard-to-crack market for communications providers due to its high level of privacy regulation. In 2020, Twilio will sign on as a HIPAA "Business Associate," which will enable certain privileged patient communications to be sent using Twilio's APIs. Currently, Twilio's technology can be used by healthcare providers only on a limited basis, such as by sending appointment reminders.
Twilio, Alphabet and Facebook are holdings in Jim Cramer's Action Alerts PLUS charitable trust.