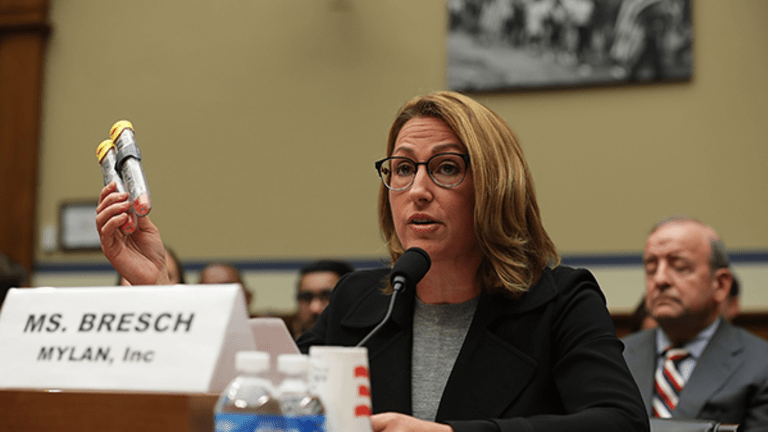 Twenty More States Accuse Mylan, Teva and Others of Price Collusion
Forty states have now sued the companies.
Twenty more states have joined the lawsuit filed in 2016 against Teva Pharmaceuticals (TEVA) , Mylan (MYL) and other generic firms, alleging that they colluded to push up prices of two drugs.
This was announced by the Connecticut's attorney general, George Jepsen in a press release Wednesday. The complaint adds claims of alleged state antitrust laws broken, in addition to previous alleged federal laws broken. Twenty states had already filed a suit against the companies involved, so this announcement puts the total at 40. 
The lawsuit alleges that Heritage Pharmaceuticals, a generic manufacturer, engaged in a price fixing scheme over an antibiotic, doxycycline hyclate and glyburide, a drug for diabetes. Others implicated include Mylan, Teva, Mayne Pharma Group, Citron Pharma and Aurobindo Pharma.
"Through its senior-most executives and salespersons, Heritage organized and initiated a wide-ranging scheme which included numerous generic drug manufacturers, all of whom were knowing and willing participants," according to the Connecticut suit.
Per the suit, the companies allegedly communicated with each other to determine and agree upon how much market share each was entitled to. They then allegedly refused to bid, or provided "cover bids" for the customers they were not interested in.
The actions of Heritage officials were highlighted these suits. 
On Dec. 14, 2016, two former executives were charged the Eastern District of Pennsylvania in Philadelphia as a result of Justice Department's investigation into alleged price collusion by generic drugmakers. The DOJ charged former Heritage CEO Jeffrey Glazer and former president Jason Malek with conspiring to fix prices, rig bids and allocate customers for an antibiotic, doxycycline hyclate, from as early as April 2013 until at least December 2015.
The department also alleged that the two conspired to fix prices and allocate customers for glyburide, a medicine used to treat diabetes, from as early as April 2014 until at least December 2015.
This came after a two-year-long investigation of the company. 
Though Mylan and Teva did not respond to immediate requests for comment, the two previously denied involvement in this collusion. 
Teva shares barely moved Wednesday, having fallen just 0.03% to $35.01 per share.
Mylan's shares were up 7.2% Wednesday, hitting $44.87 apiece. This is likely thanks to better-than-expected earnings and an investor day held Wednesday.