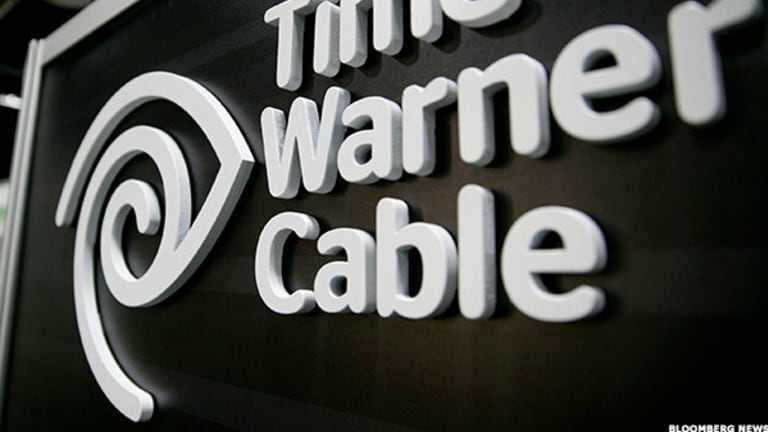 TV Station Owners Have Bigger Concerns Than Comcast-Time Warner Cable
Rather than appear duplicitous, companies owning television stations are conspicuously quiet on the subject of Comcast's proposed $45 billion acquisition of Time Warner Cable.
LAS VEGAS (TheStreet) -- Rather than call the kettle black, the country's largest TV station owners are conspicuously quiet about Comcast's (CMCSA) - Get Report plans to acquire Time Warner Cable (TWC)  in a $45 billion merger that would combine the country's first- and second-largest cable-TV operators.
The deafening silence is rooted in fears of duplicity. While cable-TV operators are seeking greater scale, local television stations owners have been doing the same. Sinclair Broadcast Group (SGBI) , Tribune and Gannett (GCI) - Get Report have all made multi-billion dollar purchases of television station groups over the past year.
And for good reason. TV station owners have sought to get larger in order to have greater clout when negotiating with pay-TV operators over so-called carriage fees to carry their signals.
"From the standpoint of the broadcaster, all this merger would do is to increase Comcast's footprint," said Andrew Schwartzman, a public interest lawyer and professor at Georgetown Law School, in a phone interview from Washington. "Broadcasters have a stronger interest in the mantra that consolidation is good than they do in picking on somebody else's consolidation."
Over the past year, the number of major television station groups has been cut in size. Hunt Valley, Md.-based Sinclair has nearly tripled its ownership of local television stations in the past three years, jumping to 167 from 58. Last year, Sinclair paid $985 million to Allbritton Communications for seven stations including its Washington D.C.-based NewsChannel 8, a cable-news channel that serves the capital region and could be ramped-up into a national news channel on cable and mobile platforms.
Gannett in June struck a deal to buy 20 stations from Belo Corp. for $1.5 billion, not including debt. The transaction required a side deal with Meredith (MDP) - Get Report, the magazine and television operator, to comply with ownership concentration rules. Once the Federal Communications Commission was satisfied, Gannett became the largest independent owner of CBS affiliates and the fourth-largest among ABC local stations. For Gannett, the owner of USA Today, the acquisition increase its holdings in broadcast, a much faster-growing business than its legacy print operations. 
Tribune took much the same tact in December, buying Local TV Holdings for $2.73 billion, a transaction that Larry Wert, the company's president of local broadcasting, in a Las Vegas interview, called a "terrific opportunity for us." The deal boosted the Chicago-based company's broadcast group to 39 stations while making it the largest affiliate of 21st Century Fox (FOXA) - Get Report. Tribune is in the process of splitting its broadcast group from its newspapers.
"It probably goes both ways," Wert said in an interview Wednesday in Las Vegas at the annual gathering of the National Association of Broadcasters. "We have some consolidation which has been helpful to us a we reposition."
If anything, television station groups are hoping that if the FCC does approve Comcast's acquisition of Time Warner, the agency would also move to eliminate cross-ownership restrictions that broadcasters habitually lobby to overturn. Chief among them are rules limiting the number of stations a company can own in the same market as well as cross-ownership of a broadcast station and a newspaper in a single locality. (Comcast also needs Department of Justice approval on antitrust issues to close the Time Warner Cable purchase.)
"If that deal is approved, I would hope that there would be some reflection on some of the ownership limits that we live with in broadcasting that might be a bit dated," Wert said. "If you think of the scale of that company [Comcast], and you think of some of the holdups on owning multiple media outlets in a city, it certainly doesn't seem like equitable rules for the playing field."
In opposing the Comcast-Time Warner Cable merger, public interest groups are focusing on the cost and availability of high-speed broadband connections to the home. Comcast CEO Brian Robert has argued that DSL and wireless providers offer competitive Internet connections, but Schwartzman countered that cable-TV holds a "de-facto monopoly in most of the country on truly high-speed broadband."
"The greatest focus and the greatest concern is really on the Internet side, which doesn't effect the broadcasters," he added.
When Comcast sought FCC approval to buy NBC Universal in 2011, station groups led by Disney (DIS) - Get Report, owner of ABC, 21st Century Fox and CBS (CBS) - Get Report objected to the deal on grounds that NBC would get better treatment, i.e. channel placement, from the cable-TV operator. The NBC Universal acquisition, unlike a purchase of Time Warner Cable, is seen as so-called vertical integration, whereby a cable-TV operator takes control of a major content producer, in this case a producer of both film and television programming.
To ease concerns about channel placement and content favoritism, Comcast signed agreements pledging equal access. A Comcast-Time Warner Cable merger would simply increase the breadth of one pay-TV provider while having little to no impact on the dynamics of their business, said Roger Keating, who runs Hearst Television's digital media operations. While cable-TV does sell local advertising, local television stations control the lion's share of that market.
"It would be difficult for me to be anti-consolidation," Keating said in an interview in Las Vegas. "We've got very healthy and mutually beneficial relationships with Comcast, Time Warner [Cable], and like any relationship there are bumps along the way, but we're hard pressed to sort out how this combination would fundamentally alter what we do."

-- Leon Lazaroff is TheStreet's deputy managing editor.
>Contact by Email.
Leon Lazaroff is TheStreet's deputy managing editor.