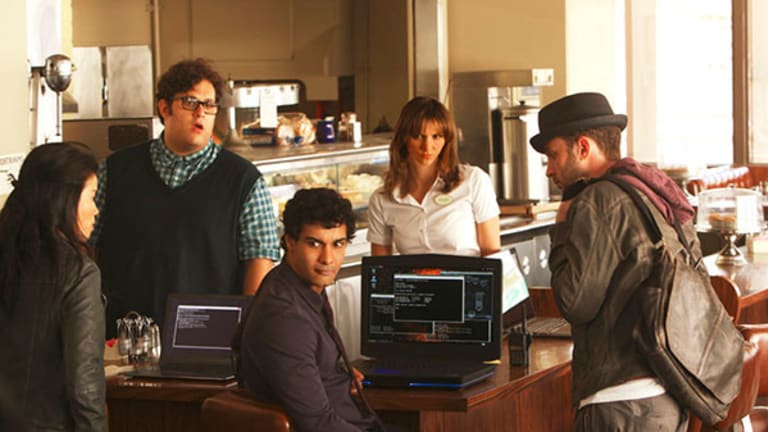 TV Ratings Off to Bad Start Amid Surge in Digital Video
Television executives have downplayed the summer ratings slip, but the fall viewing season only reinforces the view that broadcast and pay-TV viewing is declining.
Television executives have downplayed the summer ratings slip, but the fall viewing season only reinforces the view that broadcast and pay-TV viewing is declining.
NEW YORK (TheStreet) -- Television broadcasters are off to an inauspicious start to the fall season, a development that could prompt advertisers to accelerate the move of money historically spent on TV to digital instead.
Average live and same-day total viewers for returning shows fell almost 11% from the same period a year ago during the first four days of the new television season, according to data compiled by TVbytheNumbers. Even when taking into account playback viewing, returning shows attracted audiences that were lower by mid-single digits among total viewers and lower in the high-single digits among those aged 18 to 49, according to Doug Creutz, a media and entertainment analyst at Cowen & Co.
"We think there is cause for concern that deterioration in the TV audience could contribute to an outflow of TV advertising dollars to digital," Creutz wrote in an investor report.
The early reading on the fall season is concerning because it fits into a trend that began nine months ago. In the first quarter, the decline across broadcast and cable was less than 2% from the same period in 2013 while over the summer the trajectory worsened as the decline reached 10%.
The underwhelming start to the overall fall primetime television season comes just as the country's foremost advertising executives, marketers, broadcasters, Internet publishers and devotees of automated ad-buying technology such as TubeMogul (TUBE) and Tremor Video (TRMR) are attending Advertising Week, the four-day annual industry gathering taking place in and around New York's Times Square.
Advertising Week this year has been dominated by talk about the industry's eagerness to maximize online video marketing as audiences, especially younger people, move increasingly from so-called linear television into digital programming accessible on portable platforms. Marco Bertozzi, an executive at VivaKi AOD, a unit of Publicis Groupe (PUBGY) that specializes in programmatic advertising, said marketers are more mindful of online advertising as a more cost-effective means to reach their target consumers.
"What we're seeing is that the advertisers really want to understand at what point does putting more money into the system deliver diminishing returns," Bertozzi said in an interview. "Up to a point you're going to increase reach, but eventually it starts to turn off, and it's at that point everyone is building out models to invest in video."
Bertozzi's VivaKi AOD on Monday announced an expanded partnership with AOL (AOL) to sell advertising through sophisticated computer platforms designed to sift through mountains of digital data about users' commercial habits to determine where best to spend marketers' money. Digital video advertising is expected to surge 42% this year, reaching nearly $6 billion, while TV advertising, by far the largest slice of the ad pie, is forecast to increase 3.3% to $69 billion, according to eMarketer, an industry research group.
It may be early to claim that television is in the midst of a seismic shift but Cruetz did say that "given total viewership trends over the last two quarters, we think TV's share of the advertising pie is looking more vulnerable."
Of course, all is not lost for the broadcasters as CBS (CBS) - Get Report  CEO Leslie Moonves will doubtlessly be quick to point out. CBS was alone among broadcasters in posting an increase in views, though that was largely because of its airing of NFL's Thursday Night Football. Of course, total viewing for the four days was actually 14% lower than the same period a year ago when Thursday Night Football is removed from the equation.
Some new shows, however, did show promise in their debuts such as CBS' Scorpion and NCIS: New Orleans;Blackish and How to Get Away With Murder on Disney's (DIS) - Get Report ABC; Mysteries of Laura on Comcast's (CMCSA) - Get Report NBC; and Gotham on 21st Century Fox's (FOXA) - Get Report  FOX.
The question for investors and for broadcast executives is to what degree brand marketers move more of their money into digital and away from television.
"This disruption that's happening, it's here faster than any of us would have thought," said Bob Lord, global CEO of AOL Platforms, at the company's second annual programmatic event earlier this week. "A year ago, I stood on this stage really just educating people on RTB [real-time bidding] and that programmatic did not mean RTB. Today everyone is learning in figuring out how to do it."
Advertising Week concludes on Thursday.
Leon Lazaroff is TheStreet's deputy managing editor.