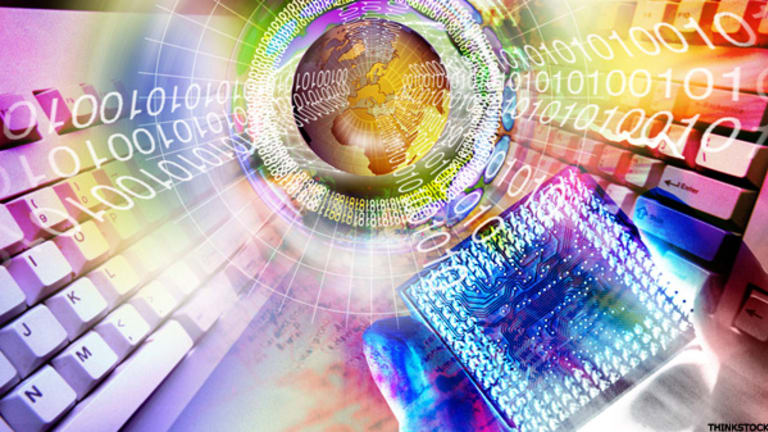 Tuesday's Tech Winners & Losers
Adobe rises on strong third-quarter revenue gains and rosy guidance.
Tech stocks experienced mixed trading as the broader market indices turned positive to recover some of Monday's losses.
Adobe
(ADBE)
gained 2.6% a day after the company reported fourth-quarter results and offered guidance that topped Wall Street expectations.
Based on strong sales of its software package Creative Suite 3, the company said revenue rose 34% from a year ago to $911.2 million, beating analysts' expectations of $887.3 million. With earnings per share of 49 cents, Adobe estimates by a penny.
Analysts, however, remained mixed about the results. The stock was upgraded to a buy from hold by Deutsche Bank, while Kaufman Brothers downgraded it to hold from buy. Shares rose $1.08 to $41.98.
Robotics company
iRobot
(IRBT)
, meanwhile, soared 5.5% after it announced a $286 million contract with the U.S. Army.
Under the terms of the contract, the Army could order up to 3,000 robots, spare parts, training and repair services over the next five years. iRobot will immediately deliver 101 robots for deployment. iRobot was up 96 cents to $18.15.
Qwest
undefined
, added 27 cents, or 4%, to $6.99 after the telecom said Monday it expects capital spending to be $1.8 billion next year, slightly more than the $1.7 billion it expected to spend in 2007. Qwest's conference call on Monday with analysts yielded little new information, but the company said it plans to upgrade its network.
Palm
( PALM) rose 3.1% ahead of the company's second-quarter results. Analysts are expecting a loss of 8 cents a share on revenue of $350.29 million in the second quarter, compared with earnings of 17 cents on revenue of $392.9 million a year ago. For the third quarter, analysts expect a loss of 4 cents on revenue of $38.04 million. The stock was up 17 cents to $5.82.
Personal navigation devices maker
Garmin
(GRMN)
fell $8.71, or 8.5%, to $93.11. The Consumer Electronics Association suggested that the outlook for consumer electronics sales growth this year, at 7%, is better than overall retail sales growth but lower than last year's 16%. Investors feared consumers may not spend as much on electronics this holiday season because of concerns of a slowdown in the economy.
Finally,
Advanced Micro Devices
(AMD)
continued to decline, falling 23 cents, or 2.9%, to $7.72 as investors remained skeptical of the company's prospects. At its analyst meeting last week, AMD said its new server chip codenamed Barcelona will be delayed to early next year, though the company hopes to hit profitability in the second half of 2008. AMD shares are now trading at a 52-week low.