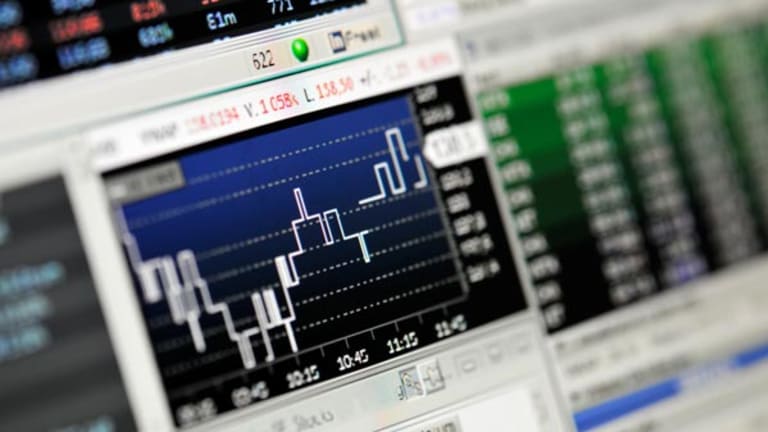 Tuesday's Tech Winners & Losers
iRobot catches a bid after narrowing its loss.
iRobot
(IRBT) - Get Report
shares jumped 17.7 %, adding $3.09, to $20.60 on Tuesday after the company said second-quarter revenue grew 33.5% to $34.6 million, up from $25.9 million for the same quarter one year ago. Guidance for the full year is $182 million to $192 million.
It narrowed its loss to $1.8 million, or 8 cents a share, compared with a loss in the second quarter of 2005 of $3.1 million, or 30 cents a share.
"iRobot reported another strong quarter, with sustained growth and product momentum throughout the first half of 2006," Colin Angle, co-founder and CEO of the company, said in a statement. "The increased acceptance of our robots and iRobot's ability to effectively execute on its plans are key drivers behind the company's success."
Powerwave Technologies
(PWAV)
plummeted 16.4 % on Tuesday after falling short of the Street's second-quarter earnings forecast. The wireless communications product company earned $12.6 million, or 10 cents a share, vs. $13 million, or 11 cents a share, a year earlier.
Excluding items, Powerwave made $17.5 million, or 13 cents a share. On that basis, the company missed the Thomson First Call average by a penny. Sales grew to $232.4 million from $186.3 million, but fell short of analysts' projection of $247.2 million. Shares fell $1.30 to $6.64.
eBay
(EBAY) - Get Report
also slipped on Tuesday, falling 1.7% after an analyst cut his price target to $28 from $35 on the stock. Benjamin Schachter of UBS noted that "we believe that Ebay's multiples have come down more precipitously because of increased concern about the core marketplace business."
"Until investors see declining growth in the core business stabilize, newer initiatives are not likely to have a meaningful impact on the stock," he noted Monday. UBS does and seeks to do business with the companies it covers.
The price-target haircut was further bad news for eBay, which reported
uninspiring guidance for the third quarter in a row on July 19. For its second quarter, net income dropped to $249.9 million, or 17 cents per share, from $291.6 million, or 21 cents, a year earlier. Sales grew 30% to $1.41 billion. On an adjusted basis, excluding certain costs including stock-based compensation, the company's earnings were 24 cents a share, matching the Thomson Financial estimate.
For the third quarter, eBay said it expects to earn 22 or 23 cents a share for the third quarter on sales of $1.36 billion to $1.43 billion. Analysts had hoped for earnings of 24 cents a share on revenue of $1.43 billion, according to Thomson First Call. eBay shares fell 42 cents to $23.65 in recent trading.
And the sentiment on eBay likely influenced others in the Internet sector, such as online retailer
Amazon.com
(AMZN) - Get Report
, which shed 3.5 % of its value in recent trading. Shares lost 95 cents to $25.94.
Altiris
(ATRS) - Get Report
, on the other hand, jumped 16 % after the software company reported better-than-expected second-quarter results. The company made $2.8 million, or 10 cents a share, compared with $4.6 million, or 16 cents a share, a year earlier. Excluding items, the company earned $7.3 million, or 25 cents a share, compared with the Street's estimate of 16 cents. Revenue grew 20% over a year ago to $55.6 million, beating analysts' target of $52.6 million. Altiris also said that its board authorized the repurchase of up to $50 million of its stock. Shares gained $2.76 to $20.02.
The hammer fell on other tech stocks on Tuesday, sending
Intel
(INTC) - Get Report
, down 44 cents to $17.56,
Microsoft
(MSFT) - Get Report
, off 4 cents to $24.02,
JDSU
(JDSU)
, also down 4 cents to $2.10,
Sun Microsystems
(SUNW) - Get Report
, down 15 cents to $4.20,
Dell
(DELL) - Get Report
, off 9 cents to $21.59,
Cisco Systems
(CSCO) - Get Report
, off 23 cents to $17.65,
Sirius Satellite Radio
(SIRI) - Get Report
, down 7 cents to $4.13,
Applied Materials
(AMAT) - Get Report
, off 27 cents to $15.49,
Apple Computer
(AAPL) - Get Report
, losing $1.39 to $66.57,
Oracle
(ORCL) - Get Report
, down 24 cents to $14.73 and
Yahoo!
(SYMBOL)
, also off 24 cents to $26.90.