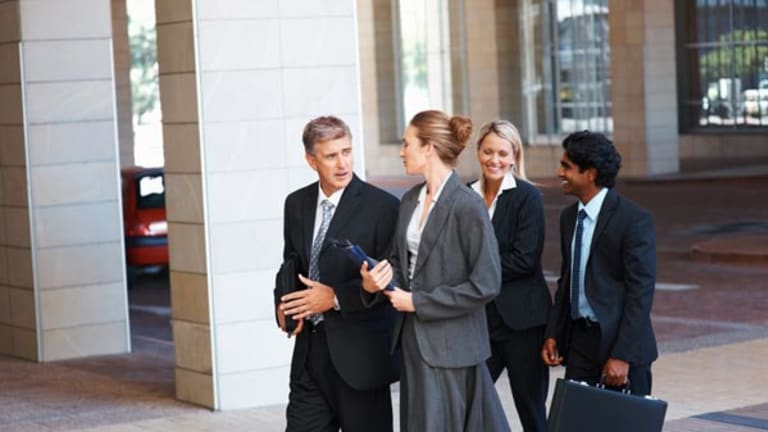 Tuesday's Analysts' Upgrades and Downgrades
Who made what calls.
CHANGE IN RATINGS
Aquantive
( AQNT) upgraded at Oppenheimer: AQNT was upgraded from Neutral to Buy, Oppenheimer said. $28 price target. Recent pullback presents a buying opportunity, as the company remains leveraged to the strong online advertising market.
Ashland
(ASH)
downgraded at JP Morgan: ASH was downgraded from Overweight to Neutral, JP Morgan said. Shares appear fully valued, though the private-market price could be as high as $75. Company will likely pay more special dividends.
American Express
(AXP)
downgraded at AG Edwards: AXP was downgraded from Buy to Hold, AG Edwards said. $60 price target. Valuation call, plus the outlook for consumer spending and credit quality is murky.
Centene
(CNC)
downgraded at Goldman Sachs: Goldman said it is downgrading CNC to a Sell rating from Neutral based on valuation. Believe price no longer reflects underlying risk of earnings shortfall. Target price at $22.
ConocoPhillips
(COP)
upgraded at Deutsche: COP was upgraded from Hold to Buy, Deutsche Bank said. $80 price target. Company will likely pare back capex spending in 2007, and focus its excess cash flow toward buying back stock.
UBS downgrades shares of
Hershey
(HSY)
: HSY downgraded to a Neutral rating from Buy, UBS said. Lowers 2007 EPS estimates to $2.66 from $2.71 and drops price target to $56.00 from $60.00.
Kyphon
( KYPH) upgraded at Morgan Stanley: Morgan Stanley upgrades Kyphon from underweight to equalweight after its recent purchase of SFMT.
ManPower
(MAN)
upgraded at Morgan Stanley: Morgan Stanley upgrades Manpower to overweight from equalweight, and raises its price target from $65 to $67.
Magna International
(MGA)
downgraded at UBS: MGA shares downgraded to Neutral from Buy, UBS said. Drops price target to $85.00 from $88.00 and lowers 2007 EPS estimates to $6.41 from $7.00.
Marathon Oil
(MRO)
downgraded at Deutsche: MRO was downgraded from Buy to Hold, Deutsche Bank said. $96 price target. Stock is more expensive than COP, but shares similar characteristics.
Starbucks
(SBUX)
upgraded at UBS: UBS upgrades shares of SBUX to a Buy rating from Neutral. Maintains price target at $42.
Sirius Satellite
(SIRI)
downgraded at Bear: SIRI was downgraded from Outperform to Underperform, Bear Stearns said. Company warned of lower subscriber growth, and the retail environment could remain soft. OEM customers also losing market share to XMSR.
Schlumberger
(SLB)
downgraded at Wachovia: SLB was downgraded to Market Perform, Wachovia said. Company is trading at a 44% premium to its peers and a 20% premium to its average historical valuation.
Station Casinos
(STN)
downgraded at Bear: STN was downgraded from Outperform to Peer Perform, Bear Stearns said. Stock is already reflecting an anticipated takeover bid in the mid- to high-$80's.
STOCK COMMENTS / EPS CHANGES
Bank of New York
(BK)
numbers raised at UBS: UBS raised numbers at BK. Ups 2007 EPS estimates to $2.49 from $2.42 and lifts price target to $44.00 from $38.00. Reiterates Neutral rating.
CIT
(CIT)
price target raised at UBS:CIT price target raised, UBS said. Lifts price target to $62.00 from $57.00. Reiterates Buy rating.
Henry Schein
(HSIC)
estimates decreased at Goldman: 2006 estimates on HSIC lowered to $1.99 from $2.10, Goldman said. Company lowered guidance due to lower demand for flu vaccine and shift in expected meningitis vaccine sales to 2007. Maintained Neutral rating and $53 target.
Lubrizol
( LZ) target raised at Jefferies: LZ price target raised, Jefferies said. Ups to $57.00 from $53.00. Reiterated Buy rating.
Psychiatric Solutions
(PSYS)
estimates raised at Jefferies: PSYS EPS estimates raised at Jefferies. 2007 EPS estimates lift to $1.44 from $1.39. Price target remains at $36.00 and reiterates Hold rating.
Sirius Satellite
(SIRI)
estimates cut at Goldman:Goldman said it is lowering its 2006 estimates on SIRI to a 79-cent loss from a 52-cent loss after company lowered year-end subscriber target range to 5.9-6 million from 6.3 million previously. Target price decreased to $3.50 from $3.75 and maintained Sell rating.