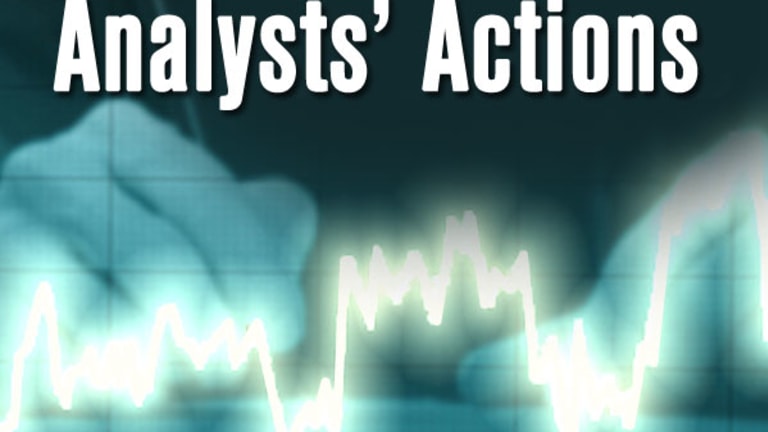 Tuesday's Analysts' Upgrades and Downgrades
Who made what calls.
CHANGE IN RATINGS
Applebee's
(APPB)
upgraded at Merrill: APPB was upgraded to Buy at Merrill Lynch. Stock also added to the Focus List. $31 price target. Merrill Lynch estimates the company could refranchise 47% of company-owned stores.
EDO
( EDO) upgraded to Neutral at Credit Suisse: Credit Suisse is upgrading EDO to Neutral from Underperform. Believes outlook looks healthier as acquisitions should make earnings less volatile. Raised target price to $27.
Eaton
(ETN) - Get Report
downgraded at Jefferies: Jefferies is downgrading ETN to Hold from Buy due to strong headwinds in coming 9 months. Maintained price target of $75.
FTI Consulting
(FCN) - Get Report
rated new Buy at UBS: UBS is initiating coverage on FCN with a Buy rating. Sees E-discoveries and bankruptcies driving estimates and multiple. Sets $36 target price.
Intel
(INTC) - Get Report
downgraded at Goldman Sachs: Goldman is downgrading INTC to Neutral from Buy based on valuation. See expected market share gains and cost reductions priced into shares. Price target at $22.
Legg Mason
(LM) - Get Report
coverage initiated at Goldman Sachs: Goldman is initiating coverage on LM with a Neutral rating. See limited upside for shares due to three EPS misses. Expect 3%-4% organic flow growth with no return to historically robust rates. $86.19 price target.
PPD
( PPDI) upgraded at Bear: PPDI was upgraded from Peer Perform to Outperform, Bear Stearns said. Company posted a strong quarter, and the stock should be bought on any weakness. $46 price target.
Resources Connection
(RECN) - Get Report
coverage initiated at Goldman Sachs: RECN coverage initiated at Goldman with a Hold rating. Hybrid temporary staffing/professional services firm should see modest results due to slowing US labor market. Target price at $27.
Resources Connection
(RECN) - Get Report
initiated at Morgan Stanley: Morgan Stanley initiates Resources Connection with an overweight rating and $35 price target.
Werner Ent.
(WERN) - Get Report
downgraded at Wachovia: WERN was downgraded to Underperform, Wachovia said. Stock was up 10%, and then the company its third quarter. WERN not participating in freight rebound, and faces difficult fourth quarter comps.
Yahoo!
(YHOO)
downgraded at Cowen: YHOO was downgraded from Outperform to Neutral, Cowen said. Company losing market share in display advertising as well as paid search. Potential acquisitions could also weigh on future returns.
STOCK COMMENTS / EPS CHANGES
Andrew
( ANDW) price target raised at Jefferies: Price target on ANDW increased to $11 from $9.50, Jefferies said. See favorable cable pricing and focus on cost reduction driving upside. 2006 estimates upped by 2 cents to $0.40. Reiterated Hold rating.
Coach
(COH)
target price raised at UBS: UBS is raising its target price on COH to $43 from $40 based on better expectations for Fall season. Maintained Buy rating.
W.W. Grainger
(GWW) - Get Report
price target raised at Goldman: Goldman is increasing its target on GWW to $71 From $67 after company reported solid Q3 results on healthy MRO demand. Believe premium valuation limits upside for shares. Maintained Neutral rating.
Mattel
(MAT) - Get Report
estimates raised at Piper: Piper is raising its 2006 estimates on MAT by 12 cents to $1.30 a share to reflect strong September quarter results. Maintained Market Perform rating.
Wachovia
(WB) - Get Report
estimates lowered at Goldman: Goldman is decreasing its 2006 estimates on WB to $4.68 from $4.71 after company reported weak Q3 top line. See stronger Q4 ahead. Maintained Buy rating.