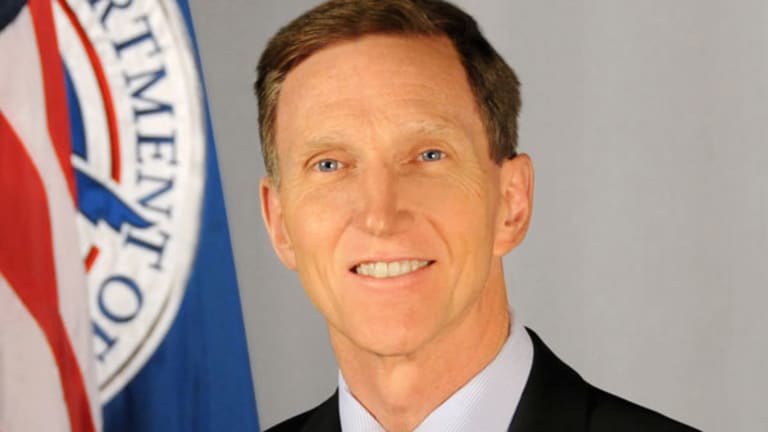 TSA's Pistole: U.S. Is 'Gold Standard for Aviation Security'
TSA Administrator John Pistole says the U.S. is 'the gold standard for aviation security;' he is working on speeding up the security lines.
CHARLOTTE (
) -- The best indication that the Transportation Security Administration is doing its job well is that terrorists appear to have little interest in challenging it.
Since the agency was established following the Sept. 11,2001, terrorist attacks, every attempt to attack U.S. commercial aviation has been initiated at one of the 275 airports around the world with non-stop service to the U.S., said TSA Administrator John Pistole, who spoke with reporters in Charlotte on Friday.
"We know from intelligence that terrorists see the U.S. as the gold standard of aviation security, because of all the layers," Pistole said. As a result, every known attempt to infiltrate U.S. airspace has originated elsewhere.
The "shoe bomber" sought to blow up a Paris-Miami flight in 2002. The "underwear bomber" flew from Amsterdam to Detroit in 2009. Terrorists mailed bombs in toner cartridges on a cargo plane from Yemen in 2010, hoping the devices would be transferred to passenger flights to the U.S. Terrorists in Yemen turned over a bomb to a double agent they thought was a future suicide bomber in 2012. All four of these efforts failed.
Pistole said non-metallic bombs, which were used in each of the four cases, remain the biggest threat to aviation security. He said such bombs may be discerned by dogs sniffing for explosives, by the TSA's millimeter wave, whole-body scanners, by TSA employees or by some other detection method. "No one layer of security picks everything up," he said, noting that better technology is being developed.
Although it has been successful in deterring terrorists, the TSA also delays normal passengers, who constitute near all of the 650 million passengers the agency processes each year. In fact, Pistole's stint as administrator, which began in July 2010, is best known for the continuing introduction of procedures to enable quicker screening for select groups of passengers, including those under 12 or over 75, airline crews, active soldiers and travelers who join a Pre-Check program, which permanently entitle them to expedited screening once they clear a background check.
Expedited screening means passengers don't have to take off their belts, coats or shoes and don't have to remove computers and liquids from containers. Pre-Check is available to passengers who are invited by their airline or who sign up through the Customs and Border Protection Global Entry program, paying $100 for a five-year membership. So far
Alaska Air
(ALK) - Get Alaska Air Group, Inc. Report
,
American
(AAMRQ.PK)
,
Delta
(DAL) - Get Delta Air Lines, Inc. Report
,
United
(UAL) - Get United Airlines Holdings, Inc. Report
and
US Airways
(LCC)
have signed up passengers.
Additionally, the new "Managed Inclusion" program being tested in Indianapolis and Tampa entitles passengers to expedited screening if they pass inspection by both a dog and a TSA officer who asks questions.
Pre-Check is available at 35 major airports including Charlotte Douglas and is being extended to more airports this year. Pistole said that about 5.5 million passengers have gone through Pre-Check screening.
At Charlotte, he said, about 10% of passengers take advantage of expedited screening (including Pre-Check members and the three other eligible passenger groups) This is the highest level for any airport in the country.
A TSA spokesman declined to speculate on the reason for Charlotte's high participation, but strong support from US Airways, which operates its largest hub in Charlotte, appears to be one reason. An airline spokeswoman said that 60,000 Dividend Miles Preferred members are eligible to participate in Pre-Check, but declined to say how many actually do.
Charlotte's high participation may also reflect the absence of
Southwest
(LUV) - Get Southwest Airlines Co. Report
, the largest airline that has not yet joined the Pre-Check program, from the airport. The equation will likely change this year -- Southwest will take over
AirTran's
Charlotte service in April, and it also is among carriers expected to join the expanding list of those offering Pre-Check to their passengers.
-- Written by Ted Reed in Charlotte, N.C.
>To contact the writer of this article, click here:
Ted Reed