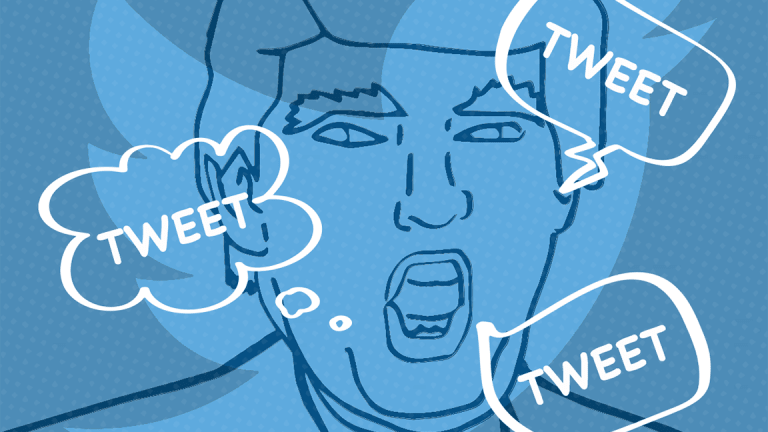 Trump's Twitter Shout-Out to Target's CEO Says a Lot About Market's Next Move
A slow summer Friday on Wall Street? Maybe not. Federal Reserve Chairman Jerome Powell speaks at Jackson Hole, which could move the market. Tesla's Model 3 build quality is in focus. Stick with PayPal.
Keep talking up that economy folks, the more you do the more investors should wonder if the second quarter was as good as it will get this year.
GDP growth of 4.1% during second quarter isn't sustainable, and you can see the market voicing that view by rotating into consumer staples/healthcare and staying cautious on semiconductor stocks. 
Friday's latest hype-fest comes compliments of a 5:57 a.m. tweet from @realDonaldTrump:  "Target CEO raves about the Economy. "This is the best consumer environment I've seen in my career." A big statement from a top executive. But virtually everybody is saying this, & when our Trade Deals are made, & cost cutting done, you haven't seen anything yet!" Donald Trump is a little late on the news here -- Target (TGT) - Get Report CEO Brian Cornell made the interesting comments after earnings earlier in the week.
I think Federal Reserve Chairman Jerome Powell will inject a dose of reality back into the market's mindset via his Jackson Hole speech on Friday. The Fed has voiced growing worry on asset valuations and now would be a needed time for Powell to keep market expectations in check. After all, can't have Trump's Twitter feed pushing up the Dow 400 points during a slow summer Friday session ...   
Data Dump
Shame on you for selling PayPal (PYPL) - Get Report over the last month on fears of slowing growth (stock down 4%). Believe it or not, the digital beast that is PayPal is just getting started in so many areas of its business. RW Baird tech analyst Colin Sebastian reminded investors about the potential in a new note.
"Given the myriad of of monetizable avenues for Venmo, the range of medium-term outcomes are quite wide," Sebastian said. "Our analysis suggests a base case incremental revenue contribution in 2021 of $300 million, a reasonable upside scenario of $475 million, and a 'best case'scenario of more than $1 billion -- with margins above those of core PayPal. While Venmo may not fully replace lost eBay contribution profit, we expect investors to put a premium on Venmo-generated incremental revenues."
Mic drop. Here's is my podcast talk with PayPal CEO Dan Schulman, in case you weren't totally sold.
Around TheStreet
Always fun times writing a critical take on Tesla (TSLA) - Get Report and being shredded by the Twitter trolls for 12 hours straight. The latest skeptical piece of digital ink was a short story on the build quality of Tesla's Model 3. UBS supplied the research from a Model 3 teardown, we offered up the space. Why is anyone surprised by the Model 3 missing bolts? Tesla is making some of these things in a tent.
Veteran journalist Jon Markman has arrived on TheStreet, and we are lucky to have him aboard. "Markman on Tech" is Jon's new, twice a week column for TheStreet that will serve up analysis on emerging themes on tech and how to profit from them. The first "Markman on Tech" dove into the robot scene in China and who is poised to be a big winner.
TheStreet's Tesla/autonomous driving expert @BretKenwell is still on the road meeting with sources in the indsutry. He served up a new analysis of the chip players capitalizing on the autonomous driving movement, one, of course, being Intel (INTC) - Get Report via its Mobileye division.
@ScottGamm chatted it up with sports radio legend Mike Francesa on the floor of the New York Stock Exchange. The guy is quite the dresser, much respect from this well-dressed millennial.
In the latest "Bull vs. Bear" segment, yours truly and @KatherineRoss go toe to toe on Chinese internet giant Alibaba (BABA) - Get Report after earnings. Bottom line: If you don't get what Alibaba does, why bother investing $1 into the company?
TheStreet's founder @JimCramer kept it real on the markets in his latest Real Money piece: "It doesn't matter whether the market is up or down, it just keeps making stupid collective decisions, almost as moronic as collective farming, and even as it steams me all day -- if you were to be in the office with me you would hear me seething and yelling at the screen -- it's where you can make a lot of money."