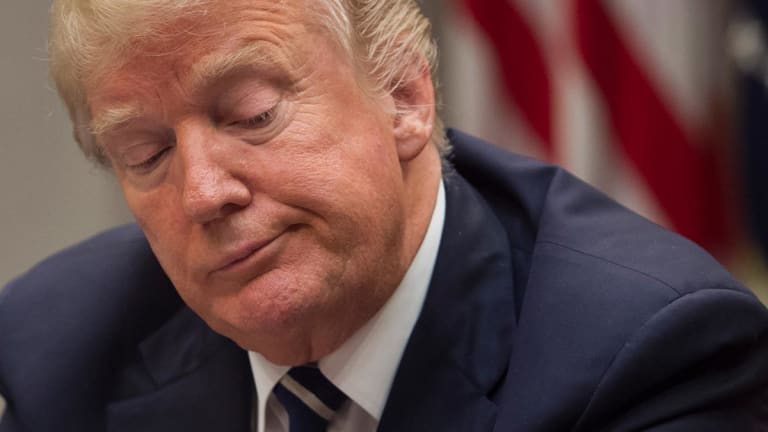 Don't Let Trump's Trade War Sucker You Into Making a Bad Call on Stocks
Fear the trade war. Republic Services CEO Don Slager continues to be bullish on his company's prospects. Nike crushed it on earnings.
Fear the trade war. Republic Services CEO Don Slager continues to be bullish on his company's prospects. Nike crushed it on earnings.
This market is crazy. 
I dare you to go long into the weekend, a few days ahead of the U.S. tariffs on China goods kicking in. Trade war talk has quieted down this week, and the market is fighting to stage a sustainable bounce. Don't be fooled.
When the Dow Jones Industrial Average I:DJI doesn't drop 400 points on a Trump trade tweet, that's the buy point. Meanwhile, insightful insight on the markets here from Jeff Kleintop, chief global investment strategist for Charles Schwab Corp. (SCHW) - Get Report : "People are a little bit more pessimistic, a little more cautious than they were. Cash balances have crept back up a little bit after getting really low. Still, they're on balance a little more optimistic than they have been in the last eight or nine years and that does suggest we're closer to the end of this cycle than we are the beginning. But we're certainly not at the levels of euphoria either in valuations or in individual investor sentiment that we've seen in the past."
Names on TheStreet
Life is all about opportunity. When it knocks, kick down the door. Snagged an email from a source that said the CEO of Republic Services (RSG) - Get Report  would be in town Thursday. It's not very often the CEO of the second largest waste disposal business ($23 billion market cap) is walking the floor of the New York Stock Exchange.
Real glad I shuffled things around to talk with Don Slager, who began at the company as a teenager and is now CEO some 35 years later. Slager told me he is not seeing any signs of recession in his business (sorry Wall Street) and that China's decision on Jan. 1, to stop taking our waste has helped his company. I asked him if merging with larger rival Waste Management (WM) - Get Report is of any interest -- he said he hasn't thought about it. The two control about 45% of the industry, so a deal would be tough. But Slager did sound like a man ready to pull the trigger on an acquisition of a decent-sized private operation. To date, the company has made about $79 million in tuck-in acquisitions.
All in all, glad I pulled out the NYSE badge for this one. 
Stocks of the Day
Nike (NKE) - Get Report put a stake in the ground with its quarterly results on Thursday evening. It's the type of quarter that should worry those betting on a very strong Under Armour (UAA) - Get Report turnaround this year (there will be one though). It's the type of quarter that suggested gambling on better results from Foot Locker (FL) - Get Report  this holiday season would be OK. It's also the type of quarter that says the global demand environment, at least before Trump's tariffs kick in, isn't falling apart. While weakness in Nike's key Jordan brand is a worry, the broader story of returning cash to shareholders and improving profit margins (and a continued knack for driving down its corporate tax rate) should keep momentum behind Nike's stock near-term.
Where is there no momentum at the moment? Starbucks (SBUX) - Get Report  .
It's a stock I said a few days ago wasn't cheap enough (that was before the chief financial officer decided to "retire" this week). Shares of the coffee giant are down 5.5% over the past five sessions and 15.2% during the last month. That's abysmal. Bottom line: You never want to see the CFO step down  a week after bad news, ahead of a closely watched earnings report and before a restructuring process begins.
So is the stock cheap enough today? Nope. The bad financial news could be just getting started.