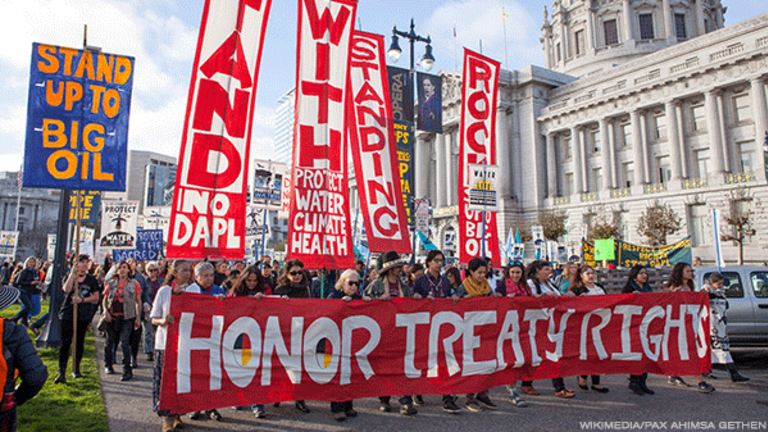 Here Are All the Stocks That Could Prosper From Trump Restarting Keystone, Dakota Pipelines
Get your notepad ready.
President Donald Trump on Tuesday signed two executive orders that will move forward the construction plans for the controversial Keystone and Dakota Access pipelines. 
Several stocks stand to benefit from the moves, including the pipeline builders and oil producers that will now have a way to get their product to market.
In November, then-President Barack Obama rejected the Keystone Pipeline planned by TransCanada (TRP) - Get Free Report  to move oil from Canada's tar sands region to the U.S. Gulf Coast for refining and export. 
On the producer side of the equation SM Energy (SM) - Get Free Report and Newfield Exploration (NFX) and Whiting Petroleum WLL, as well as Hess (HES) - Get Free Report and ContinentalResources CLR, who all drill in the Bakken Shale region served by the planned Dakota Access Pipeline, stand to gain.
Likewise, in November the U.S. Army Corp of Engineers did not grant pipeline operators Energy Transfer Partners (ETP) and Sunoco Logistics Partners (SXL) a permit to construct the highly controversial Dakota Access Pipeline project without rerouting around Lake Oahe in North Dakota.
Trump's actions, if carried out, would fulfill a campaign pledge to lessen energy exploration and transportation regulations and to encourage the U.S. fossil fuel industry.
Sunoco shares rose about 1.2% on the news, while Energy Transfer added 1.2%. TransCanada shares traded in the U.S. added 0.5%. 
In late morning trade, SM added 1.2%, Hess shed 0.4%, Newfield Exploration added 0.25%, Whiting shares were flat, and Continental rose almost 2%.