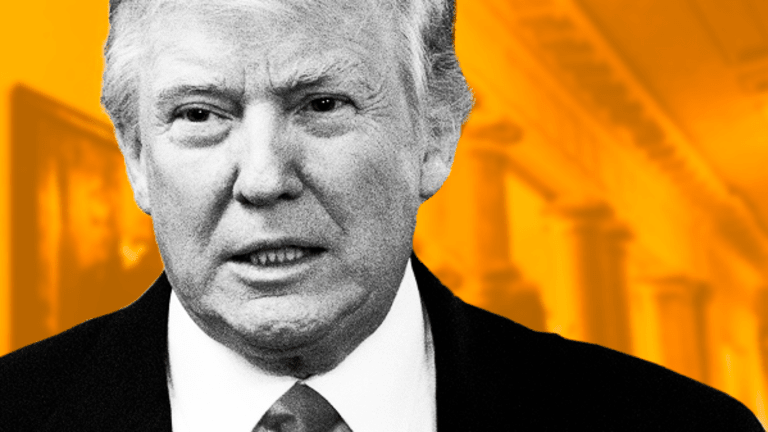 Trump to Congress: Repeal Obamacare Now, Replace Later
GOP leaders hope to strike a deal today.
President Donald Trump told Congress in an early-morning tweet Friday that if they can't pass the proposed healthcare bill they've been laboring over, they should repeal Obamacare now and replace it at a later date.
Senate Republicans delayed a vote on their healthcare bill, the Better Care Reconciliation Act, on Tuesday until after the July 4 recess. Senate Majority Leader Mitch McConnell (R-KY) had initially planned a vote this week but scrapped it after a number of GOP senators came out in opposition to the legislation, including Ron Johnson (R-WI), Rand Paul (R-KY), Mike Lee (R-UT), Dean Heller (R-NV) and Susan Collins (R-ME). Even more expressed opposition when it was more politically opportune to do so, after the vote had been postponed.
The nonpartisan Congressional Budget Office on Monday estimated the BCRA would increase the number of people without health coverage by 22 million and cut the federal deficit by $321 billion through 2026. It also forecast it would reduce federal Medicaid spending by $772 million within the same timeframe and cut billions of dollars in taxes, largely for the rich.
The CBO released additional estimates on Thursday that the BCRA's cuts to Medicaid would be even more severe after 2026 and reduce federal Medicaid outlays by 35% by 2036.
After campaigning for seven years on repealing Obamacare, Republicans have found that overhauling the U.S. health system, one-sixth of the American economy, is easier said than done. A USA TODAY/Suffolk University poll released on Wednesday found that just 12% of Americans support the Senate healthcare bill.
Senate Majority Leader Mitch McConnell (R-KY) is continuing to make changes to the bill in an effort to cajole enough GOP lawmakers into supporting it. The Washington Post reported he is aiming to send a revised version of the BCRA to the CBO as soon as Friday. Senator John McCain (R-AZ) joked a new bill so quickly would happen "if pigs fly."
Trump's Friday tweet is a shift from his comments Tuesday, when he hosted all 52 Republican senators at the White House in an effort to shore up support for the healthcare bill.
"It will be great if we get it done," he said. "And if we don't get it done, it's just going to be something that we're not going to like. And that's okay, and I understand that very well."