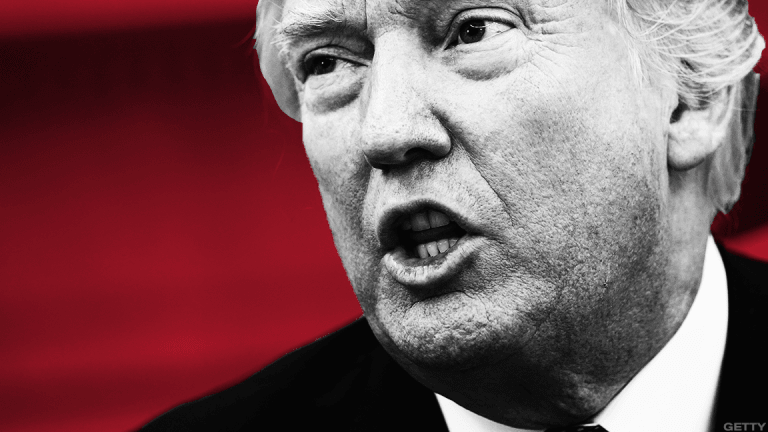 Trump Ire Turns to NBC After Similar Attacks on CBS, CNN and ESPN
Trump calls an NBC report on comments he made about the nation's nuclear arsenal 'fake news,' charging the Comcast network should be shut down.
President Trump may just be running down the channel lineup.
On Wednesday, Oct. 11, the reality-TV-star-turned-president appeared to threaten to take steps to revoke the broadcast licenses of NBC, a unit of Comcast Corp. (CMCSA) - Get Free Report , for violations he labeled as "Fake News."
The president's latest tweet aimed at a major news broadcaster appeared to be provoked by an
that Trump called for a tenfold increase in the U.S. nuclear arsenal during a White House meeting in July with military, a request that apparently too those in attendance by surprise. Members of the Joint Chiefs of Staff and Secretary of State Rex Tillerson were said to have been unprepared for the directive. NBC News reported that no such expansion is planned.
Trump jumped on the report to assert that not only was it inaccurate but that NBC was somehow similar to Time Warner Inc.'s (TWX) CNN, with which the president has sparred for many years.
Trump's beef with NBC comes after months of reporting from numerous news outlets challenging the veracity of his declarations. Though leaks have dogged administrations as long as there's been a free press, Trump regularly labels critical coverage "fake news," despite the term being recently
as "false news stories, often of a sensational nature, created to be widely shared online for the purpose of generating ad revenue via web traffic or discrediting a public figure, political movement, company, etc."
Trump's assertion that somehow he might seek to revoke NBC's broadcast license belies the way in which broadcast networks and local TV stations are granted licenses. Not only is there no such thing as one license that a broadcaster such as NBC might own, its programming is carried by dozens of local affiliates around the country, the great majority of which aren't owned by Comcast.
The Federal Communications Commission would have to revoke any such licenses one by one, and history shows there are few instances of them being revoked, and certainly not for critical coverage that might be termed political rather than personal.
The FCC and NBC weren't immediately available for comment.
Trump's tweets attacking NBC follow a similar attack on CBS News. Back in April, the president walked out of an interview with John Dickerson in the Oval Office after being asked to support his claim, widely refuted, that former President Barack Obama had ordered a wiretap of the Trump campaign. Trump, however, backed away from the question, cut off the interview and later referred to Dickerson's program as "Deface the Nation."
In response, CBS CEO Leslie Moonves said he stood firmly behind his news department. "At a time of unfair criticism of the veracity of mainstream news, the extraordinary team at CBS News has never been more essential," Moonves said at an advertising event held at Carnegie Hall. (The network's Stephen Colbert also defended Dickerson during a lengthy monologue that led to talk of potential FCC action for an expletive used by the late-night host. The FCC did not pursue a fine.)
More recently, Trump has blamed ESPN "SportsCenter" host Jemele Hill for the network's subscriber declines despite a recent rate increase owner Walt Disney Co. (DIS) - Get Free Report obtained from Altice USA Inc.  (ATUS) - Get Free Report . And Trump's long-running feud with CNN shows no signs of dissipating.
Mainstream media outlets, though, aren't the only ones challenging the veracity of Trump's comments. Republican Sen. Bob Corker of Tennessee went on record last week to assert that the president routinely makes inaccurate statements.
"I don't know why the president tweets out things that are not true," Corker told The New York Times. "You know he does it, everyone knows he does it, but he does."
Trump also has tweeted about "Liddle' Bob Corker," who has said he will not seek reelection.
Comcast is a holding in Jim Cramer's Action Alerts PLUS Charitable Trust Portfolio. Want to be alerted before Cramer and the AAP team buy or sell CMCSA? Learn more now.
More of What's Trending on TheStreet: