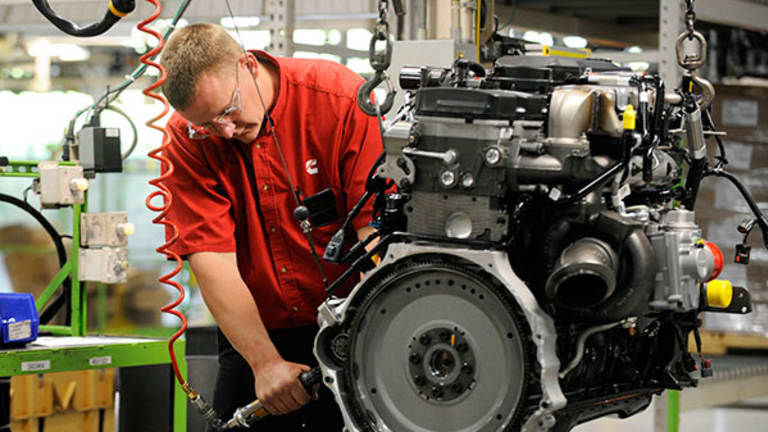 Trump Talks Jobs With Detroit Big 3
The president met with the CEOs of GM, Ford and Chrysler amid talk of border taxes, NAFTA negotiations and a push to add jobs in the U.S.
The CEOs of General Motors (GM) - Get Free Report , Ford Motor (F) - Get Free Report and Fiat Chrysler (FCAU) - Get Free Report headed to the White House on Tuesday morning to talk about border taxes and new investments in the U.S., among other topics.
President Donald Trump tweeted pre-meeting that the focus of the meeting will be "jobs in America," saying "I want new plants to be built here for cars sold here!"
That would be a big ask, as the Detroit-three have not built a final assembly plant in the U.S. since General Motors completed a new facility in Michigan in 2006. In the years since foreign automakers have added capacity, primarily in southern right-to-work states, while U.S.-based companies have focused more on shifting production around facilities and not new construction.
Trump has had some success with the automakers since the election, with Ford announcing it would scrap plans to build a new assembly plant in Mexico and instead invest $700 million in U.S. facilities. GM and Chrysler have each announced investments topping $1 billion apiece.
But those decisions were based at least partially on market dynamics, and not politics, and Trump likely faces an uphill battle convincing the automakers to commit to new final assembly facilities at a time in the cycle where they are closely watching capacity.
The automakers for their part are trying to avoid Trump imposing a so-called border tax on vehicles assembled in Mexico and imported to the U.S. Such a tax would add cost and complexity to operations, and could even impact U.S.-built cars that source parts from Mexico. Companies would face difficult choices about whether to surrender marketshare, raise prices or swallow increased costs, and could determine it is cheaper to pay a high tariff instead of building new plants in the U.S.
The execs are also likely to lobby Trump concerning his efforts to rework the North American Free Trade Agreement.