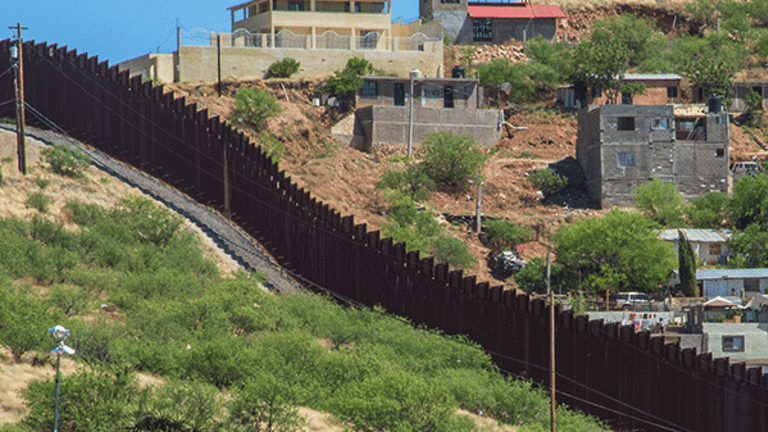 Trump's Wall Will Profit Mexican and Italian Cement Makers: Exane BNP
Italy's Buzzi and Mexico's Cemex are likely to be the biggest winners from the controversial wall, while Texan's can expect a short squeeze higher building material prices.
The symbolism of Donald Trump's planned wall along the U.S. southern border has been lost on few, but the irony may have escaped some. Amid the President's "America First" rhetoric it will be foreign cement makers, including Mexico's Cemex (CX) - Get Free Report , that will benefit most from his iconic construction.
San Pedro-based Cemex, alongside Italy's Buzzi Unicem (BZZUF) are the No.2 and No.4 cement suppliers in Texas, where the bulk of the new wall will be built, and have spare capacity to benefit from the estimated 43 million cubic yards, or about $4 billion, of cement that the will be needed.
"The wall could boost demand for building materials in Texas by almost 15% per annum in 2017-21," wrote analysts at Exane BNP in a note published Friday. "Most building materials companies are sold out in the state, so the uplift is likely to be on local pricing and import volumes."
Or to put it another way: Texan's will suffer increased prices, while most of the benefit of improved margins and increased volumes are likely to flow to foreign firms.
"Buzzi has the largest exposure to Texas and spare capacity following its expansion last year," noted Exane BNP. "Cemex also has plants near both sides of the boarder and the potential to import from further afield."
The broker believes that if a wall is constructed, and assuming that it cover about 1,000 miles (as indicated by President Trump), and is similar in construction to Israel's wall in the West Bank, then cement demand in the U.S. states bordering Mexico will increase by about 5%, with the uptick felt most keenly in Southern Texas, where cement consumed by the wall would equate to about 23% of current annual demand.
For Buzzi that could translate into an about 16% increase in its forecast 2020 EBITDA, while Cemex could add 9% over the same period.
There are U.S. cement makers in Texas. North Carolina's Martin Marietta (MLM) - Get Free Report is the states biggest supplier with 24% of the market, while Texas's own Ash Grove Cement (ASHG) and Zachry have 7% and 6%. Yet all have little to no margin to increase output.
That leaves the road open to the foreign players to profit. Cemex and the Franco-Swiss Lafarge Holcim both have 18% of the Texan market, Buzzi has 15%, while Germany's HeidelbergCement has 9%. Crucially all have double digit room to expand production to meet new demand.  
Much like the wall, nothing is concrete yet.
The practicalities of the project, the cost (which Mexico insists it won't bare), and the potentially long process of clearing it with state legislatures and courts, could result in significant delays and potential replacement options. Drones, increased patrols and the use of wire alternatives could be used to plug gaps.   
Exane BNP also notes that dimensions of the wall remain unknown. A thin and shallow wall might meet the political goals of the project, even though it would lessen the practical effectiveness. A thicker wall that runs deep underground - Israel's planned extensions to the Gaza wall could extend as much as 30 meters below the surface to inhibit tunneling - would significantly boost cement volumes and foreign cement maker's bottom lines.