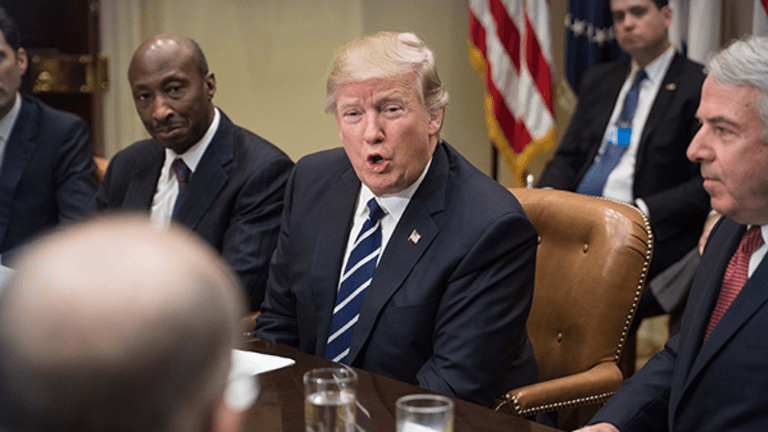 How President Trump Has Sent Biotech Stocks Soaring
The iShares NASDAQ Biotechnology Index ended the five days ended Friday, June 23 up 26% to close at $370.74.
Shares of biotech stocks were on fire this week, due largely to news that President Trump and his advisers are working on an executive order meant to restrain escalating drug prices.
Trump's plan is good news for drug developers because its appears there won't be new restrictions on drug companies nor will Medicare be allowed to use its market muscle to keep drug prices low. Instead, biotechs and pharma companies would be getting what they want: fewer regulations on drug development.
The iShares NASDAQ Biotechnology Index (IBB) - Get Report  closed up for the five days ended Friday, June 23, up $77.04, or 26%, to close at $370.74. 
Gainers among the biggest biotechs were Amgen Inc. (AMGN) - Get Report , up $9.40, or 5.8% for the week. Bioverative Inc.  (BIVV)  up 3.4% to $62.57. Regeneron  (REGN) - Get Report shares were up 11.5% to $517.33. Vertex Pharmaceuticals Inc. (VRTX) - Get Report was up 7.7% to $133.50.
The main thrust of the order, which is still being developed, would be to ease regulatory hurdles to drug approvals. That ostensibly could lower the cost of bringing new treatments to market and thus lower prices.
The White House is also likely to require the United States trade representative to study price differences between the United States and other countries and to examine whether trade agreements should be revised protect intellectual property rights of U.S. drug companies.
Also targeted would be a federal program requiring the drug industry to give discounts to hospitals and clinics that serve large numbers of low-income patients.
The order would promote value-based pricing, under which drugmakers would be paid more when their drugs prove effective at lowering treatment costs, particularly for chronic conditions that account for a huge percentage of health care costs like diabetes, multiple sclerosis, hepatitis C and high cholesterol.
Visit here for the latest business headlines.