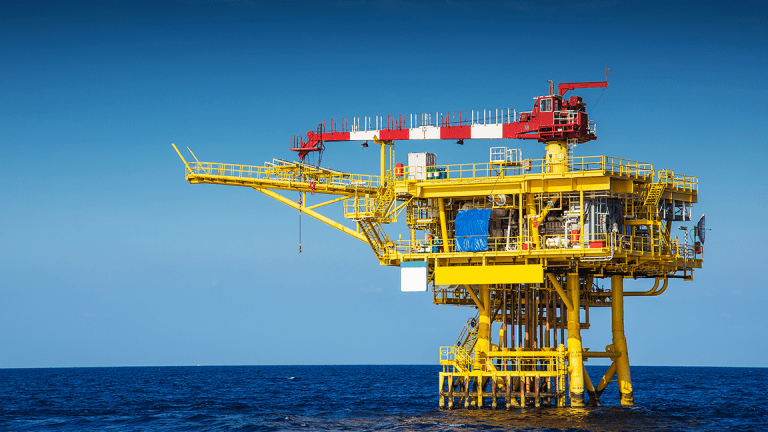 Oil Driller Stocks Pop - Trump Opens Almost All U.S. Waters to Offshore Drilling
The Trump administration plans to give the energy industry access to drilling rights to about 90% of the U.S. outer continental shelf.
The Trump administration is reversing an Obama-era policy and will allow offshore oil and gas drilling in nearly all U.S. waters, it announced on Thursday.
Secretary of the Interior Ryan Zinke said that his department will open up 90% of offshore land for drilling as part of a five-year plan, representing the largest number of oil-lease sales in U.S. history. Under the Obama-era plan, just 6% of the same acres would have been made available for drilling.
"We're embarking on a new path for energy dominance in America, particularly on offshore," Zinke said. "We are going to become the strongest energy superpower," he continued.
Following the announcement, the Energy Select Sector SPDR ETF (XLE) rose about 0.4% to $74.87 in afternoon trading. Oil prices rose as well -- U.S. benchmark West Texas Intermediate (WTI) crude contracts for February delivery gained 0.5% to $61.97 at 2:30 p.m. EST.
The plan will likely please the oil industry, particularly offshore drillers. Shares of Noble Corp. (NE)  and Ensco plc  undefined rose by 2% and 1.7%, respectively. International oil majors that focus on offshore drilling could also benefit. Norwegian oil and gas company Statoil SA (STO) stock jumped about 1% and France's Total S.A. (TOT) rose about 1.7%.
President Trump signed an executive order in April to have the Interior Department review the Obama-era drilling plan. Trump said that the plan "deprives our country of potentially thousands and thousands of jobs and billions of dollars in wealth."
The new plan opens federal waters off the coasts of Florida and California, which has been blocked since 1960s, to drilling. But Florida's Republican Governor Rick Scott opposes the measure and will be meeting with Zinke to discuss the "crucial need to remove Florida from consideration."
It could take as long as 18 months to finalize the new plan, according to the New York Times, citing experts.
Just before the new year, the Bureau of Safety and Environmental Enforcement (BSEE) announced that it would propose revisions to Obama-era offshore drilling safety requirements. 
"By reducing the regulatory burden on industry, we are encouraging increased domestic oil and gas production while maintaining a high bar for safety and environmental sustainability," said Director Scott A. Angelle.
More of What's Trending on TheStreet: