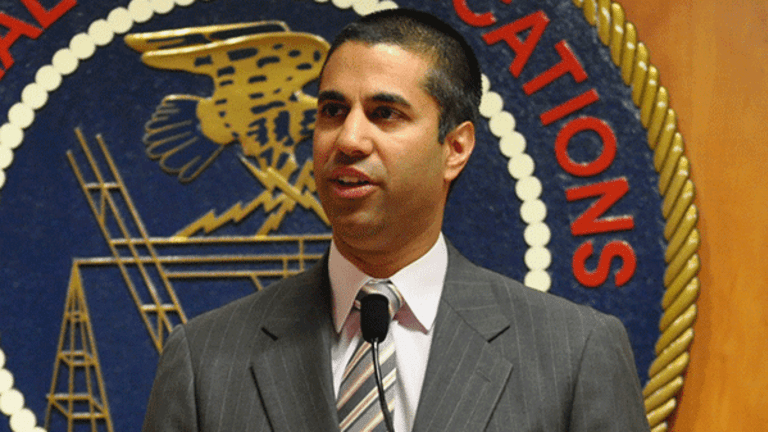 Setting Up Clash Over Net Neutrality, Trumps Names Ajit Pai FCC Chairman
Pai was promoted to become the next commissioner of the FCC on Monday, a move likely to win support from broadband providers who opposed Obama's net neutrality regulations.
Ajit Pai, who opposed net neutrality and worked earlier in his career as a Verizon Communications (VZ) - Get Free Report attorney, will become the next chairman of the Federal Communications Commission.
Pai has served on the commission since 2012 as one of two Republicans on the five member FCC. As expected, he was promoted to replace Tom Wheeler, who resigned shortly after Donald Trump's presidential victory.
The change of power at the FCC is certain to set up a showdown over net neutrality, rules backed by former President Obama aimed at ensuring equal access and pricing for all Internet users. Pai regularly opposed Wheeler's initiatives, thereby winning the support of broadband providers such as AT&T (T) - Get Free Report and Comcast (CMCSA) - Get Free Report . On the other side of the debate were many of big internet companies that stream video and move large amounts of data over the internet, such as Amazon (AMZN) - Get Free Report, Alphabet's Google  (GOOGL) - Get Free Report , Facebook (FB) - Get Free Report, NetflixNFLX , Twitter (TWTR) - Get Free Report .
As a commissioner, Pai opposed rules giving cable-TV subscribers alternatives to having to "rent" a set-top box from pay-TV operator. Those rules are now unlikely to become law in the wake of Trump's election. Additionally, Pai has opposed regulations that would require broadband operators to increase internet speeds to certain benchmarks, and federal efforts to pre-empt state laws designed to prevent municipalities from building their own broadband networks. 
But it is the question of net neutrality, a major landmark of Obama's communications policies, that is likely to draw the most attention as Pai becomes FCC commissioner. 
The FCC passed net neutrality rules in February 2015, laying down regulations designed to prevent broadband operators from creating pay-to-play fast lanes that might favor the traffic of some companies and users above others. The rules came after more than a year of heated debate between consumer advocates on one side, and broadband providers including Comcast, Verizon and AT&T on the other.
On 3-2 party line vote, the FCC applied Title II of the 1934 Communications Act to the Internet, thereby classifying the network as a public utility. The rules prohibit internet service providers from discriminating one set of traffic over another, or allowing for so-called paid prioritization that would favor users able to pay for preferential treatment over broadband wires.
The new regulations, Wheeler argued at the time, were necessary to prevent dominant broadband suppliers from abusing their ownership of broadband wires to maximize revenue and profits.
Soon after Trump was elected, Pai himself said in a speech to the Free State Foundation in Washington, that he would take a "weed whacker" to FCC regulations. As for net neutrality, Pai simply said "its days are numbered.
Because Pai is already on the FCC, his promotion to commissioner doesn't require Senate approval. But Pai's replacement on the commission will require Senate confirmation.
Silicon Valley was supportive of net neutrality, although companies such as Netflix and Apple took a low-profile during the run-up to the vote, preferring to allow industry lobbies to speak for them. In its quarterly letter to shareholders earlier this month, Netflix urged the Trump administration to support current rules around net neutrality.
"No one wants [Internet service providers] to decide what new and potentially disruptive services can operate over their networks, or to favor one service over another," Netflix said in the letter. "We hope the new US administration and Congress will recognize that keeping the network neutral drives job growth and innovation."