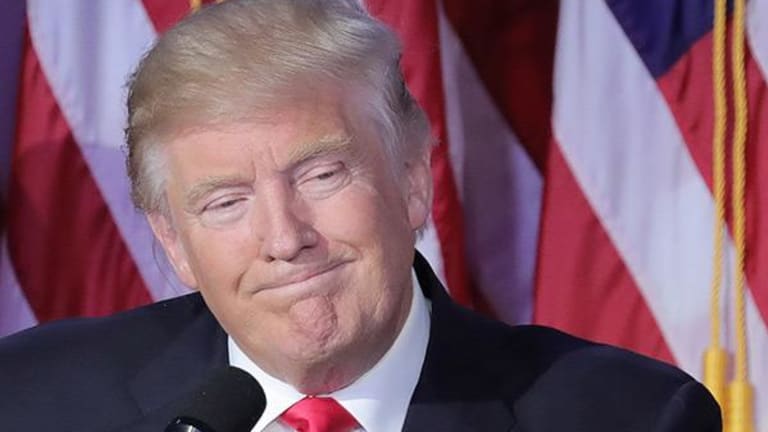 Trump, Net Neutrality and Netflix
The president-elect has tweeted his displeasure with net neutrality, but ending the policy could require the courts or Congress -- and would shake up the video market.
As Donald Trump prepares to take office, the fate of net neutrality, or the policy that broadband providers do not favor traffic from one source or destination over another, is in question.
The outcome could affect video streaming and other services that consumers use, and and impact companies with streaming services such as Netflix (NFLX)  , Dish Network (DISH) and network operators such as AT&T (T) , Verizon (VZ) , Comcast (CMCSA) and Charter (CHTR) .
Comcast is a holding in Jim Cramer's Action Alerts PLUS Charitable Trust Portfolio. Want to be alerted before Cramer buys or sells CMCSA? Learn more now.
Netflix faces the greatest risk among the media companies that UBS tracks, analyst Doug Mitchelson suggested in a report.
"Without  Net  Neutrality  rules  in  place,  broadband  providers  would  be  able  to  charge  online  video  services  for  bandwidth  usage,  as  well  as  sell  priority  access  (guaranteed streaming quality) and favor their own services," Mitchelson wrote.
Network operators could charge Netflix, which declined to comment, a fee to carry its movies and shows. Netflix could face a disadvantage against Hulu, Mitchelson added, because the rival streaming service has struck deals with Cablevision (CVC) and other cable providers to allow its service through a channel on set-top boxes.
While net neutrality is absent from the "positions" page of the Trump campaign site, the president-elect has tweeted his displeasure with the regulations.
The campaign reportedly has sought advice from Jeffrey Eisenach of the American Enterprise Institute, who opposes net neutrality. Eisenach told Congress in 2014 that Netflix and streamers like it that advocate for the policy are seeking "free rent" on the broadband networks that carry programs. The Trump campaign did not respond to a query.
Network operators have introduced zero-rating policies, which allow their users to stream proprietary video eating into their data limit. The practice puts rival video providers at a disadvantage, because streaming the competitor's content would diminish the subscribers' monthly data.
AT&T, for instance, has zero-rating for its DirecTV streaming service. Jon Wilkins, who heads the Federal Communications Commission's Wireless Bureau, sent the telecom a letter warning that its "Data Free TV" and "DirecTV Now" packages could disadvantage competitors and consumers.
Verizon allows users of its go90 wireless streaming app to watch NFL games and other content without affecting their data limits.
Dish Network Chairman Charlie Ergen suggested in an election-day earnings call that zero rating violates net neutrality. The satellite-TV company has introduced a streaming service called Sling.
"We already have concerns with AT&T and potentially with DirecTV Now where they're working a zero rate on their AT&T system, but they won't necessarily let other providers, whether it be Sony Vue or Sling or Netflix or whatever, be zero rated on their systems," he said. "So we think that's a violation of where net neutrality is today."
Ergen acknowledged that Republican leadership could reconsider the policy.
"In general, I think the Republican leadership, whether it be in the Congress or the executive branch, and potentially now in the Supreme Court, would have a lighter hand to regulation," he said.
If the government or the courts struck or weakened the rules and consumers have to pay more or lose options, Ergen suggested, there could be a backlash.
"The American public, the same people that voted in the election are going to say [I want] to be treated fairly and I don't want to be gouged," he said.
Barclays analyst Amir Rozwadowski noted that the Obama administration won a ruling that upholds the net neutrality policy in the U.S. Court of Appeals for the D.C. Circuit earlier this year.
"Therefore, trying to turn the clock back on net neutrality will require either a legislative process or a path through the Supreme Court," Rozwadowski wrote.  "In our view, an easier way to neutralize the effect of net neutrality would be through a more cable-friendly FCC Chairman, who could take a more benign view of how the rules should be interpreted, especially on broadband pricing and [marketing different tiers of service]."
It could be some time before Netflix actually feels the impact of any of these moves, UBS's Mitchelson noted. Even if the broadband providers are able to charge fees to the streaming companies, the analyst wrote, it could actually make it harder for Netflix's online competitors to eat into its business.
"Netflix should eventually  get  large  enough  and  diversified  enough  away  from  the  U.S.  that  its  negotiating  leverage  with  broadband  providers  could  even  out," Mitchelson wrote. Broadband providers could feel heat if their subscribers can't get Netflix.
If Trump terminates net neutrality, he won't just shake up the Obama regulatory regime -- he could also rattle the streaming market and an array of services popular with voters.