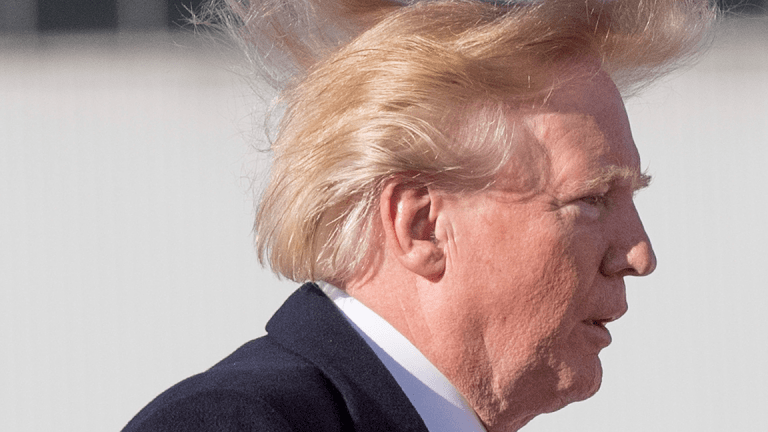 Trump Call for $100 Billion in New Tariffs Spooks Futures, Asia Markets
President Trump continues to have tariffs on China on the top of his agenda. On Thursday, he suggested tariffs on an additional $100 billion worth of Chinese products.
Friday may end with a bang, but not the kind the bulls were hoping for after two decent days of calm trading. 
President Trump said Thursday he has instructed U.S. Trade Representatives to potentially slap $100 billion in additional tariffs on China. Dow Jones Industrial Average undefined futures initially tanked more than 400 points on the news. In more recent action, Dow futures have trimmed their losses to be down 280 points, or about 1.14%. S&P futures were down about 1%.
"In light of China's unfair retaliation, I have instructed the USTR to consider whether $100 billion of additional tariffs would be appropriate under section 301 and, if so, to identify the products upon which to impose such tariffs," Trump said in a statement released by the White House.
Stocks in Asia were mixed overnight.
In Tokyo the Japan Nikkei 225 fell 0.05% to 21633.91. Daiichi Sankyo rose 5.1%. Takeda Pharmaceutical fell 4.1%.
In South Korea the KOSPI 50 fell 0.76% to 2085.96.
In Hong Kong the Hang Seng Index rose 1.21% to 29877.11.
In Singapore the FTSE Straits Times Index rose 0.61% to 3426.5.
In Bombay the India S&P BSE SENSEX fell 0.26% to 33510.79.
In Australia the ASX All Ordinaries rose 0.04% to 5890.5.
In Auckland the NEW ZEALAND NZX 50(CAP) rose 0.33% to 3807.42.
Gold moved higher to $1,334.70 an ounce. Oil fell 0.7% to $63.12 a barrel. The yen was higher against the dollar. The euro gave up earlier gains.
The latest proclamation from Trump threatens to undo work this week by his administration to temper fears of a trade war with China. New National Economic Council head Larry Kudlow said Wednesday any tariffs wouldn't kick in for several months. The market quickly reversed on the comments, with the Dow erasing a 510 point drubbing to finish up 230 points. 
Trump launched the trade controversy a month ago saying he wanted to punish China for dumping steel and aluminum at below-market rates in the U.S.
China retaliated this week, announcing tariffs on a variety of U.S. goods including wine and agricultural products.
Here are some key stories from TheStreet's newsroom this week on the tariffs. Be prepared for a volatile Friday session.