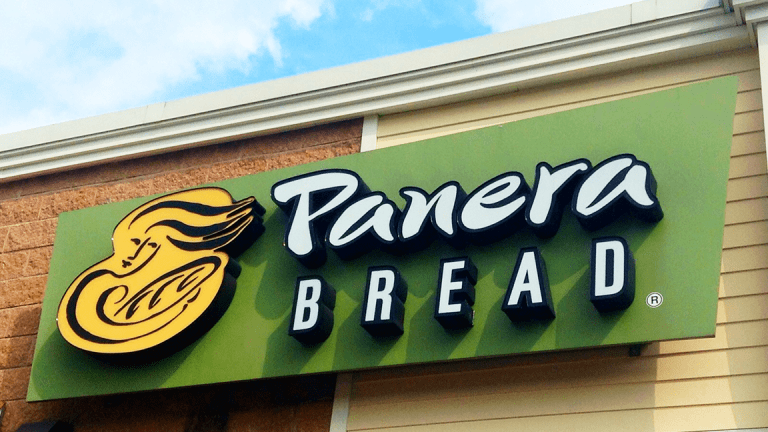 Trump Has His Fake News -- Panera Bread Wants to Call Out Fake Eggs
It's time the fast-food industry cleans up its act when it comes to fake eggs, explains Panera Bread's new CEO Blaine Hurst.
Noted fast-food junkie Donald Trump might have just been given a new campaign to sink his teeth into: a push by Panera Bread to rid the fast-food industry of fake eggs.
Yes, fake eggs in the fast-food industry is far from being fake news. It's very real.
Panera Bread said Friday that it has petitioned the Food and Drug Administration (FDA) to establish a clear definition for the term "egg." In whipping up its latest breakfast sandwich, Panera said it discovered that current FDA regulations do not establish a definition of what constitutes an egg. As a result, companies can sell and advertise alleged eggs that contain additives such as butter flavors, gums and added color.
According to research done by Panera, about 50% of the top 10 fast-casual restaurants that sell breakfast have an egg made of at least five ingredients, or more.
For its part, Panera already uses freshly cracked eggs to make its sandwiches. So does rival McDonald's (MCD) - Get Report for its popular Egg McMuffin. One fake egg offender is Starbucks, per Panera's research. In the coffee giant's sausage cheddar and egg breakfast sandwich, Panera tallied the use of 16 ingredients. 
Meanwhile, the egg in the double-smoked bacon, cheddar and egg sandwich is made of "egg whites, egg yolks, milk, food starch- modified, salt, citric acid," according to Starbucks' nutrition site. 
A Starbucks spokeswoman didn't immediately return a request for comment on if the coffee chain uses 100% eggs. 
Panera Bread's new CEO Blaine Hurst told TheStreet he is eager to see if the new campaign spurs others to change. For the sake of all our stomachs, hopefully it does. 
Watch our full interview and subscribe to our Youtube channel
Check out TheStreet's Other Influencer Interviews