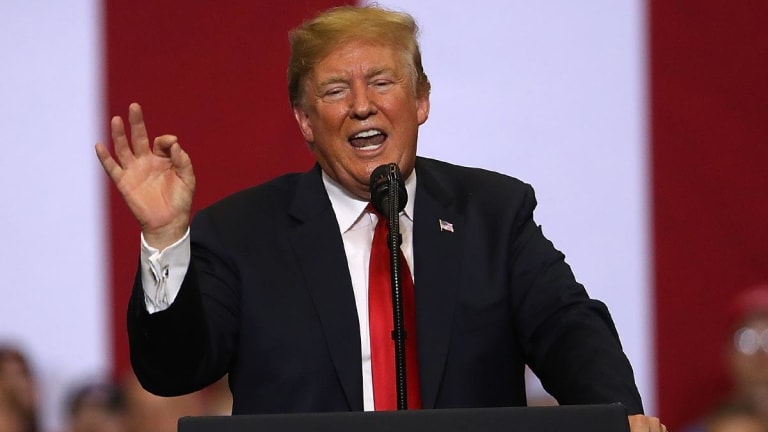 Trump Demands Deference, Will Be Met With Defiance on Trade
What's gone wrong with the Trump trade is that many traders hate Trump's views on trade.
What's gone wrong with the Trump trade is that many traders hate Trump's views on trade.
The U.S. President, whose own advisers have reportedly concluded that his trade war will retard U.S. economic growth, is going to go ahead with a $30 billion salvo this weekend, even as tariff concerns have halted a stock market rally generated by his achievements in cutting corporate taxes and reducing regulations. Understanding what Trump is up to requires equity investors to seriously consider Canada as a national security threat to the U.S., for example.
Even previously reliable supporters of the president's policies are backing away on trade:
"The administration is threatening to undermine the economic progress it worked so hard to achieve," U.S. Chamber of Commerce President Tom Donohue said in announcing a campaign to oppose Trump's tariffs. "We should seek free and fair trade, but this is just not the way to do it."
This week General Motors (GM) - Get Free Report warned that some proposed tariffs could force it to cut jobs and raise the prices of cars, potentially by thousands of dollars. A 25% tariff on European cars would raise the cost of imported cars and invites global retaliation against as much as $300 billion of U.S. products, EU officials have warned, according to the Financial Times.
Unfortunately, the effects on equity investors are a matter of indifference to the so-called billionaire president, according to his billionaire Commerce Secretary, Wilbur Ross, who told Fox News that it's likely "there will be some hiccups along the way."
Ross himself, who with his wife disclosed that they hold combined portfolios consisting of more than 483 assets, income and retirement accounts, with a value estimated between $51,029,060 and $523,981,070, was briefly in the news this week for having shorted shares of a couple companies he owned last year as a way to close out his positions. He said the trades were approved by Commerce's ethics office, after he executed them.
So while Ross has got his own investments sorted out, he's not too confident about prospects for some of the rest of us.
"There's no bright line level of the stock market that's going to change policy," Ross told CNBC. "The president is trying to fix long-term problems that should have been fixed a long time ago. There is obviously going to be some pulling and tugging as we try to deal with very serious problems."
Trump has said that the EU is as bad as China when it came to the way European countries traded with the U.S. But for the President, the problem isn't just with Canada, Mexico, the EU and China, all of whom Trump has either threatened or punished: it's the whole global trade system.
Companies involved in the U.S.-Asia Pacific trade corridor may see their sales fall if trade declines in the Pacific Rim area, according to Ben Phillips, chief investment officer at EventShares, which tracks U.S. policies and their effects on markets. Affected companies could include Expeditors (EXPD) - Get Free Report , Matson (MATX) - Get Free Report and Atlas Air Worldwide (AAWW) - Get Free Report . Down the road, Chinese tariffs levied on U.S. agriculture exports may result in decreased demand for agricultural machinery, meaning lower sales for companies including such as Caterpillar (CAT) - Get Free Report and Deere (DE) - Get Free Report .
Investors reckoning the chances that Trump will be able to bully the U.S.'s biggest trade partners into agreeing to bilateral agreements with the U.S. that hurt their own economies may have gotten a hint from a document said to have been issued to Chinese media on how to cover the trade war.
"The trade conflict is really a war against China's rise, to see who has the greater stamina," according to the document. "This is absolutely no time for irresolution or reticence."
The document lists various approaches that China and Chinese media should take in a trade war.
"Don't attack Trump's vulgarity; don't make this a war of insults," the document says. "Each department should strengthen its contribution to the stabilization of market expectations. We stop negotiation for now, acting tit for tat, roll out corresponding policies, hold public opinion at a good level without escalating it, limit scope, and strike accurately and carefully, splitting apart different domestic groups in U.S."
Trump expects deference, but he will likely be met with defiance.