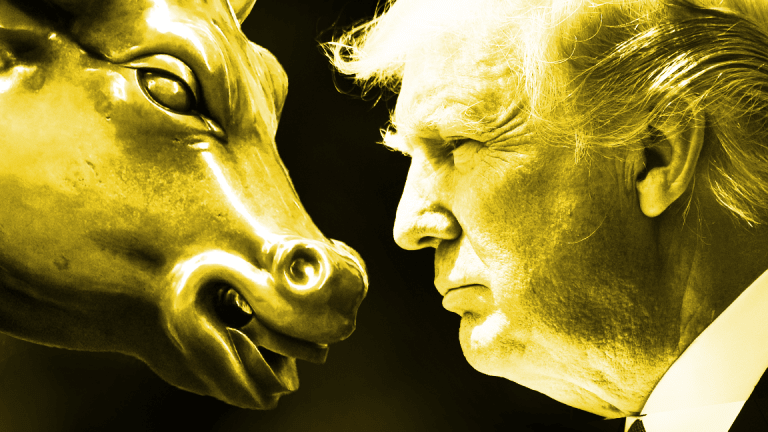 Will Trump Torpedo the Stock Market Over the Weekend?
The bull market in stocks could be met with new fire over the weekend in the form of U.S. action in Syria. Are you a buyer here?
We are Facebook-ed (FB) - Get Meta Platforms Inc. Report out. 
It's Ticker Time 
(1) Tesla (TSLA) - Get Tesla Inc. Report will reportedly start producing its Model Y sport utility vehicle in November 2019. Can we just say what sane people (not the Tesla fanatics who continue to shred me on Twitter each day) are probably thinking: How in the world is Tesla going to successfully produce another vehicle, a more complex one at that, when it can't even make money on what's rolling off its fledgling production lines currently? And how is Tesla going to pull this new vehicle off without an injection of capital? The questions around Tesla's survival are unending and rightfully so. (2) Who cares if Netflix (NFLX) - Get Netflix Inc. Report has decided to pull out of the Cannes Film Festival - you see this company's stock lately? Netflix has become far and away the best-performing member of the FAANG (Facebook (FB) - Get Meta Platforms Inc. Report , Apple (AAPL) - Get Apple Inc. Report , Amazon (AMZN) - Get Amazon.com Inc. Report , Netflix, Alphabet (GOOGL) - Get Alphabet Inc. Report ) stock club this year. Here are five reasons why. (3) Oil prices are on fire, hovering around three-year highs on heightened geopolitical tensions. That's bad news for consumer companies such as Walmart (WMT) - Get Walmart Inc. Report given the associated rise in gas prices. Prices at the pump are up about 11% from this point last year, and some surveys see prices up at least 14% this summer.   
About Those Markets 
President Trump on Thursday sought to push out the 48-hour timeline he set on a possible strike on Syria. "Never said when an attack on Syria would take place. Could be very soon or not so soon at all! In any event, the United States, under my Administration, has done a great job of ridding the region of ISIS. Where is our "Thank you America?," Trump tweeted. Futures took the news well. Nevertheless, if you are trading these insane markets it's very hard to go long into the weekend. One could easily see some form of a show of force from the Trump administration over the weekend when the markets are closed. The situation is that precarious. Then there is the James Comey interview on ABC on April 15. TheStreet's sister publication, RealMoney, will have several pieces out Thursday to help you prepare for ramped up geopolitical tensions. Check them out here. Meanwhile, TheStreet's founder Jim Cramer will host his latest Action Alerts PLUS member call Thursday as well. In these markets, you can't afford to miss this call with Jim -- the analysis and education are that damn good. 
Jolt Investing Tip of the Day
When you're operating at peak performance, it's easy to get complacent. Winning gets taken for granted. What it took to operate at one's peak will fall on the wayside. Let this be a lesson to you, average investor, as you head into earnings season. There will be countless companies that announce great results - Action Alerts PLUS holding Microsoft (MSFT) - Get Microsoft Corporation Report and Netflix (NFLX) - Get Netflix Inc. Report come to mind. While you want to see how these companies won their quarter, it's equally important to see they have plans in place to keep the winning ways intact. Are executives unleashing new innovation? Are they overcoming sector challenges? Are they betting on themselves with savings from corporate tax reform? These are key questions to ask after hopping off earnings calls. Winning companies are valued at premiums to the market, hence it's important to hold executives at these companies to even higher standards. If not, winning turns to losing real quickly in this dynamic global market. 
On Facebook
In case you didn't get enough of Facebook after two days of Zuckerberg testimony, listen to the latest 'Technically Speaking' podcast below.