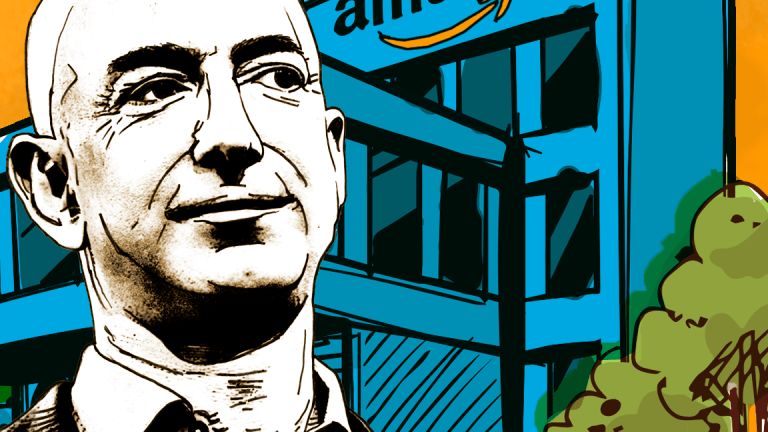 Why Trump Can Pummel Amazon More Than China
The slayer of retail also has the potential to slay your portfolio.
As many of you know, I have been out of Netflix (NFLX) - Get Netflix Inc. Report and Alphabet (GOOGL) - Get Alphabet Inc. Report for a little while. Admittedly, I took my Netflix off of the table too early, and I usually never do more than rent (GOOGL) - Get Alphabet Inc. Report overnight in either direction. As for Facebook (FB) - Get Meta Platforms Inc. Report , I'm just not a fan. Never was. Think the leadership is poor.
Amazon (AMZN) - Get Amazon.com Inc. Report is different. Yes, I sold Amazon early in this "Tech Wreck." I have also started buying it back small on this discount. The prospects of a trade war will not overtly impact these FANG names as for the most part they have little exposure. Alibaba (BABA) - Get Alibaba Group Holding Limited American Depositary Shares each representing eight Report is the Amazon (in a way) of China. The President of the United States can, in my opinion, hurt AMZN more than can the President of China.
(Facebook, Amazon and Alphabet areAction Alerts PLUS holdings, which Jim Cramer co-manages as a charitable trust.)
That doesn't mean that I love the stock. My net basis remains well south of here. I understand the risk associated with being long a highly expensive name. I can tolerate that associated risk as long as the name does not approach my breakeven point. Then, I'll carve this name from my book without a hint of remorse. Now I'll tell you why this stock is so dangerous. The slayer of retail, also has the potential to slay your portfolio.
The Dividend
There isn't one. That's right. You, the shareholder take on outsized risk, and Jeff Bezos pays you exactly zero dollars and zero cents as a fellow owner of the business.
Debt
Yes, the firm has plenty of assets, and plenty of cash on hand. Total debt has ballooned from $20.4B at the end of Q4 2016 to $44.1B at the end of Q4 2017. Can the firm meet short to medium term obligations? Yes, the Current Ratio stands at 1.04. Strip out inventories you say? For the new kids, that called the Quick Ratio, and it's an item that you must understand. Hmm, suddenly a much uglier 0.7 appears on the screen. Would one invest in any other name with a number like that? Maybe, but only with the understanding that the investment was speculative in nature.
Operating Margin
At the end of last year, the firm's Operating Margin printed at 3.62%. Hoo-ray. 3%. For comparison's sake, for the same period, Target's (TGT) - Get Target Corporation Report operating margin is above 5%. Really? Is that true? You can look it up sport.
We could go on. There are positives to be sure. There are also more negatives. For me this remains a spec play, and not at all a core position.
Retirement is coming. It's never too early -- or too late -- to plan, save and invest for the retirement you want and deserve. Let TheStreet's new premium subscription newsletter, Retirement Daily, give you the insider's edge on how to maximize and protect your most important investment, your retirement savings. Learn more about Retirement Daily and get a free trial subscription.