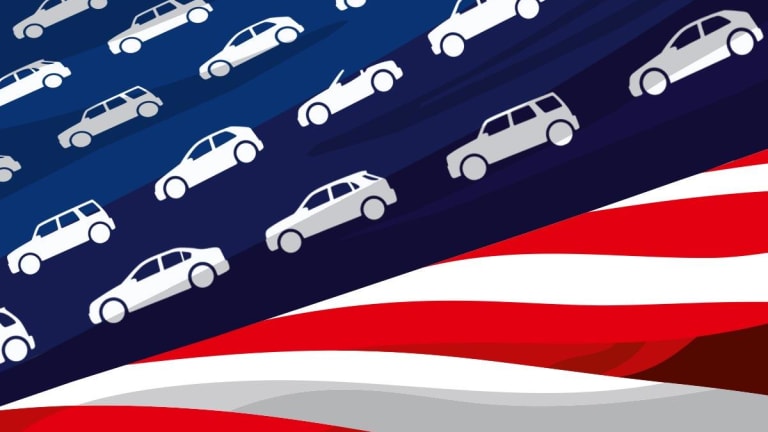 Trump Bump From Trade Truce Should Lift Tesla, Daimler
A reduction in Chinese import tariffs for U.S.-made autos would be good news for Tesla, Daimler and BMW.
Auto stocks are getting a lift Tuesday, as some of the positive trade truce news from last week gives the sector another much-needed boost.
After the G-20 summit a little more than a week ago, President Trump tweeted that China would "agreed to reduce and remove tariffs on cars coming into China from the U.S. Currently the tariff is 40%."
That gave a big lift to the automakers at the time. Those gains had since evaporated as trade-war worries once again engulfed investors following the arrest of Huawei CFO Meng Wanzhou and sent the stock market lower.
On Tuesday, though, there are reports that China is discussing cutting the current import tariff of 40% on U.S.-made vehicles down to 15%. The country's Cabinet will review the proposal in the coming days.
Shares of General Motors (GM) - Get Report and Ford Motor (F) - Get Report are on the move as a result, respectively up 3.5% and 1.7% in midday Tuesday trading, even though they aren't the biggest winners here. Despite GM and Ford being notable auto manufacturers in the U.S., they don't export very many vehicles to China. In fact, they hardly export any to the country at all.
Instead, the automakers made large investments in the country years ago. Through their joint venture partnerships, almost all of their vehicles made for China are produced in China.
Still, there are others that benefit mightily from a more-than 60% reduction in the tariff. For one, Tesla (TSLA) - Get Report is a big beneficiary. While the automaker is looking to build and operate a new production facility in 2019 in Shanghai, its only means of production right now comes in the state of California. In 2017, almost 20% of Tesla's revenue came from China, so there's clearly a big appetite in the country for its vehicles. That comes as little surprise given that China is the world's largest market for electric vehicles.
In any regard, between shipping costs and tariffs, Tesla was in a very difficult position, as higher costs inevitably weigh on demand.
BMW (BMWYY) and Daimler (DDAIF) (maker of Mercedes-Benz) are in a similar boat. While the two German automakers make plenty of vehicles in their home country, they are actually some of the largest U.S. exporters to China. As a result, the escalating trade war between the U.S. and China have been bad news for these companies as well.
In that sense, it's somewhat surprising to see Daimler and BMW respectively up just 1% and 0.4% on Tuesday. While Tesla is now up about 1% on the day, it was down for much of the morning session.
However, China's decision to review this proposal speaks to more than just the automakers. In fact, it speaks to the entire market and the economy. Even though this proposal hasn't gotten the green light and is subject to change, the fact that China is still taking steps toward resolution bodes well for equities.
The fear among investors was that, after the arrest of Wanzhou, trade talks would unravel and the truce would be gone. Talks are reportedly still ongoing and that gives hope to a possible resolution rather than retaliation. Let's hope that's the case, as the potential year-end rally may depend on it.
This article is commentary by an independent contributor. At the time of publication, the author had no positions in the stocks mentioned.