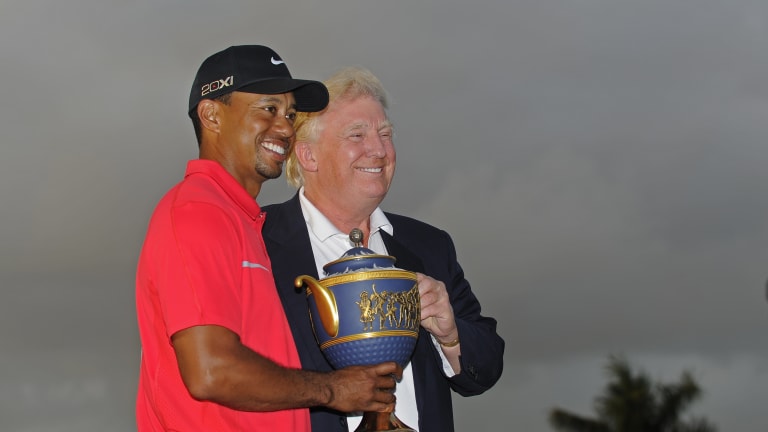 Trump and Tiger Woods Could Signal a Stock Market Top
Is the market nearing a top? The small-cap Russell 2000 Index is nicely outperforming, a positive for market bulls. Lots happening at TheStreet - no slow summer here.
Weird things happen during market tops that you often don't notice until long after the fact.
The argument could be made that weird things are happening right now. The first one is easy in that the market is totally ignoring Donald Trump's growing legal troubles. Sure, it's good to see investors stay focused on the outlook for corporate profits instead of headlines from D.C. But to pay more to own an already inflated industrial stock amid new fear on the Trump presidency reeks of the greed that is a hallmark of a last bull market leg.
Next up is the $10 million match that was set up on Wednesday afternoon between Tiger Woods and Phil Mickelson. Taking place on Thanksgiving weekend, the grudge match will no doubt be a social media spectacle and TV ratings bonanza. Cheers to Tiger taking down Phil on the 15th hole. But $10 million to the winner, umm, that's a nice chunk of change amid a seemingly soaring U.S. economy.
And lastly is the new rush in the financial services industry to offer "free" stuff in a bid to create a new profit stream that will appease bullish investors. JPMorgan Chase (JPM) - Get Report will offer 100 free trades a year to all Chase customers starting next week. Fidelity just took the wraps off two new index funds that will charge investors nothing. The weird list is growing. 
Data Dump
While the big-caps deserve a hat tip for their post-February correction bull run, the small-caps certainly warrant some love. The Russell 2000 I:RUT , an index that measures the performance of small-caps, closed at a new high on Wednesday. Year to date the Russell 2000 has gained an impressive 11% as investors rotated into domestic stocks amid Trump trade war fears.
Said Miller Tabak strategist Matt Maley, "We DO have to point out that the upside "break" has only been a very slight one so far, so we still have to be careful about a "head fake"... but if we see any upside follow-through in the Russell, it should give it some nice (further) upside momentum!"
Another bullish data point is the action in the trucking stocks. The S&P 500 Trucking industry stock price index has gained 27.3% year over year, pointed out strategist Ed Yardeni, a move that appears to be supported by fundamentals. Let the bull market records continue. 
Around TheStreet
Bull or bear, you decide. Yours truly and @KatherineRoss debated two newsy events this week. First up is whether to be bullish or bearish on discount retailer Target (TGT) - Get Report after its strong second quarter. Ross said she thinks the stock is a worthy consideration even at a record high, while I don't. 
Next we discussed whether the Federal Reserve will kill the bull market and if so, how. With the Fed often behind the curve on stomping out inflation, it's likely their playing catch-up on inflation this time and it could hurt the market sometime in 2019.
TheStreet's resident Tesla (TSLA) - Get Report /autonomous driving expert @BretKenwell huddled up with the Nvidia (NVDA) - Get Report team this week. The takeaway: Nvidia's new Constellation technology could be huge for many automakers.
Hat tip to TheStreet's founder @JimCramer and well-known market forecast Marc Chaikin for a killer live webinar Wednesday that discussed the markets. The thousands of people on the webcast were able to get some seriously comprehensive strategies for trading this bull market. For those who didn't hop on, here is why Cramer and Chaikin are both bullish on Alphabet (GOOGL) - Get Report . Alphabet is a long-time holding in the Action Alerts PLUS member club.
In the latest live "Trader Chat" on TheStreet Wednesday afternoon, our top columnists fiercely debated Tesla. You can catch the recap here.
Goldman Sachs (GS) - Get Report executive Sheila Patel told me that it is possible to get ahead in the competitive investment banking field. You just need to work your @ss off and want it more than the next person.
TheStreet's newsroom goes inside the great bull market in this cool-looking video.
The Deal's @RonOrol dove into the battle at Camping World (CWH) - Get Report . On one  end is businessman and TV show host Marcus Lemonis, who has seen his Camping World stock blown to pieces this year. On the other end are activist investors who sense an opportunity.
And finally, TheStreet's CEO @DavidCallaway will share how the coming mid-term elections could make or break the markets this year. You can watch the discussion live from the Moneyshow on TheStreet's homepage starting around 5:20 p.m. ET on Thursday.