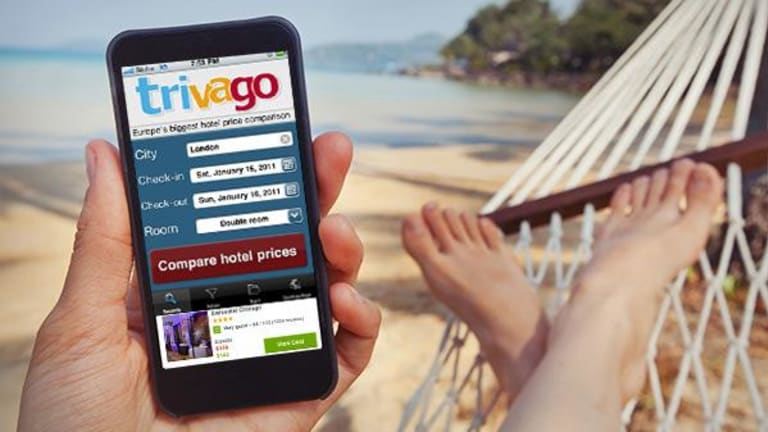 Trivago's Eye-Popping Advertising Spend Might Be Responsible for Its Uninspiring IPO
The hotel search engine is growing rapidly, but only with the help of an enormous marketing budget. That appears to have investors nervous.
Editors' pick: This article was originally published Dec. 16
Those familiar with the financials of online travel companies know that advertising is generally no small expense for them. But even by the industry's standards, Trivago (TRVG) - Get Reporthas had quite the marketing appetite in recent years.
That, perhaps along with some worries about competitive pressures, appears responsible for the market's cool reception to the German hotel search engine's IPO.
Trivago went public at $11 per share today, below an original $13 to $15 price range. The company sold 26.1 million shares, slightly less than the 28.5 million that were originally planned. As of the time of this article, those shares are up 6.6% to $11.74, leaving Trivago with a $4 billion market cap.
That still spells a healthy return on investment for online travel giant Expedia (EXPE) - Get Report, which paid $632 million in 2012 for a 62% stake in Trivago and will maintain a majority stake post-IPO. Expedia properties such as Hotels.com, Expedia.com and Travelocity accounted for 35% of Trivago's revenue over the first nine months of 2016, while Priceline (PCLN) properties such as Booking.com, Priceline.com and Agoda accounted for 43%.
Like other "metasearch" platforms that aggregate listings from online travel sites, Trivago is paid when a user clicks on a link to a travel listing provider's site.
Thanks to both share gains and the continued migration of hotel bookings to online channels -- in its prospectus, Trivago notes an estimated 33% of gross hotel travel bookings happened online in 2015, up from 22% in 2010 -- top-line growth has been solid. Trivago's revenue rose 49% annually during the first nine months of 2016 to €585 million ($608 million).
Continued growth in Trivago's core "developed" European markets (47% of revenue) helped, but the majority of growth came from the Americas (38% of revenue) and the Rest of World segment (14% of revenue). Trivago's easy-to-use interface has undoubtedly helped its cause -- moreso than rivals such as TripAdvisor (TRIP) - Get Report and Priceline's Kayak, Trivago's search engine actively assists users in making precise queries about what kind of room they want to book, and when and where they want to book it.
But it's hard to ignore the role massive ad spend has also played in fueling Trivago's growth: Sales and marketing spend totaled €538.1 million ($562 million) over the first nine months of 2016, up 40% from the previous period and equal to a whopping 92% of revenue. Moreover, Trivago claims that over half its traffic comes via "branded sources" such as TV, YouTube, radio and out-of-home ads.
By contrast, online travel agency (OTA) sites such as Booking.com and Expedia.com tend to rely more on search ads (mostly purchased from Alphabet/Google (GOOGL) - Get Report ), which have the benefit of directly producing site traffic from hotel shoppers. "Performance advertising" and other sales and marketing expenses equaled a relatively modest 32% of Priceline's revenue in the third quarter.
And while Trivago claims its ad spend delivers strong returns, the numbers it has shared aren't all that impressive: Trivago's return on ad spend (ROAS) was only 116.1% for 2016's first nine months. While that's up from 108.1% a year earlier, it means Trivago is only producing $1.16 in referral traffic revenue for every dollar of ad spend. In the Rest of World segment, Trivago only got $0.88 back.
As one might expect, such an ROAS, together with a heavy dependence on ads to drive traffic, has made it tough for Trivago to turn a profit. The company posted a net loss of €51 million ($53 million) in the first nine months of 2016, up from €37.3 million ($38.9 million) a year ago. It was marginally profitable if one backs out €52 million ($54 million) in stock compensation expense.
Moreover, Trivago arguably needs to keep spending heavily on ads to fend off rivals. Priceline has been investing in expanding Kayak's overseas presence and improving its user experience; TripAdvisor has struck deals with Priceline and others for its Instant Booking platform, which lets users make bookings without leaving TripAdvisor's site/app; and Google now lets users perform hotel searches directly from its search engine and Google Maps. Airbnb, which (judging by past reports) is now likely doing over a billion in annual revenue, is also a threat.
Thus, while Trivago has proven it can rapidly grow traffic and expand beyond its core European markets, the jury is still out on just how profitable all this growth will be. Until Trivago is able to put this question to rest, Wall Street will probably take a cautious approach to valuing the company.
Alphabet is a holding in Jim Cramer's Action Alerts PLUS Charitable Trust Portfolio. Want to be alerted before Cramer buys or sells GOOGL? Learn more now.