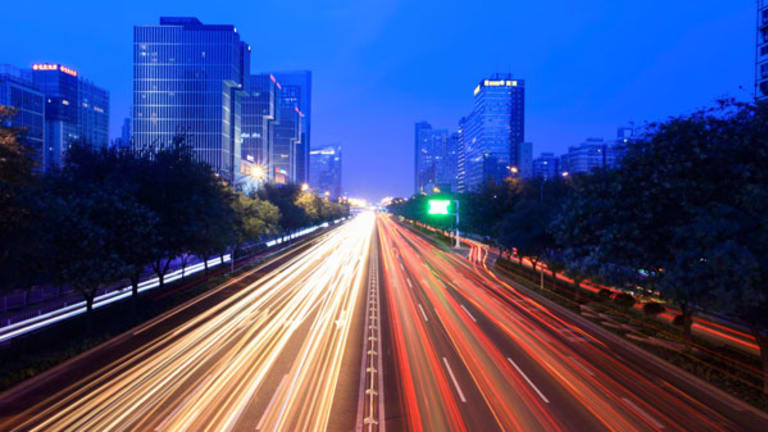 Trina Solar: Solar Stock Loser
Trina Solar turns in another impressive quarter, but a bearish outlook from solar investors leads to a decline in shares of the Chinese solar stock.
NEW YORK (
) -- Solar earnings season ended as it began, with a better-than-consensus quarter from another yet company,
Trina Solar
(TSL)
having no power to rally shares.
Trina Solar's late earnings season quarterly beat may have, coincidentally, been timed exactly wrong, with the Euro Zone debt paranoia gaining in focus over the past few weeks, and new political risks to the 2011 solar outlook embedded in press reports this week from the bellwether German solar market, and the up-and-coming French market.
If there were any factors in the Trina Solar report that were disappointing, it was in the gross margin line and arguably, in the capacity expansion plans for 2011.
Trina Solar gross margin was 31.4% in the third quarter, a sequential decline, and the Chinese solar company is guiding to gross margin of 30% in the fourth quarter. Increased buying of third-party inputs for its module production at a time of tight supply in solar is a primary reason for the lower gross margin. It's a trend that will carry over to the fourth quarter, and possibly into the first quarter of 2011 as well, and it's a trend that's been well-represented in the bevy of solar earnings out ahead of Trina, so should not be a surprise to anyone. Nevertheless, gross margin has always been a key earnings catalyst for solar stocks.
While Trina has sizable capacity expansion plans for next year, and increased its previous guidance by 200 megawatts across the board in modules, cells, wafers and ingots, there had been a Street whisper that Trina would up the capacity ante by even more than it did, possibly as high as 400MW across the board.
Trina capacity expansion plans, nonetheless, are close to double the capacity of 2010 -- at 5.8 gigawatts (GW) versus 3.7 GW in 2010.
Trina's rate of cost reduction slowed quarter over quarter, even as it continued to cut production costs. In-house non-silicon costs declined one cent to 73 cents/watt in the quarter, whereas from the first quarter to second quarter the cost had decreased two cents. The in-house silicon production cost trend slowed in the third quarter too, with a reduction of one cent from 36 cents per watt to 35 cents per watt. In the second quarter, total cost was reduced by five cents, from $1.15 per watt to $1.10 per watt. In the third quarter, cost fell to $1.08. Trina is on track to reach a total cost of less than $1 in 2011, though it may not happen as quickly in the year as some on the Street expected.
Trina's earnings per share of $1.08 was well ahead of the Street consensus of 87 cents. Trina Solar revenue of $508 million was also well ahead of the Street consensus of $417 million.
Going into the Trina Solar earnings -- and based on the reaction to other solar earnings reports -- it was clear that the outlook for 2011 would be more important than an earnings beat. As far as Trina's commentary, the management team more or less "toed the party line" according to Aaron Chew, analyst at Hapoalim Securities, who was on the Tuesday morning conference call. Trina talked about order commitments for the first quarter being firm and 80% of the orders having fixed pricing. The message from Trina was consistent with the message from close competitor Yingli Green Energy: even is the market is a little softer in 2011, we are sold out, and our pricing is more defensive than peers.
The solar management outlook has proved no match for the macro outlook, combined with a growing chorus of solar bears, and Trina's earnings proved another "no match" for the prevailing sentiment among solar investors.
The euro is again on the verge of dipping below $1.30. On Monday, a German newspaper reported that Chancellor Merkel's party may make a run at the current support levels for solar, and even consider a cap of 3 GW in 2011.
>>Solar Losers: Here We Go Again in Germany
On Tuesday, a French newspaper reported that the French government is considering another 10% cut to its feed-in tariff program, as well as an annual cap on solar installations.
In the end, Trina Solar shares had declined a little less than the rest of the solar stocks during the recent selloff, triggered by the euro decline and a more bearish outlook about demand in 2011, including a sector downgrade from Credit Suisse.
>>Credit Suisse Call Sends Solar Sector Slipping
Trina's decline of 7% on Tuesday, the largest decline among Chinese solar stocks, was slightly worse than the declines in a bevvy of Chinese solar stocks, such as
LDK Solar
(LDK)
, which was down 6.5% in the afternoon.
Trina hit its average daily trading volume before the mid-day mark on Tuesday and was on pace for at least twice its average daily volume for the day.
The reaction to the Trina earnings was a combination of macro concerns and company-specific issues, wrote Wedbush Securities analyst Christine Hersey in an email to
TheStreet
, with macro concerns the larger driver.
As far as Trina specifically, the Wedbush analyst thinks that investors remain unconvinced that even the Tier 1 low-cost producers like Trina will be insulated from average sales price pressure if oversupply occurs in 2011. These concerns are occurring at the same time that Trina's ability to squeeze out further in-house cost reductions slows.
Nevertheless, the Wedbush analyst upped her 2010 earnings forecast for the Trina full year to reflect the third-quarter beat and full year shipment guidance, to $3.28 per share from $2.85. The analyst also said that regardless of the argument over ASP declines in an oversupplied market, Trina's third quarter results confirm its leadership among low-cost solar companies.
In another sign of the pressure on solar stocks exerted by Germany and the European feed-in tariff outlook, Collins Stewart analyst Dan Ries lowered his price-to-earnings multiple for Trina shares. The analyst reaffirmed a buy rating and noted that the gross margin underperformance was a function of external input purchases. Additionally, iIn-house gross margin of 37.6% at Trina was the highest among the Chinese polysilicon-based solar companies.
Even with a positive outlook, though, Collins Stewart swapped out its existing 9x P/E model to 8x, and lowered Trina's price target to $32, stating that risks of additional FIT reductions have increased the risks for the solar sector.
One thing consistent on Tuesday was that all solar stocks were declining for the second consecutive day. The losses over the past month for most solar stocks now measure between 10% and 20%.
-- Written by Eric Rosenbaum from New York.
RELATED STORIES:
>>Solar Losers: Here We Go Again in Germany
>>Credit Suisse Call Sends Solar Sector Slipping
>To contact the writer of this article, click here:
Eric Rosenbaum
.