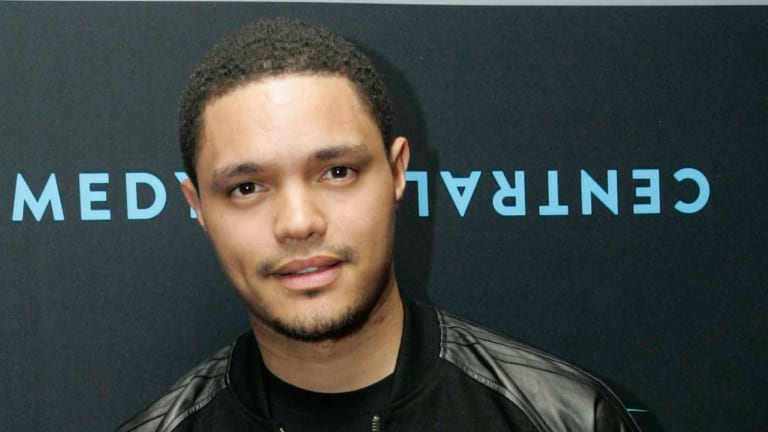 Trevor Noah's Appeal to Young Viewers Is Crucial to Viacom's Future
Talk-show hosts are increasingly important, given that younger audiences have many choices for their entertainment.
NEW YORK (TheStreet) -- Trevor Noah isn't just taking over Jon Stewart's seat as host of Viacom's (VIAB) - Get Viacom Inc. Class B Report Comedy Central award-winning Daily Show. He is also tasked with maintaining its core audience of young viewers -- the type of fans the politically charged program has cultivated over nearly two decades.
Holding onto those viewers is essential for Viacom, which is reorganizing its networks in an attempt to stanch the loss of viewers and advertising dollars at its top networks that also include MTV and Nickelodeon. Viacom CEO Philippe Dauman is taking a $785 million writedown for his company that's related to its older programming, including acquired shows, as younger viewers opt to watch newer alternatives on everything from Netflix's (NFLX) - Get Netflix, Inc. (NFLX) Report video-streaming options and DVD rentals, Google's (GOOG) - Get Alphabet Inc. Class C Report YouTube and IAC Interactive's (IACI) Vimeo.
"People have all these channels and an infinite number on the Internet," says Robert Thompson, founding director of Syracuse University's Bleier Center for Television and Popular Culture. "One big hit can really make a show."
Choosing a talk-show host has never been more important, given the fact that younger audiences today have a multitude of choices for entertainment. Comedy Central has been faced with replacing Stewart after a 16-year run as well as filling the time slot vacated by The Colbert Report, now that Stephen Colbert has been picked to follow David Letterman as host of CBS's  (CBS) - Get CBS Corporation Class B Report Late Show. Keen to retain Colbert's audience, Viacom tapped Larry Wilmore, 53, for the newly named The Nightly Show. In contrast, Noah is 31.
Marketers are drawn to younger viewers, mindful of their spending habits and the long-term advantages of winning brand loyalty early in a consumer's life span.
During the television viewing season that began in September and that ran through the end of March, viewers aged 18 to 49 comprised 53% of Stewart's Daily Show audience, according to Nielsen. By comparison, Letterman's audience is 26% composed of viewers in that demographic. No wonder then that CBS selected Colbert, whose audience for The Colbert Report was 55% comprised of those 18 to 49 years old, according to Nielsen data. 
For Viacom, choosing the right replacement for Colbert and Stewart may have long-term implications for its comedy channel. No television executive wants to repeat the type of botched decision that Comcast (CMCSA) - Get Comcast Corporation Class A Report made when it anointed Conan O'Brien as host of The Tonight Show in 2010 only to replace him with Jay Leno in less than a year. 
"The Daily Show is the mothership -- the most important show on Comedy Central," says Tom Nunan, founder of Bull's Eye Entertainment and a former NBC Studios president. "Making a bold host move is in line with the boldness of Comedy Central as a brand." Choosing Noah "seemed to be tipping its hat toward the viewership that is so important to them."
Viacom has long stood out among major media companies with its focus on younger viewers at its networks that also take in VH1 and Spike. Dauman's reorganization will streamline Viacom's U.S. network operations into two groups from three in an effort to focus more resources on the programming most likely to attract viewers on mobile devices.
Integral to the company's internal changes will be its new talk-show hosts. Noah's arrival has already been complicated by public attention to a series of his past tweets that some observers found insensitive, necessitating damage control from Comedy Central execs intending to avoid offending his potential audience.
Viacom is clearly in transition. The New York-based media company that also owns Paramount studios has seen its shares drop 19% over the past 12 months. For more than a year, Dauman has been engaged in a simmering battle with Nielsen over the ratings for MTV and Nickelodeon, charging that Viacom's programming isn't adequately measured on mobile devices. 
Major pay-TV networks lost as many as 3 million subscribers last year, according to Derek Baine, research director at media research firm SNL Kagan, citing Nielsen data.
"You have companies like Viacom that are literally losing hundreds of millions of dollars in ad revenue because nobody's counting a lot of this stuff," Baine says in a phone interview. "They're not going to find someone that generated the same amount of ratings that Jon Stewart generated. They're just going to have to realize that there's going to be a decline in revenue and they're going to have to make up for that with cost cutting."
CBS has its own challenges with the debut of James Corden, another fresh face for late-night television, as host of The Late Late Show. Corden has already garnered promising audience attention on social media. According to a press release from CBS on Thursday, Corden's show generated a 330% increase in YouTube subscribers, thanks to a few videos that went viral, including one with the actor Tom Hanks and Corden acting out scenes from tons of Hanks' movies in seven minutes.
Colbert's new Late Show will directly compete at the same hour with his Comedy Central replacement, affording media observers insight into whether viewers will follow a host or stay with a network. Of course, Colbert's followers may be less enamored with him after he assumes a character that's dramatically different than the one he played on The Colbert Report.
As streaming of shows and viewing via mobile devices become more popular, attracting a younger audience base is proving to be critical and challenging.
"We can only wait and see how Noah will draw in a crowd," Thompson says.