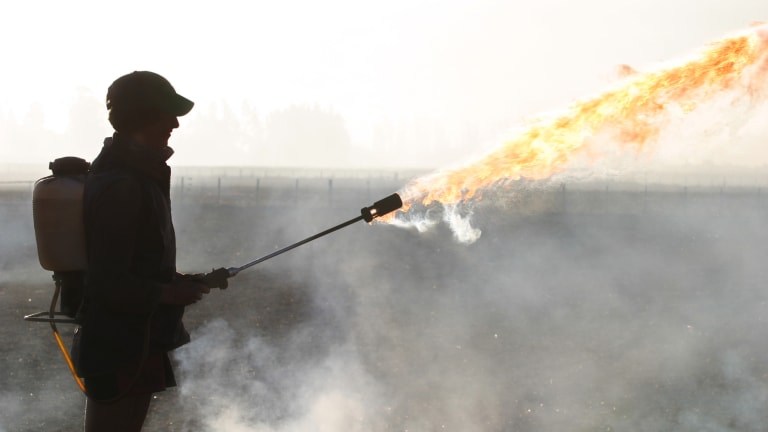 Treasury Secretary Mnuchin Throws Gas on This Hot Trade
Investors in weak-dollar plays such as Boeing should rejoice thanks to new comments from Treasury Secretary Mnuchin. General Electric shares surprise everyone in response to earnings.
Game on.
Thanks, Steve
LOL this guy. In tossing a bone to his banker buddies (and their clients) who are long already-hot multinational stocks such as Caterpillar (CAT) - Get Report and Boeing (BA) - Get Report , U.S. Treasury Secretary Steve Mnuchin is fresh off trashing the dollar. "A weaker dollar is good for us as it relates to trade and opportunities," Mnuchin told reporters in Davos, Switzerland, on Wednesday. "The dollar is one of the most liquid markets. Where it is in the short term is not a concern for us at all," he added. What Mnuchin did here, while feeling high by breathing in the pure elitist Davos air, was likely several things. First, he sowed the seeds of one last big rally in multinational companies -- this is a group that should see sales and profits get a hefty boost this year thanks to dollar weakness. If you don't own the aforementioned Caterpillar or Boeing, or even Action Alerts Plus Apple (AAPL) - Get Report (which is no small company), now is the time to trade them long. Secondly, Mnuchin's comments probably mean a further rally in gold prices. The gold bugs love seeing a weak dollar as it reaffirms their view we will all be buying groceries at Amazon's (AMZN) - Get Report Whole Foods with gold bars in 2019. Check out the SPDR Gold Shares (GLD) - Get Report . And finally, Mnuchin's views likely reignite the bitcoin crazies and their chants for cryptocurrencies replacing the dollar. Now could be the time to re-enter those bitcoin stock trades such as Action Alerts Plus holding Nvidia (NVDA) - Get Report . You the man Steve!
Receive the free daily "Morning Jolt" newsletter by heading here.
GE Tried
You have to give credit where credit is due: General Electric (GE) - Get Report CEO John Flannery has pretty much laid out the worst case for the company to investors. It has been painful doing so but by getting it out of the way the stock could bounce on earnings reports that aren't totally nuclear (as was initally the case Wednesday). Couple that with an ongoing review of the business, the floor may finally be forming in Action Alerts Plus holding GE's bruised stock. Key comment from Wednesday morning's press release: "Cash performance was above expectations and our visibility and execution on cash is improving."
TheStreet's Anders Keitz breaks down GE's results. As it turned out, shares closed down 2.6% on news of an SEC investigation.  
Apple Thrashing
Last week Apple is God thanks to its promises to invest bazillions in the United States in the wake of Trump's tax law overhaul. This week Apple is a dog into earnings because nobody allegedly wants to the buy the iPhone X. Vicious JPMorgan, vicious. It's tough being the top dog in an industry. I do think it's worth pointing out Wall Street sentiment at the moment, using a nifty new note from RBC. Is it me or can you punch holes in just about every component of this thesis? "Our positive bias on Apple is driven by: a) iPhone ASP (average selling price) enabling upside to revenues; b) gross-margin upside from mix (more services and iPhone memory); c) potential for lower tax-rate and buyback tailwinds," RBC said. Apple's average selling prices could be under pressure judging by reports headed into earnings. Hence, gross margin upside may be more muted in 2018. And the benefits of the lower tax rate could already be priced into Apple shares. The only thing to be sure of on Apple: The upcoming earnings report will be hotly debated on Wall Street, perhaps more so than the norm.
The Morning Jolt hits the airwaves. More from the Morning Jolt Archives:
More of What's Trending on TheStreet: