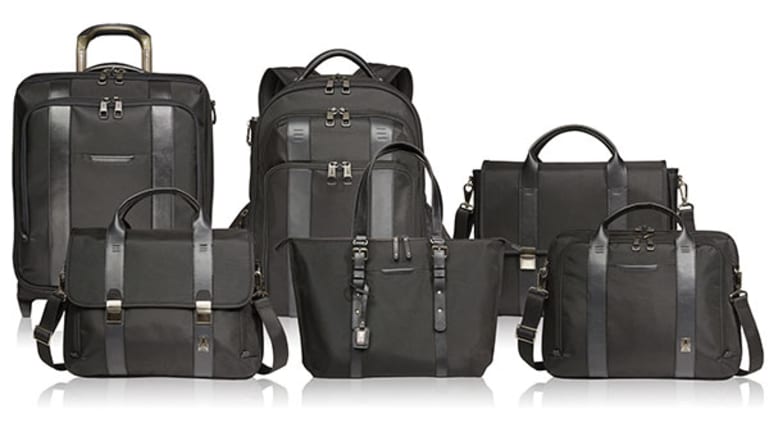 Travel Light: Best Carry-on Bags for Short Trips
A bag may be advertised as a "carry-on," but that's not a guarantee you'll be allowed to carry it with you on the plane.
A bag may be advertised as a "carry-on," but that's not a guarantee you'll be allowed to carry it with you on the plane.
NEW YORK ( MainStreet) -- You just bought a spanking new carry-on luggage -- it's durable, stylish and lightweight. It's advertised as meeting most airlines' carry-on size limit. But upon arrival at the airport, you place the bag at the gate's luggage sizer and it doesn't fit.   
Anyone who has ever experienced this knows it's a nightmare to be told that your bag is too big for the overhead bin. You'll have to rearrange some of your belongings and then pay the checked bag fee.
Worse than repacking or paying more money is spending the entire flight thinking of whether your carry-on-turned-checked bag will make it to your destination. This is crucial if you're going away just for a night or two and you've got a much-needed attire in your carry-on luggage.
Traveling is stressful enough, so do your homework before heading out to the airport. Although most domestic airlines allow a carry-on bag that is 22 by 14 by 9 inches -- or 45 linear (total) inches -- it's still important to check with your airline.
Know your bag's exact dimensions, and keep in mind that an airline's size restriction includes the bag's handles and wheels. A bag may be advertised as a "carry-on," but that's not a guarantee you'll be allowed to carry it with you on the plane. (See Carry-on Size Limit by Airline)
Check out some of the best new carry-on bags in the market -- from  rolling luggage and garment bags, to travel totes and backpacks.
Best Carry-on Luggage
The 19-inch Samsonite Silhouette Sphere 2 Softside Spinner ($219.99) is a good-sized carry-on. It has four multi-directional wheels, making it easy to maneuver through crowded airports. The dimensions, according to its official product description, are 19 by 14.5 by 7.5 inches, but with the wheels and handles, the height of the bag is actually around 22 inches.  (See Carry-on Size Limit by Airline)  
Travelpro's Crew 10 20-Inch Expandable  Business Plus Rollaboard ($186.99) is a durable carry-on, with protective side feet, crash-guard wheel housings and skid guards. It is listed as measuring 20 by 14 by 9 inches. With the wheels and handles, it is about 2 inches taller, which should still be O.K., for most airlines -- as long as the traveler doesn't overstuff the bag after it is expanded. (See Best Luggage for Frequent Travelers)
If over-packing is a concern, check out Briggs & Riley's Baseline Domestic Carry-On Expandable Upright Suitcase ($499.00). Instead of zipper expansion, the bag uses compression technology, so travelers can expand the luggage without altering its original size -- 22 by 14 by 9 inches.  The cost of the bag includes a no-strings attached lifetime guarantee.


Best Carry-on Garment Bags
Some carry-on bags are sold with suiters, but the best way to minimize wrinkling of suits, shirts and dresses is to pack them in garment bags.
Traditional garment bags are often too big for airlines' overhead compartments, but luggage makers have been introducing newer designs to meet the size restrictions for carry-ons.
Victorinox has just launched a spacious wheeled garment carry-on bag. The Werks Traveler 5.0 East/West Garment Bag ($399.99) lays flat for easy packing and can fit two pairs of trousers, two jackets, and three shirts on the hanger. The bag has an extension panel to accommodate longer dresses or formal wear. It also has a detachable J-hook for hanging over a door or in a closet and mesh pockets for storage of items like shoes, ties, under garments and toiletries. The bag measures 22 by 16 by 9 inches, (See Carry-on Size Limit by Airline) weighs about 8.5 pounds and uses a pair of inline skate wheels for a smooth and stable roll.

Among the four-wheeled carry-on garment bags, Tumi's Alpha 2 ($695.00) stands out for style and packing capacity. The bag, which measures 22 by 14.5 by 9 inches, is easy to handle even down a narrow airplane aisle. In addition to a suit or other hanging garments, it has plenty of interior pockets for accessories and two removable interior pouches.
Longchamp's Boxford Garment Bag ($170.00) is a good option if you prefer to separate your suit or formal wear from other items in your luggage.  It includes a sturdy hanger and front-zippered pocket, and can be attached to a rolling carry-on luggage. When closed, it measures 23.25 by 20 inches.

Best "Personal Item" Travel Bags
In addition to one carry-on luggage, passengers of U.S. airlines are allowed bring one personal item on board. The size restrictions for personal items are not as clear as the rules for carry-on luggage. (See Carry-on Size Limit by Airline) As a general rule, carry-on luggage should fit in the overhead bin and the personal item should be stored under the seat in front of the passenger.
A common feature among the new breed of "personal item" travel bags -- tote bags, backpacks and messenger bags -- is a rear pocket or sleeve that can easily slide over the handle of a wheeled luggage. The below items all have this capability.
Travelpro has a line of checkpoint friendly bags, which means you wouldn't need to remove your electronic devices when going through airport scanning machines. Just unzip the bag, and lay it flat on the conveyor belt to expose the laptop, which is inserted in a padded and quilted corduroy pocket; a separate padded pocket is meant for a tablet or eReader.  Travelers can choose between the Crew Executive Choice Messenger Brief ($170.44) and the Crew Executive Choice Computer Backpack ($169.99). Both styles have RFID-blocking pockets that keep credit cards and passports hidden to protect against loss and identity theft.
If you can't make up your mind between a briefcase and backpack, there's Eagle Creek'sConvertabrief ($175.00), another checkpoint friendly bag, with space for a 17-inch laptop. It can be used in three different ways: as a backpack by using the padded tucked-away straps, as a cross-body by using the adjustable straps, and as a briefcase by just using the grab handles. This is a large bag with plenty of room for travel essentials, so note that it may not fit under the front seat when filled to capacity. (See product demo of Eagle Creek Convertabrief)
For women travelers, Victorinox's Victoria Sage ($179.00) is an ideal tote bag. Lightweight and flexible, it has a padded compartment for a 15.6-inch laptop and a zippered pocket for a tablet or eReader.  The zippered valuables pocket is great for keeping jewelry, and the side-zip expansion is good for squeezing in a few other items such as magazines or souvenirs you buy at the airport. The Victoria Sage has a rear pocket with magnetic closure that converts to a sleeve for conveniently sliding the bag over the handle of a wheeled luggage, a unique feature found in Victorinox's totes and backpacks for women. The collection will be available in black cherry and mocha brown colors for the fall travel season, and can be paired with the Spectra 2.0 carry-on.

Below is a guide showing the carry-on size limit for each domestic airline. This information is valid as of August 2015. Most airlines do not have exact dimensions for the personal item. For information on strollers, sporting equipment, musical instruments and other large items to be transported, please contact your airline.