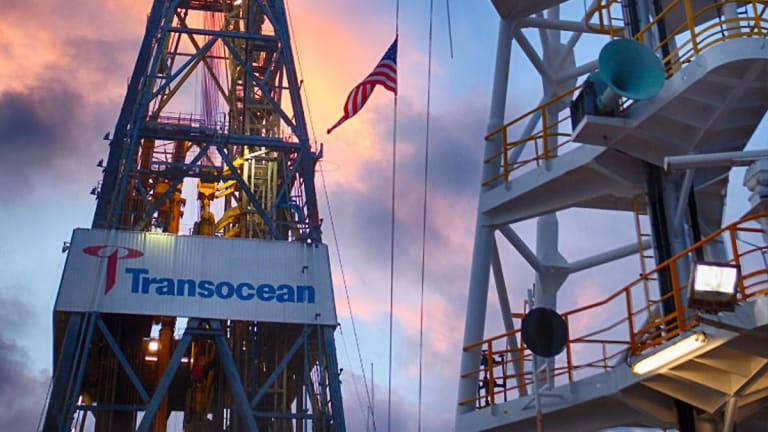 Transocean Falls Slightly After Losses Higher Than Expected
Losses per share for the offshore contract drilling company failed to meet Wall Street estimates.
Transocean Ltd. (RIG)  is feeling the effects of failing to meet investors' expectations of the company's fourth quarter.
The offshore drilling contractor dropped as low as 3.8% to $8.58 a share in trading Tuesday after losses from the quarter were greater than Wall Street estimates. The company's losses per share came in at 34 cents while expectations were 24 cents. 
The company reported a loss of $369 million in net income during the quarter, which is down from the $30 million profit Transocean posted in the third quarter of the year.
Company executives blamed part of the revenue loss on poor weather that stopped drilling off the coast of Canada for a few months. Lower utilization rates of its rigs from the previous quarter also attributed to the lower revenue. 
Revenue for the company increased by 19% to $748 million from $629 million a year ago while revenue efficiency from its drilling fleet came in at 96%, which is up from 92% during the same time last year.
Utilization of Transocean's deepwater rigs fell to 67% from 100% a year ago, but its ultra-deepwater rigs usage increased to 54% from 39%. The company's ultra-deepwater rigs are the primary revenue generators for the company.
Transocean CEO Jeremy Thigpen said the past year marked "the beginning of a recovery in the ultra-deepwater market," in a press release.
"While oil prices remain volatile, the efficiencies that we have realized over the past few years have materially reduced offshore project costs and compressed the time to deliver first production thereby minimizing our customers' risk and improving the attractiveness of offshore projects," Thigpen said.
Transocean also announced Monday it had entered a contract with Equinor ASA (EQNR)  to utilize the energy company's Automated Drilling Control systems on four of Transocean's rigs and one of its semisubmersibles that is scheduled to start operations in the summer. One of Transocean's rigs have one of these systems in place, and the automated processes are supposed to help with more efficient drilling by allowing for higher rates of penetration and detecting kick/loss events earlier, according to the release.