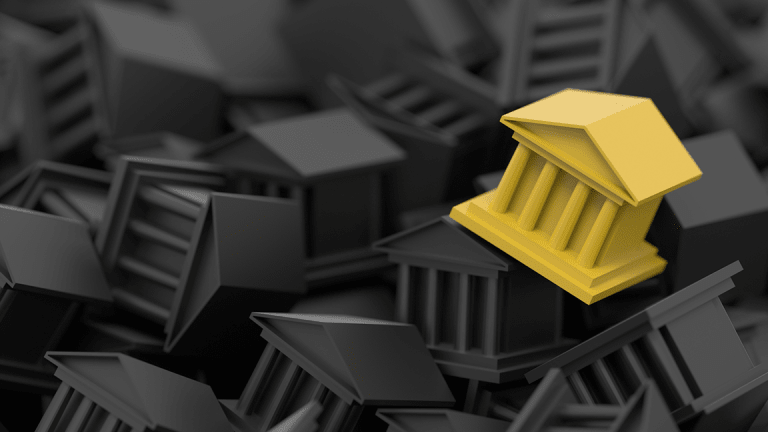 Trading the Banks Ahead of Fed's Rate Decision
The reaction in bank stocks will be a big focus on Wednesday following the Fed's rate hike decision.
What in the world is the Federal Reserve going to do on Wednesday afternoon? The committee is stuck between a rock and a hard place. 
It leaves chairman Jerome Powell one of two choices: Continue to push ahead with another rate hike despite criticism from President Trump and amid a market correction, or he can flinch and back off his rate-hiking stance.
At this point, there are several possibilities. The Fed could:
Hike in December and pause (somewhat dovish)
Hike in December and stick with its autopilot rate-hiking plans in 2019 (very hawkish)
No hike in December and pause (very dovish)
No hike in December and maintain stance for more hikes in 2019 (somewhat hawkish)
Of the four choices, the market seems to be pricing in the first option the most. Given how hard the stock market has been hit this quarter, investors have already priced in a lot of fear and uncertainty. A rate hike wouldn't be that welcoming, but a Fed that signals it's willing to pause will likely ease investors' anxiety.
How about option No. 3, no hike in December and remaining on pause? That may send too concerning of a signal, suggesting the Fed has gone from an outlook of a robust economy to one that is suddenly too weak. It's not just stocks that have been concerning either. The November jobs report missed expectations, October's results were revised lower and the housing and real estate markets have been showing plenty of red flags.
So although very dovish, option No. 3 would likely raise investors' concerns more than anything else.
That being said, the Fed has been walking back its rate-hiking stance. They are being careful with their wording, but it's clear it feels the pressure. The Fed does not want to be the one to send the U.S. into a recession. That's why option No. 2 is likely off the table, too.
So that leaves option No. 1 and 4 on the table. Will we get a somewhat hawkish or somewhat dovish Fed come Wednesday? While the answer to that question matters, the bigger mystery is what that will mean for the markets. Specifically, what will it mean for the banks?
Trading Bank Stocks
Recessions are a big problem for banks and understandably so. Because investors are beginning to fear that a recession is around the corner and as the yield curve continues to flatten, bank stocks remain under heavy pressure. Whether that's Citigroup (C) - Get Report , Bank of America (BAC) - Get Report , Wells Fargo (WFC) - Get Report , Goldman Sachs (GS) - Get Report or JPMorgan (JPM) - Get Report , it doesn't really matter. The whole group is feeling the heat. 
If we do lapse into a recession, this group will struggle. However, best-of-breed names could stand out following the Fed's decision, provided its something like option No. 1, where the Fed hikes this month and then will pause to monitor the data.
Look at JPMorgan, for instance. The stock price, like the markets overall, is in a "risk off" trade going into the event. Meaning that, investors are trying to de-risk ahead of the Fed. If it's an announcement they like, then JPMorgan and others are set to bounce.
Plus, this one's hard not to like. It's got a fortress balance sheet, which helped it pass the Fed's stress tests earlier this year and give big boosts to its buyback and dividend. At $98-and-change, shares yield 3.25% and trade at less than 10 times this year's earnings. Further, analysts expect positive sales and earnings growth to the tune of 4.6% and 8.7% in 2019, respectively.
JPMorgan is one to keep an eye on Wednesday afternoon. 
JPMorgan, Citigroup and Goldman Sachs are holdings in Jim Cramer's Action Alerts PLUS member club. Want to be alerted before Jim Cramer buys or sells JPM, C or GS? Learn more now.
Save 66% with our '12 Days of Holiday Deals' Sale. Join Jim Cramer's Action Alerts PLUS club for investors and get our best deal of the year. Click here for details or to sign up.
This article is commentary by an independent contributor. At the time of publication, the author had no positions in the stocks mentioned.