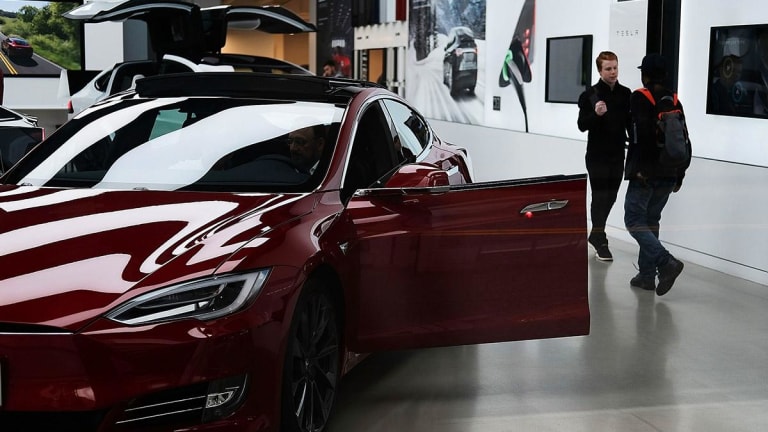 Trading Tesla Stock With Earnings on Deck
Tesla stock has been volatile and that's not likely to change, with earnings on tap for Wednesday after the close.
Tesla (TSLA) - Get Report shares have been volatile lately as investors continue to adjust to the always-changing story of this electric vehicle maker. That will likely be the case when it reports fourth-quarter results after the close Wed., Jan. 30. 
Shares traded well during the fourth quarter, a time in which the overall stock market did rather poorly. The stock was riding higher after a strong third quarter and hopes of sustainable profitability. Bulls' assumption was -- and to a large extent still is -- that Tesla will continue to increase Model 3 production, therefore boosting its top and bottom line. 
That may very well be the case and one can understand why CEO Elon Musk doesn't want the hassle of reporting the company's operations every 90 days. In an email to his employees, Musk says that earnings for the fourth quarter should come in below that of the third quarter. The company also said it will layoff 7% of its workforce.
How the news is interpreted depends on an investor's particular bias and with Tesla, there's no shortage of opinions.
Bulls will argue that business is not linear and that there will be bumps in the road when it comes to revenue and earnings. They'll also point to Tesla beginning Model 3 shipments to Europe and China as well as the latter's Gigafactory 3 construction. They'll also say the layoffs are a result of over-hiring to get Model 3 production off the ground and a realization of production efficiencies since. 
Bears will counter by saying that Tesla's third-quarter earnings are as good as it will get for the electric automaker, that the Gigafactory 3 won't be in production this year and will cost too much. They'll also say a company doing well with lots of demand wouldn't layoff part of its staff.
The opinions don't really matter, but the results do. The truth is, Tesla needs to see its stock price close over $359.88 on March 1 in order to have the ability to pay $920 million worth of convertible debt in stock. The automaker has already said if it can do so, it will pay half the sum in cash and half in stock. 
Shares closed off 0.36% at $297.46 Tuesday.
So will Tesla get back over ~$360? Let's look at the charts.
Trading Tesla Stock
Earnings have been a big catalyst to Tesla's stock price -- in both directions. If the company wants its stock above that conversion price, a strong fourth-quarter report will go a long way to helping its cause.
Currently, shares are trading just below $300, the bottom area of a key range over the past year. With shares holding up over $280, we're able to add an uptrend line from its October lows. On a decline, bulls will want to see the $275 level hold as support. Should it fail, the lows near $245 are on the table. On a rally, they will want to see Tesla stock clear and close above $310. Ideally, Tesla would close over the 200-day moving average on a rally.
Bears will want the opposite. They will want a rally above $310 to fade and close below this mark. On a decline, they'll want to see support give way and for Tesla to retest (and break) its October lows. The latter -- breaking its October lows -- seems like too much to ask for, in my view, barring something truly unexpected.
Score a Touchdown with Jim Cramer's Big Game Special
Get access to the best stock picks in Jim Cramer's investment portfolio by executing a two-minute drill on our Big Game Special on Action Alerts PLUS, Jim's VIP club for investors. Sign up now through Feb. 4 and receive 58% off of the normal subscription price. Now that's a real touchdown!
Watch today's show and all Cramer replays below
This article is commentary by an independent contributor. At the time of publication, the author had no positions in the stocks mentioned.