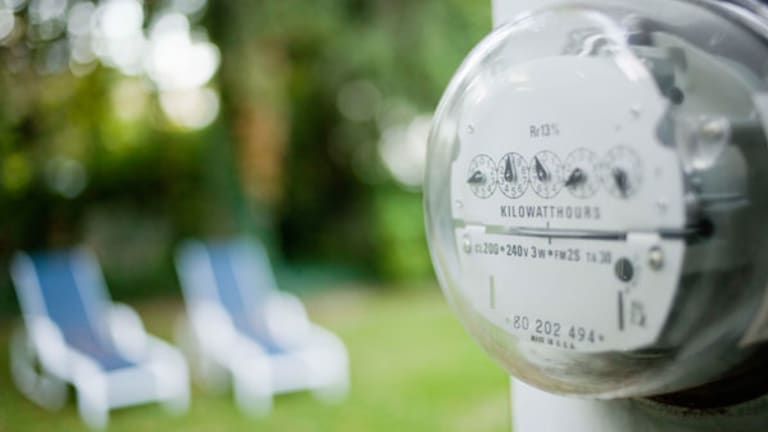 Trading Coal Stocks: Between Bankruptcy Risk and a Bottom
Coal stocks have significant balance sheet issues, but the stocks are so beaten up that opportunity is present.
NEW YORK (
) -- The situation continues to look pretty bad for coal stocks, as it has since last year.
Low natural gas pricing and weak demand in a warm winter has kept a lid on coal. The steel market growth profile in 2012 and need for metallurgical coal is OK at best. These companies are in a difficult balance sheet situation, but they've been here and done this cash crunch dance before. Smart investors often say to buy when there is fear in the market, and coal stocks have come back a little from October lows.
Is the next move closer to bankruptcy or an extended bounce?
It can't get much worse for coal stocks, or can it?
First, the grim bankruptcy red flag facts.
Coal stocks are at significant balance sheet risk based on the Altman Z bankruptcy risk ratio, which was invented by New York University professor Edward Altman in 1968. The Altman Z-Score measures several aspects of a company's financial health -- including working capital, total assets, total liabilities, market capitalization, sales, retained earnings and earnings before interest & taxes (EBIT) -- to forecast the probability of a bankruptcy protection filing within two years. Since its inception, the formula has been 72% accurate in predicting corporate bankruptcies two years prior to the filing, according to Investopedia.
Companies with a Z-Score of 3 or higher are considered safe with little danger of bankruptcy, while those with a score of 1.81 or lower are considered distressed and are more likely to go bankrupt. Anything in between is a grey area.
Continue reading to see which coal stocks that look risky based on this bankruptcy metric ...
Four key coal stocks all rate at a high risk of bankruptcy:
James River Coal
(JRCC)
,
Patriot Coal
( PCX),
Arch Coal
(ACI) - Get Albertsons Cos. Inc. Report
and
Alpha Natural Resources
(ANR)
. The Altman Z score for these four companies has also been worsening in recent quarters, but this shouldn't come as any surprise as the coal stocks hit a valuation low in October:
James River
: an Altman Z score of 0.90 (as of the end of the third quarter 2011) vs. a score of 2.0 in the fourth quarter of 2010.
Patriot Coal
: an Altman Z score of 0.75 vs. a score of 0.93 in the fourth quarter of 2010.
Arch Coal
: an Altman Z score of 0.86 vs. a score of 2.28 in the fourth quarter of 2010.
Alpha Natural Resources
: an Altman Z score of 0.73 vs. a score of 2.87 in the fourth quarter of 2010.
Is the Altman Z score reliable when it comes to coal stocks? ...
Alpha isn't as bad as it looks
Arch Coal and Alpha Natural Resources both completed major acquisitions last year. Arch acquired International Coal Group and Alpha acquired Massey Energy. These deals have ratcheted up net debt at both companies, which has exacerbated the perceived bankruptcy risk. Net debt went from $200 million to $2.3 billion for Alpha from the fourth quarter 2010 to the third quarter 2011. At Arch Coal, net debt spiked from $1.5 billion to $3.7 billion.
Yet Alpha is sitting on $600 million in cash, versus Arch with less than $200 million in cash as of the end of the third quarter.
Chris Haberlin, analyst at Davenport & Company, noted that Alpha remains among the lowest levered stocks in a group where the average debt to capital ratio is 48%. "I have a buy rating on Alpha and I don't see real bankruptcy risk. Alpha should generate significant free cash flow and can pay down debt," Haberlin said.
There are other measures by which the coal stocks look even worse as far as a potential cash crunch ...
Interest expense is a red flag for James River, Patriot Coal
Interest expense versus EBITDA is another way to measure the cash crunch in the coal sector.
James River, for example, saw interest expense go up from $30 million to $44 million by the end of the third quarter, as gross profit has steadily declined. James River is coming closer to a situation this year in which interest expense could equal EBITDA.
While Patriot Coal's interest expense has been steady over the past four quarters at roughly $16 million, its gross profit has dropped from $49 million to $18.5 million.
These are the types of balance sheet figures that explain why the coal stocks have been so beaten up -- and placed James River and Patriot Coal as the red flag bearers in the sector when it comes to bankruptcy risk. Yet coal stocks have proved resilient in the past. "These companies have weathered worse," said Raymond James analyst Jim Rollyson, including the coal slowdown of 2006, and the financial crisis.
"Most balance sheets for the coal industry are much better than they were several years ago. It really comes down to the global economy and how long natural gas prices stay depressed," said Davenport & Co. analyst Chris Haberlin.
If pricing in the metallurgical market stabilizes and pricing in the Central Appalachian coal market improves moderately with increased demand and a bottom in natural gas prices, then the trough for these stocks shouldn't be long-lasting, the analysts say.
So here are at least three ways to think about trading coal stocks, barring the disaster scenario ...
1. James River is an option on the coal sector
If James River has significant bankruptcy risk the longer the pricing trough lasts, it also serves as an option on the coal sector with any improvement. Rollyson said that he prefers lower risk coal stocks as core holdings, such as
Consol Energy
(CNX) - Get CNX Resources Corporation Report
and
Peabody Energy
(BTU) - Get Peabody Energy Corporation Report
.
Yet there's a case to be made that if James River continues to bounce around and comes back near its low around $6, it can be an interesting trade with upside to a range of $8 to $10.
"Consol and Peabody are the safer plays, but James River is an option on the sector," Rollyson explained.
2. With the low natural gas price environment in the U.S., Peabody is a bet based on its low cost production and international exposure
Davenport's Haberlin said Peabody's position in the U.S. is advantaged in that its Powder River Basin and Illinois basin holdings are low cost basins relative to the central Appalachian region. "It sees some impact from lower natural gas but that is muted impact versus other players," Haberlin said.
He noted that Peabody recently said as much 70% to 80% of lost coal demand was coming from the central Appalachia region, while only 20% to 30% was spread across Illinois, the Power River basin and the West.
While the Powder River production might not be a needle mover, Peabody's lack of exposure to the worst natural gas pricing impact coupled with its growing presence in Australia as a play on Asian coal demand positions it as a better, broader coal market play, Haberlin said.
Peabody's Altman Z score also suggests a safer way to play coal than some of the more balance sheet-stretched companies, with an Altman Z ratio still near 2.5. That's a bankruptcy risk score threshold none of the other stocks mentioned in this article have seen since 2010.
The shortest term play in coal may be the safest bet, though ...
3. Natural gas production cuts may be key to an improving coal market, but coal company production cuts have led to hot money trading
The coal market has started to see cuts, with Alpha and Patriot recently announcing production revisions. The coal analysts expect Arch Coal and James River will also announce production cuts when they announce fourth-quarter results. Yet even though this is widely expected, it was widely expected in the case of Alpha and Patriot, too, and both stocks saw short-term spikes as a result of the production cuts.
"The coal stocks went up meaningfully when Patriot announced cuts, and Alpha had a decent day after it announced cuts last Friday," Rollyson noted.
Alpha shares were above $23 on Monday, the highest share value since December, and it's clear that there has been some hot money playing the production cut headlines in the coal sector. Patriot shares spiked from in the $7 range to above $9 after its production cut announcement. Again, the stock continues to bounce around, and Rollyson expects that to be the case for the coal sector all year.
Arch is scheduled to report on Friday before the market opens. James River Coal hasn't announced a date for its fourth-quarter report.
-- Written by Eric Rosenbaum from New York.
>To contact the writer of this article, click here:
Eric Rosenbaum
.
>To follow the writer on Twitter, go to
.
Follow
TheStreet
on
and become a fan on