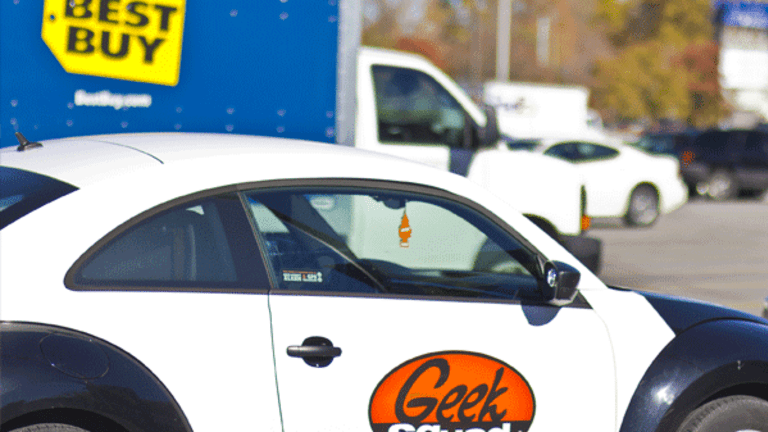 Best Buy Has a Glaring Millennial Problem, Unlike Amazon
BBY shares are down despite posting its strongest quarter since 2009
A gaffe can cost an election in politics, but on Wall Street, the consequences can be just as dire.
Best Buy Co. Inc. (BBY) - Get Report shares are down nearly 12% Tuesday, Aug. 29, right before closing bell, even though just nine hours earlier, the electronics retailer posted its strongest quarter yet since the end of 2009. Why? Analyst consensus points to one comment made by CEO Hubert Joly in earnings call that tempered the comp sales forecast for the rest of the year.
"We do not believe that mid-single-digit comps are a new normal," he said, referring to the second-quarter comp increase of 5.4%, a whopping 3.2% higher than the expected 2.2% growth.
But the resulting stock plummet was a gross overreaction, according to Matt Sargent, a retail expert at consulting firm Magid. "Best Buy is a big example of how a retailer can survive in the age of Amazon," he told TheStreet Tuesday afternoon. "The plummeting shares just means traders need to stop drinking their Red Bulls."
Best Buy's edge over Amazon.com Inc. (AMZN) - Get Report , he added, is its installation services and in-store help, a territory that Amazon has yet to encroach.
"To have in-store experts who can explain a device and then have them come into your home to install it is a huge game-changer for Best Buy," Sargent said. "Amazon is trying to replicate it, but they haven't."
Analysts at Oppenheimer also ignored the selloff sentiment Tuesday after the earnings release and upped their full year forecast. "We are perplexed by today's selloff in shares," they wrote in a note. "We did not detect indications of waning trends following Q2."
One thing that Best Buy does need to be aware of, however, is its lack of appeal to millennials, Sargent said. According to Magid data, only 35% of consumers between the ages 20 to 26 shop at Best Buy, compared to 50% at Amazon and 41% at Walmart Stores, Inc. (WMT) - Get Report . 
More of What's Trending on TheStreet:
Domino's and Ford Join Forces to 'Kill' the Pizza Delivery Boy