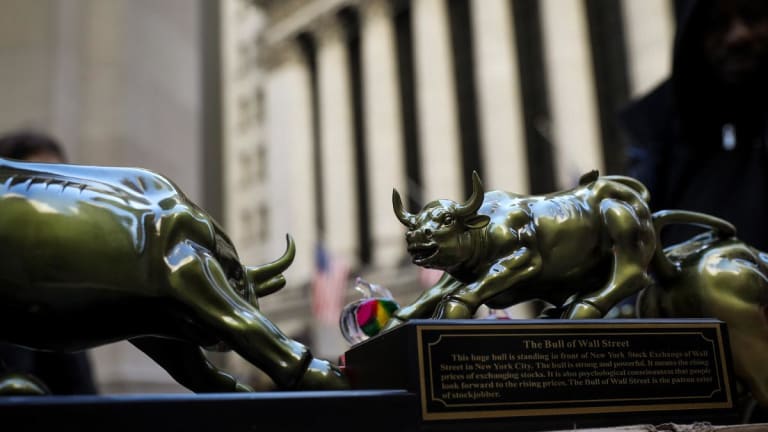 How the Trade War Is Shaping the S&P 500 Charts
The S&P 500 is range-bound as conflicting trade-war headlines continue to drive the index back and forth. Here are the levels to know now.
On Friday, U.S. equities were hammered as trade tensions flared once again. On Monday, though, stocks bounced back on apparent improvements in the trade situation. It's left a lot of investors scratching their heads, wondering what in the world is going on now.
At the end of the day, it's best to keep it as simple as possible. The S&P 500 is stuck in a range, with negative trade news driving it to range support and positive news pushing it to range resistance.
A lot of investors do not trade the actual S&P 500 index options or futures. Instead, they prefer the equity version via the SPDR S&P 500 ETF (SPY) - Get Free Report , or SPY for short. A similar range pattern has developed on the PowerShares QQQ ETF (QQQ) - Get Free Report and the SPDR Dow Jones Industrial Average ETF (DIA) - Get Free Report .
But for simplicity and scope, let's stick with the S&P 500.
Until the market breaks out of its range, it can continue ping-ponging between key levels. What are these levels? Let's look.
Trading the S&P 500
There has been a lot of noise in the market lately, ranging from conflicting trade war stories, focus on the Fed and worries about a recession thanks to an inverting yield curve. But a look at the charts reveals a relatively straight-forward setup.
Simply put, the index is range-bound with support between 2,825 and 2,850, and resistance near 2,950.
Investors can tune out the noise and demonstrate some patience while they wait for one of these two levels to give way. On the upside, bulls need to see the S&P 500 reclaim the 50-day moving average and 2,950 level. Above it opens up a run back to 3,000 and potentially puts the all-time high near 3,028 on the table.
Below 2,825 support and the 200-day moving average near 2,800 is certainly on the table. However, given that the moving average continues to drift higher, an overshoot below this area is possible if support does give way. In that event, the 38.2% retracement for the one-year range is a likely downside target at 2,767.
Too many investors like to point out the index's year-to-date gains of ~15%, acting as if the S&P 500 has enjoyed robust gains so far this year on the back of a solid 2018. Many seem to conveniently ignore the fact that it's flat over the past 12 months or tumbled almost 20% at its Q4 lows, setting the stage for a massive bounce-back in 2019.
In any regard, keep it simple: 2,825 can be a small buy for traders until it fails and 2,950 can be a small sell until it gives way. Once either support or resistance gives way, there are measurable moves in each direction.
Labor Day Sale: Join Jim Cramer's Club for Investors and Save
Get 57% off on your membership to Jim's Action Alerts PLUS club for investors.
This article is commentary by an independent contributor. At the time of publication, the author had no positions in the stocks mentioned.