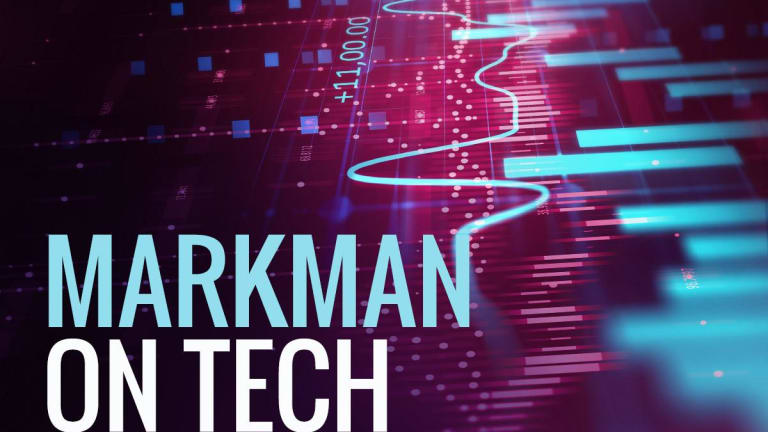 U.S.-Chinese Trade War Could Mash Up Apple
Both Washington and Beijing could gum up AAPL's global business model.
Apple (AAPL) - Get Apple Inc. Report is usually bulletproof as a company, but the iPhone maker is finding itself hopelessly stuck in the middle of the U.S.-China trade war -- and the real shooting has only just begun.
Now, Apple is a prime beneficiary of globalism. It deploys assets where return on investment is greatest, which means it designs products in Silicon Valley, sources components to Asia and has finished goods assembled by partners in Chinese factories. It's a great business model -- but one that President Donald Trump now wants to blow up.
Jack Ma, the founder and executive chairman of Alibaba (BABA) - Get Alibaba Group Holding Ltd. Report  recently warned that today's U.S.-China trade hostilities might last 20 years. He believes that as far as America is concerned, the trade war aims to impede China's growth as an economic power, even though that's lifted millions of Chinese out of poverty and into the middle class. But Ma argues that there's no going back -- the Chinese government will never back down.
Meanwhile, Apple has also benefited mightily from China's economic miracle as well. While privacy and intellectual property concerns have kept fellow FAANG names Facebook (FB) - Get Meta Platforms Inc. Class A Report , Amazon.com (AMZN) - Get Amazon.com, Inc. Report , Netflix (NFLX) - Get Netflix, Inc. Report  and Alphabet/Google (GOOG) - Get Alphabet Inc. Class C Report , (GOOGL) - Get Alphabet Inc. Class A Report  from investing in China, Apple has gone the other way. CEO Tim Cook has been a frequent guest of Chinese President Xi Jinping, has toured Chinese factories and industrial cities and last year committed to invest $500 million for research-and-development centers in Shanghai and Suzhou.
Apple took a $1 billion equity position in Chinese ride-hailing company Didi Chuxing in 2016, and has been building out a massive retail footprint in the country in 2013. The company now has 41 stores there, and China is Apple's largest market outside of the United States. With $44.7 billion in 2017 Chinese revenues, the Asian nation accounted for 20% of all Apple sales last year.
So, a prolonged U.S.-Chinese trade war would be devastating to Apple -- but at least in public, Cook is putting on a brave face. He told analysts during Apple's May earnings call that China and the United States have unavoidable mutuality. As Cook sees it, China only wins if America wins and vice versa. It's a popular viewpoint, and it's probably even true.
But it's politically untenable in the current environment, as the Trump administration wants to reverse globalization. On many occasions during the 2016 presidential campaign, then-candidate Donald Trump boasted that he would bring iPhone manufacturing back to the United States. While that sounds good on the surface, Greg Ip noted in the The Wall Street Journal this week that it would be a "hollow victory" -- bringing back less than 60,000 jobs that are relatively low in the value-add process.
But it's still a risk to Apple shareholders. The company has a significant business in China, its supply chain is there and its profitability depends on deploying assets where the rate of return is greatest.
Meanwhile, both Trump and Xi are in a position to hurt each other by hurting Apple. For example, Trump might impose tariffs on Chinese-made iPhones imported to the United State to coerce Apple to move manufacturing stateside. Conversely, Xi might make it more difficult for Apple to sell its products in China. According to The New York Times, Apple executives have already discussed as much internally.
It'd be a logical strategic move for Xi to place limits on Apple's China sales. After all, U.S. lawmakers recently levied bans on Huawei and ZTE phones entering America. Reciprocal action by China against iPhones would send a resounding message that Beijing won't back down. It would be a direct attack on an iconic American brand -- and it would also hurt Apple, a lot.
So, Apple is in the middle of a conflict where both sides view it as expendable. The company has historically deftly avoided such things, and so far, it's succeeded here. However, as hostilities escalate and the generals become more and more desperate to up the ante, it's hard to see how Apple gets away unscathed. Longer-term Apple investors should recognize this risk.
To learn more about my recommendations at the crossroads of media, technology and government policy, check out my daily newsletter Strategic Advantage. To learn about my practical research in the short-term timing of market indexes and commodities, check out my daily newsletter Invariant Futures.
I do not own shares of Apple or Alibaba.