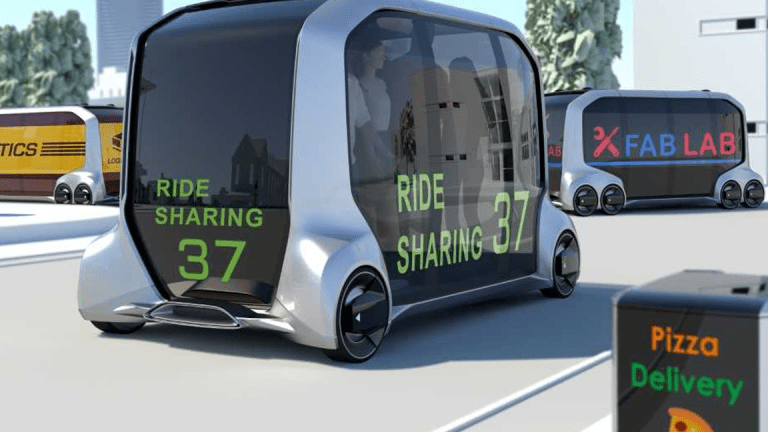 Toyota Partners With Amazon, Uber on These Crazy Self-Driving Mobile Stores
The Japanese auto giant envisions a future with multi-purpose self-driving cars that deliver pizzas, packages and more.
Toyota (TM) - Get Report envisions a future where autonomous vehicles don't just transport people, but also things like Amazon (AMZN) - Get Report packages and Yum Brands' (YUM) - Get Report Pizza Hut pizzas. 
On Monday, the Japanese auto giant unveiled a new self-driving concept car at CES 2018 in Las Vegas that seeks to blend the online and offline shopping experiences by putting retailers on the road and bringing them directly to the consumer. To kick things off, Toyota said its first partners for the car, dubbed the e-Palette, will be Amazon, ride-sharing giants Uber and Didi Chuxing, Pizza Hut and fellow Japanese carmaker Mazda. The companies are also part of Toyota's newly-announced e-Palette Alliance, which functions as a brain trust to develop ideas around autonomy and ride-sharing. 
Toyota's ePalette is designed like a futuristic shuttle with an interior that can be customized based on whatever service the retailer provides, an idea that Toyota refers to as "automated mobility as a service" or "Autono-MaaS." The vehicle uses Toyota's Mobility Services Platform, a cloud-based system of services that enables ride sharing, car sharing and remote delivery. The cars range in size from four meters to seven meters long. 

The ePalette will begin testing in the U.S. in the early 2020s, Toyota said. The company hopes to have the vehicle ready in time for use during the 2020 Olympic and Paralympic Games in Tokyo.
"The automobile industry is clearly amidst its most dramatic period of change as technologies like electrification, connected and automated driving are making significant progress," said Toyota CEO Akio Toyoda in a keynote speech on Monday. "This announcement marks a major step forward in our evolution towards sustainable mobility, demonstrating our continued expansion beyond traditional cars and trucks to the creation of new values including services for customers." 

The ePalette has a totally open interior with a low floor, making it optimized for services such as a mobile hotel or retail store. The exterior of the vehicle can also be changed depending on the service. 
The announcement signals that Toyota is serious about doubling down on autonomous vehicles. On Thursday, the Toyota Research Institute unveiled the Platform 3.0, an autonomous vehicle platform that runs on a Lexus LS 600hL. The car is on display at CES this week.
More of What's Trending on TheStreet: