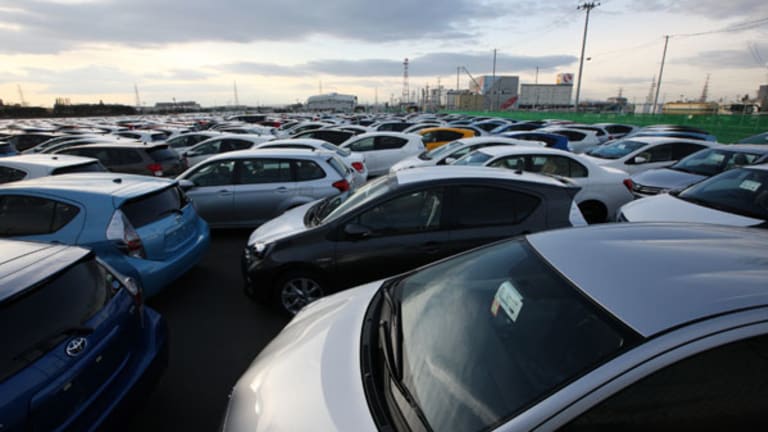 Toyota Says Auto Sales Leap in March After Three Weak Months
Toyota sees gains in auto sales in March, ending three months of flat or down sales, which experts have attributed to winter weather.
Detroit (TheStreet) -- The auto industry has taken its lumps in the showroom and the stock market this year, but the outlook for March sales appears to finally show the trend has reversed.
This month's auto sales are considered to be a particularly important economic indicator because auto sales have slumped for three consecutive months, leading to a debate over whether the decline reflects a weak economy or simply bad winter weather. Sales were flat in December, down 3% in January and flat in February. Auto sales had been gaining steadily for four years until they showed signs of weakness this winter.
Toyota (TM) - Get Report took an unusual step, declaring in a news release that the weekend of March 22-23 was its best non-holiday sales weekend of the year, with sales of nearly 20,000 units --- a 12% increase over the same weekend a year earlier.
Toyota said retail sales through March 23 were 4% higher than a year earlier, while combined Midwest and Northeast sales were 5% higher.
"Traffic at dealerships is picking up nationwide, which will benefit industry sales in March," said Bill Fay, Toyota division group vice president and general manager, in a prepared statement. "At Toyota, we see retail strength in pickups and SUVs, and strong momentum for Camry."
J.D. Power reported that total light-vehicle sales in March were expected to gain 6% to 1.5 million units, while retail sales were expected to gain 7% to 1.2 million units. Fleet sales were expected to account for just 17.3% of the total, which is near the record low of 17.1 million in 2009, the firm said.
"The severe weather had an impact on retail sales in January and February, but as the weather has improved, so have sales," said John Humphrey, J.D. Power senior vice president of the global automotive practice, in a prepared statement. "Additionally, stronger pricing coupled with lower reliance on fleet continues to bode well for the overall health of the sector."
The average new-vehicle retail transaction price in March remains above $29,300, up nearly $700 from March 2013 and the highest level ever recorded for the month.
"The selling pace for the year was slow out of the gate, but the industry remains poised for stable growth in the near- to mid-term," said Jeff Schuster, senior vice president of forecasting at a J.D. Power affiliate. "Modest improvements are expected as 2014 progresses, the recovery from the deep recession nears an end and the market transitions to a post-recovery stage."
Written by Ted Reed in Charlotte, N.C.

To contact this writer, click here.