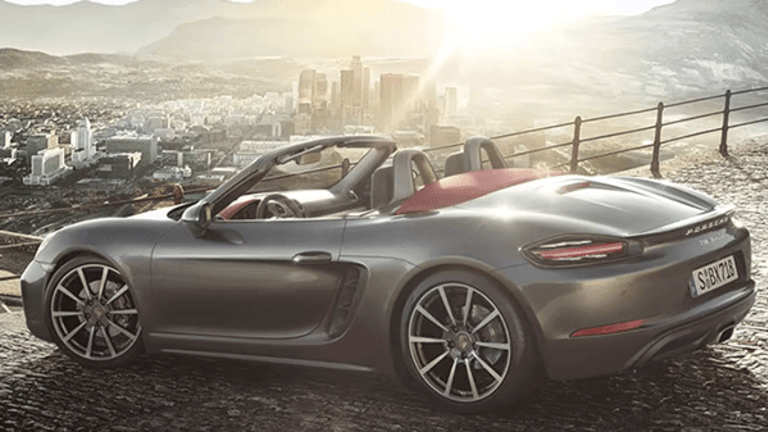 Toyota Leads This List of 10 Cars You Could Own Forever
Dependable rides.
There's one lesson from the last recession that American drivers are still heeding: Hold on to your car as long as you can.
According to IHS Markit, the average U.S. car has been on the road for 11.6 years. There are 264 million registered vehicles in the United States, up 6.2 million from 2014. While cars in the new to five-years-old category are expected to grow 16% by 2021, older vehicles are sticking around far longer. Vehicles that have been on the road 16 years or more will see their numbers grow from 62 million units today to 81 million units in 2021. Meanwhile, more than 20 million vehicles on the road in 2021 will be more than 25 years old.
That's right, 20 million of you will still be driving cars from the '90s four years from now. Sorry to be the bearer of bad news to Tesla (TSLA) - Get Report founder Elon Musk.
"Quality of new vehicles continues to be a key driver of the rising average vehicle age over time," said Mark Seng, director, global automotive aftermarket practice at IHS Markit. "The recession created an acceleration beyond its traditional rate due to the nearly 40% in new vehicle sales in 2008-2009. In the last couple of years, however, average age is returning to a more traditional rate of increase."
Ford's 2018 Mustang Will Have Tear Your Face Off Horsepower, but Also a Magical Burnout Button
Also, after "cash for clunkers," the U.S. has been in no mood to turn in its old cars. As of the end of 2015, the average length of ownership for new cars measured a record 79.3 months (or more than six and a half years) and nearly five and a half years for used cars. Both figures have risen significantly from a decade ago, while the number of vehicles scrapped per year fell from 14 million in 2012 to 11 million in 2015.
Meanwhile, market research firm iSeeCars.com found that the average car owner hangs onto a vehicle for 7.3 years. After analyzing 15.7 million used vehicles sold by original owners, iSeeCars reached the conclusion that people are getting rid of their cars one to two years after finishing their financing term.
"The key to buying a new car people love enough to keep for a long time is taking the time to find something that truly fits their personality and long-term needs," says iSeeCars CEO Phong Ly. "Car shoppers should do solid research upfront, calculating the costs of ownership and spending enough time on test drives to make sure everyone who'll be in the car is really comfortable."
Tesla Shares Could Crash More Than 45% -- Goldman Sachs Reveals One Big Call
While the folks who provide parts, repairs and other services are likely elated that there are so many older cars on the road, it's also a win for consumers who can pick up reliable used cars on the cheap. With a big hand from iSeeCars.com, we've found the nine vehicles that drivers tend to hold onto longest.
Audi TT
Starting price: $47,000
Average years owned: 8.8
The 220-horsepower 2.0-liter turbocharged engine, quattro all-wheel drive, customizable driving settings with Audi drive select, acoustic folding roof, 12-way heated leather power front seats, automatic climate control and touchscreen entertainment system with Bluetooth capability are all strong arguments for getting one of these roadsters new.
However, little throw-ins like a rearview camera, rain/light-sensing wipers and headlights, garage door opener and keyless stop, start and entry are all quite enticing in their own right.
Toyota 4Runner
Starting price: $34,210
Average years owned: 8.8
They don't make them like this anymore, but that's why it's so valuable years after it's purchased. The 4Runner is a mix of the big school and soccer shuttle families want and the gear-hauling weekend vehicle its remaining adherents desire, but it's definitely seen better days. Toyota (TM) - Get Report was selling 129,000 4Runners at their peak in 1997, but low gas prices and a brand resurgence brought sales from less than 20,000 in 2009 to more than 110,000 last year.
Sure, it only gets a combined 20 miles per gallon, but it's re-envisioned itself a tailgater's dream with a power outlet in the cargo space for hooking up a television or other electronic devices, nearly 90 square feet of cargo room and an optional sliding cargo deck. That last feature basically takes out the need for a folding table by providing counter space strong enough to hold 400 pounds of food and beverages.
Toyota Avalon
Starting price: $36,650
Average years owned: 8.8
Built in Georgetown, Ky., specifically for American car buyers, the Avalon has the look of an efficient Japanese luxury car and the oversized body U.S. drivers are looking for. However, the Avalon hybrid's combined mileage of almost 14 miles per gallon more than its strictly gas version comes through sacrificing its 280-horsepower V6 for a 156-horsepower 4-cylinder.
The best part? It's basically a Lexus ES without the leather seating, a 15-speaker audio system and a whole lot of personalized upgrades. It's the big, budget-conscious pseudo-luxury car for folks who want the space, but not the stuff.
Watch More with TheStreet:
60 Second Tips: Back to School Tax Holidays
Will the Plant-Based 'Impossible Burger' Get FDA Approval?
Chevrolet Corvette
Starting price: $55,455
Average years owned: 8.8
The auto world went absolutely nuts when it was revealed that the 2014 Corvette was going to revive the stingray body style that Chevrolet hadn't used since 1982. When it turned out that you could buy one that came ready for a day at the track, about 75% of potential owners signed up.
Years later, General Motors' (GM) - Get Report Corvette still delivers on its looks with a 6.2-liter small block V8 engine that cranks out 455 horsepower and hits 60 mph in less than four seconds. If that isn't fast enough, the Chevrolet Corvette Z06 includes a supercharged version of that engine with 650 horsepower that cuts the 0-60 time down to 2.9 seconds. We have no idea why you'd get this as a stripped-down base model, which is why you'll likely choose from packages with a convertible top; Bose 10-speaker surround-sound audio system; Sirius XM satellite radio with one-year subscription and HD radio receiver; color head-up display; memory package; navigation system; heated and ventilated seats with power lumbar and bolster adjustment; and a leather-wrapped dash. It's the lavish all-American sports car with the parts and labor to back it up.
Toyota Sequoia
Starting price: $44,965
Average years owned: 8.9
Sticking the Toyota Tundra pickup's 5.7-liter, 381-horsepower V8 in a honking-big SUV is just going to yield the same results with less bed space. Built on the same platform as the Tundra, the Sequoia is yet another large SUV riding the small wave of buyers still clamoring for vehicles like it. Toyota tweaks the interior technology every few years or so, but the Sequoia has gone fundamentally unchanged since 2007. All of the above has contributed to a dramatic decrease in the Sequoia's popularity, with just 12,227 selling in the U.S. in 2016 compared to 70,000 at the vehicle's peak in 2002.
However, it can tow 7,400 pounds, has room for eight passengers, offers 120 cubic feet of total cargo space, has power reclining seats for passengers in the third row, one-touch moonroof and has the Entune infotainment system standard. It's yet another full-size pickup with a cap on it, but it delivers a lot for its bulk.
Ford Explorer
Starting price: 31,660
Average years owned: 8.9
The king of the gas-guzzling SUVs is now a "full-size" crossover for an automaker with no desire to build a true minivan again. Laden with safety features including adaptive cruise control, hill descent control, blind-spot warning and intelligent four-wheel drive, the Explorer is more for family safety than a weekend of overlanding.
However, third-row power-folding seats, room for seven, up to 82 cubic feet of cargo capacity, parking assist, front and rear cameras, the Microsoft Sync entertainment and information system and an available hands-free liftgate are all designed to make this crossover shuttle as easy on driving parents as possible. Sure, the Explorer brand itself has a few miles on the tires, but that doesn't mean it's out of new tricks.
Mercedes-Benz SLK
Starting price: $47,000
Average years owned: 9
The former SLK250 is Mercedes's answer to the U.S. automakers' "pony" cars like the Mustang and Camaro.
The base 2.0-liter 4-cylinder sits just fine with those drivers who'll never need more than 241 horsepower and love their vehicle for more aesthetic reasons. The more muscle-minded buyer will wonder why you ever settle for anything less than the AMG V8 and 400 horsepower of the SLK55.
However, all of the above look the same when you're sitting in commuter or beach traffic. With that in mind, you may as well take the one that gives you the same retractable hardtop, memory seats, heated mirrors, garage door opener, integrated compass and Bluetooth audio streaming while sucking down way less gas at 28.5 mpg.
Ford Expedition
Starting price: $47,125
Average years owned: 9%
Yep, this Ford (F) - Get Report is an absolute dinosaur of an SUV with no crossover blood whatsoever and a paltry 19 miles per gallon of combined mileage. Yes, this supersized EL version with eight more cubic feet of passenger volume and almost 22 more cubic feet of total cargo space drops combined efficiency to 18 miles per gallon. But that isn't what we're here to discuss.
The Toyota 4Runner's cargo space with the seats up (47.2 cubic feet) is bigger than the Expedition's 18.6 cubic feet. Meanwhile, the Mercedes-Benz GL-Class's space with the rear seats gone (93 cubic feet) outclasses the Expedition's 85.5 cubic feet without its last row. Even the 108 cubic feet with all seats down rates pretty low on this list. So why hold onto it for that long? Because you can't kill it. There will be bigger cars with bigger engines, but if this has been pulling your utility trailer for the last decade without much protest, there's no reason not to try for a decade more.
Porsche 718 Boxster
Starting price: $56,000
Average years owned: 9.9%
Even Porsche has been swayed by SUV demand, with the Cayenne accounting for the majority of its U.S. sales. This is the Porsche you'll want when the kids and their SUV worth of stuff are gone.
The iconic body, the 2-liter engine and the 300 horsepower are all just dreamy for a car this size. Meanwhile, the fact that you can get it to 170 mph and still get that mileage with standard driving is nothing shy of incredible. The in-car Wi-Fi, the phone module, the Apple Play apps, the online navigation and little nesting/charging tray for your smartphone are all nice additions, but the Boxster is a draw of its own.
Toyota Land Cruiser
Starting price: $78,255
Average years owned: 10.6%
The Land Cruiser is the most expensive Toyota available and the last in a dying breed of big, affluence-flaunting gas guzzlers. The Land Cruiser and its 15 miles per gallon after gas prices flirted with $4 a gallon last year, but there's still a large market for a 5.7-liter 381-horsepower V8 that just bulls its way over trails. A cushy, independent front suspension for passengers and a solid-axle rear suspension adjusts to speed and terrain. All that technology, including turn-radius-reducing brakes and Crawl Control, is costly, but it's perfect for the job.
More of What's Trending on TheStreet: