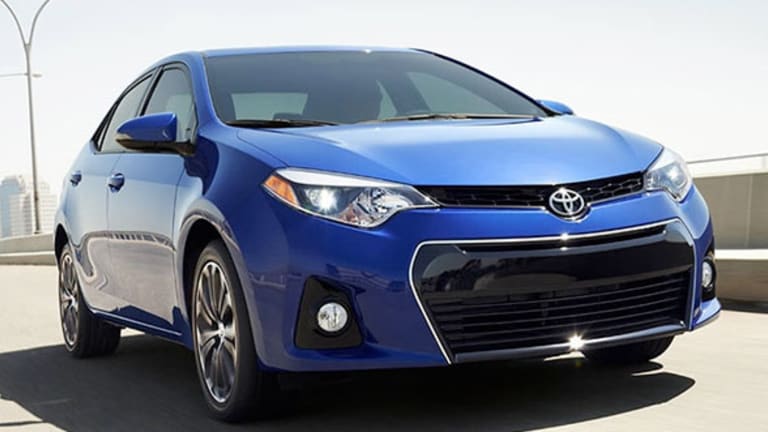 Publish date:
Toyota Is Trump's Latest Target but Shares Dip Just Slightly
The president-elect threatens the Japanese automaker with 'big border tax' for making Corollas in Mexico, but Wall Street takes the threat in stride.
The president-elect threatens the Japanese automaker with 'big border tax' for making Corollas in Mexico, but Wall Street takes the threat in stride.
President-elect Donald Trump focused his ire on Toyota (TM) - Get Toyota Motor Corp. Sponsored ADR Report on Thursday afternoon, criticizing the Japanese automaker for its plans to build its Corolla sedan in Mexico.
Trump said on Twitter that "Toyota Motor said will build a new plant in Baja, Mexico to build Corolla cars," telling the automaker "build plant in U.S. or pay big border tax." Toyota said in April 2015 it intended to shift Corolla production to Mexico from Canada, focusing its Canadian and U.S. manufacturing footprint more on larger, more expensive cars and sports utility vehicles.
Toyota is building the new facility in central Mexico, not Baja. The automaker also has a Corolla plant in Mississippi, and has not yet stated if sedans built in Mexico would supplement Mississippi-built models in U.S. showrooms or head elsewhere.
Trump's comments echo statements he made earlier in the week concerning General Motors (GM) - Get General Motors Company (GM) Report and the Chevy Cruze. Trump said automakers need to "Make in U.S.A. or pay big border tax." The latest Trump statement could have been inspired by comments by Toyota President Akio Toyoda that the company would consider the president-elect's policies when planning new facilities in Mexico.
Detroit insiders have also complained that Trump was ignoring non-U.S. automakers, with former GM Vice Chairman Bob Lutz appearing on CNBC Thursday morning arguing that GM and Ford were being singled out by the incoming administration.
Toyota in a statement said that U.S. production volume and employment will not decrease as a result of the new plant, to be built in Guanajuato, Mexico, and said it is open to discussions with the incoming administration.
"With more than $21.9 billion direct investment in the U.S., 10 manufacturing facilities, 1,500 dealerships and 136,000 employees, Toyota looks forward to collaborating with the Trump Administration to serve in the best interests of consumers and the automotive industry," the company said.
Wall Street seemed to take the Toyota comments in stride, with the automaker's New York Stock Exchange-traded shares trading down less than 1% following the tweet. General Motors shares had a similarly subdued reaction on Tuesday, a potential sign that after moving markets shortly after election day with tweets concerning the likes of Boeing (BA) - Get Boeing Company Report and United Technologiesundefined , Trump's impact on investors is beginning to wane.
Even if the tweets do not move stocks, the president-elect seems likely to continue to call out individual companies and take credit for actions taken in response. Trump praised Ford (F) - Get Ford Motor Company Report for a decision announced not long after the GM tweet to cancel construction of a facility in Mexico, a decision that Ford insiders insist had more to do with global capacity needs than it did politics.