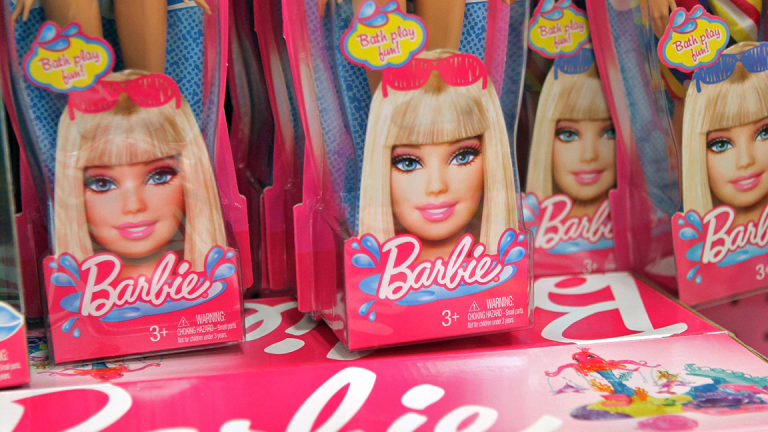 Toymakers Mattel and Hasbro Jump as U.S. Delays Some Tariffs on China
The Trump administration says it will delay 10% tariffs on certain China-made products.
Shares of toymakers Mattel (MAT) - Get Free Report and Hasbro (HAS) - Get Free Report  were rising sharply Tuesday after the Trump administration announced that it will delay 10% tariffs on certain Chinese products that were supposed to take effect in September. 
Mattel shares were rising 4.3% to $11.48 on Tuesday, while Hasbro shares jumped 4.6% to $118.43.
The Office of the U.S. Trade Representative said it will delay tariffs on several items in the basket of $300 billion in consumer goods that are made in China and sold in the United States, which were set to rise to 10% on Sept. 1, until at least Dec. 15. Cell phones, video game consoles, certain toys and footwear will get the short-term exemption, the USTR said.
"Certain products are being removed from the tariff list based on health, safety, national security and other factors and will not face additional tariffs of 10 percent," the USTR said. "USTR intends to conduct an exclusion process for products subject to the additional tariff."
The cooling of trade tensions between the two countries is good news for U.S. companies with manufacturing exposure in China. 
The timing of the detente couldn't be better for Mattel after the stock fell the most it has in about six months ion Friday after the company announced that it was pulling a bond sale as it looks into "an anonymous whistleblower letter."
The company was looking to refinance bonds that are due in October 2020 before they mature, but the letter derailed those plans. The company didn't disclose the contents of the letter.