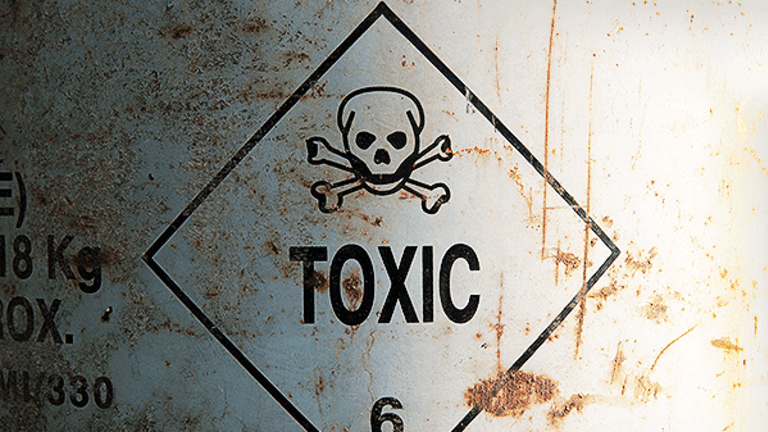 Disney's Stock Is Toxic, This Chart Shows
All the details.
The big stock market averages are hovering around their all-time highs this summer, giving investors hope that stocks will tack on more points this June.
But all isn't what it seems right now.
Sure, the big S&P 500 Index is up 9.8% on a total returns basis this year, but a very big chunk of the individual stocks that make up that big index aren't participating in the upside in 2017. Case in point: despite the sizable rally in the S&P so far this year, approximately one in three S&P 500 components is actually down since the start of the year.
Simply put, the key to beating the market this summer isn't finding the very best stocks to own; instead, the key is just not owning the stocks that could drop further from here. To accomplish that, we're turning to the charts for a technical look at three stocks that are about to trigger sell signals (and when you should actually sell them).
Just so we're clear, the companies I'm talking about are hardly junk--many of them have very strong businesses.
But that's frankly irrelevant to what happens to their stocks; from a technical analysis standpoint, sellers are shoving around these toxic stocks right now. For that reason, fundamental investors need to decide how long they're willing to take the pain if they want to hold onto these firms in the weeks and months ahead. And for investors looking to buy one of these positions, it makes sense to wait for more favorable technical conditions (and a lower share price) before piling in.
Here's a look at three big stocks that could turn "toxic" for your portfolio in the near-term.
Walt Disney Co.
Leading things off is entertainment giant Walt Disney Co. (DIS) - Get Report. Disney is managing to hold onto break-even territory for 2017, but that stat masks a much more troubling price trajectory for Disney more recently. Since peaking back at the end of April, shares have shed 10.5% of their market value--and Disney's chart is signaling that the correction could get worse.
Disney has spent the last month forming a pretty textbook example of a descending triangle pattern, a bearish continuation setup that signals more downside ahead. The pattern is formed by horizontal support down below shares at the $104 level, with downtrending resistance to the topside. Disney's violation of that $104 price floor this morning could be the start of a breakdown.
One of the most important technical indicators in this market is relative strength, the line down at the bottom of Disney's price chart. Relative strength has been making lower highs in Disney since May, indicating that Disney has switched from being a market leader to a market laggard--as long as that's the case, it makes sense to avoid shares of Disney.
A close below $104 today would confirm the sell signal in this stock.
Disney shares rose 0.2% to $104.45 by Friday's close.
Chevron Corp.
Meanwhile, things are looking pretty straightforward in shares of oil and gas giant Chevron Corp. (CVX) - Get Report. Chevron has been selling off in a well-defined downtrend since last December, recording a double-digit drop during that stretch. Problem is, that downtrend is still alive and well this summer.
Chevron's downtrend is defined by a pair of parallel trendlines that have identified the high-probability range for shares to remain stuck within over the past six months. Simply put, every test of the top of the price channel has provided shareholders with an opportunity to get out before the ensuing drop. Chevron confirmed that the downtrend is still in effect after getting swatted lower from trendline resistance on Monday.
If you're looking for a buying opportunity in Chevron, it makes a lot of sense to wait for shares to push above the top of their downtrend first.
U.S. Bancorp
Last on our list of potentially bearish trades is $84 billion banking stock U.S. Bancorp (USB) - Get Report.
U.S. Bancorp has actually been a great performer in the past year, charging more than 20% higher between last summer and now. But shares are starting to look "toppy" this June thanks to a classic bearish reversal pattern. Here's how to trade it:
U.S. Bancorp has spent the all of 2017 forming a head and shoulders top, a bearish reversal pattern that signals exhaustion among sellers. It's formed by two swing highs that top out at approximately the same level (the shoulders), separated by a higher high (the head). The sell signal comes on the violation of USB's neckline at the $50 level. Shares are within grabbing distance of that make-or-break level as I write.
Simply put, if USB violates the $50 price, you don't want to own this stock anymore.
Visit here for the latest business headlines.
Read More Trending Articles:
Advanced Micro Devices New Epyc Super Chip Could Rake in $1 Billion in Sales By 2020
Jim Cramer Talks With Ken Fisher About Retirement Planning
This article is commentary by an independent contributor. At the time of publication, the author held no positions in the stocks mentioned.