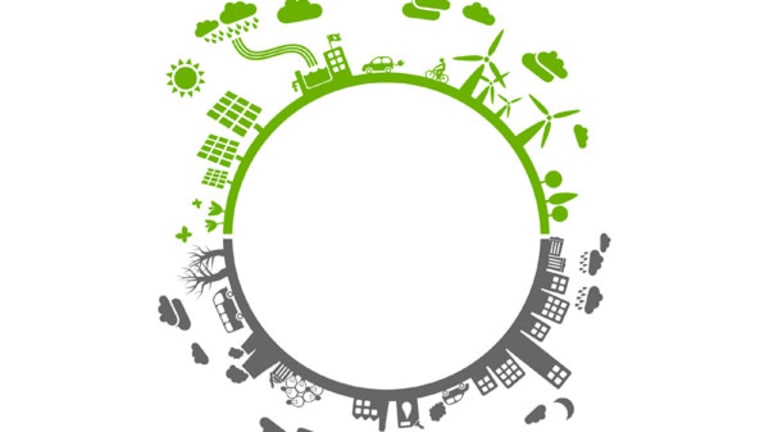 Total to Take Majority Stake in SunPower
European oil giant Total is taking a majority stake in U.S. solar power company SunPower.
(SunPower, Total deal story updated for SunPower comments from analyst call)
NEW YORK (
) -- European oil giant
Total
(TOT) - Get Free Report
announced after the close on Thursday that it is offering to take a 60% majority stake in U.S. solar company
SunPower
( SPWRA), paying up to $1.3 billion.
SunPower shares soared by 40% after the close, from a closing share price of $16.21 to $22.60.
SunPower officials described the deal as a transformational investment that will help fund projects across the board from it largest utility scale deals to smaller commercial and residential projects as it seeks to install as much as 10 gigawatts of solar over the next half decade. SunPower pointed to Total's credit strength and financing relationships across a global footprint of 130 countries.
In a negative footnote to the news, SunPower forecast first-quarter earnings of 15 cents a share, the low-end of its previous guidance and below Wall Street's consensus view of 19 cents. SunPower sees revenue of $450 million in the first quarter, shy of the average analysts' view of $510 million.
The company cited delayed projects in Europe as regulatory uncertainty in Italy has slowed project development, a factor that has been well-telegraphed by solar investors and analysts.
Total will commence a tender offer for up to 60% of SunPower's class A and class B shares at a price of $23.25/share, a 46% percent premium over the April 27 closing price of SunPower's A shares and a 49% premium over the B shares closing price.
In addition, Total will provide SunPower with up to $1 billion of credit support over the next five years.
SunPower has had one of the more stressed balance sheets in solar, and last year signed a deal with Taiwan's AU Optronics to help move off its balance sheet funding for a 1.4 gigawatt solar cell fabrication facility in Malaysia.
"Total's commitment and global presence will help accelerate our growth and solidify our position in the increasingly competitive solar sector," said Tom Werner, SunPower's CEO in the press release announcing the acquisition. "With Total's $1 billion credit support agreement, solar research and development investments and the other resources available through its global network, we have taken the next step in positioning our business for continued growth and long-term success. Our relationship with Total will improve our capital structure enabling SunPower to accelerate our power plant and commercial development businesses, and expand our manufacturing capacity with lower cash requirements."
The huge premium offered by Total for SunPower shares comes after a one-year period during which SunPower shares have been close to flat in trading. SunPower went public in 2005 and in its first day of trading rose from its IPO price of $18 to above $25, compared to the $23.25 offered by Total for a 60% stake. SunPower shares rose as high as $130 in 2007, and were still trading at the $40 mark at the outset of 2009 before declining to the current range, which over the past year saw SunPower shares move as low as $10 and as high as $20.
Shares of the largest solar companies, including the U.S. companies
First Solar
(FSLR) - Get Free Report
and
MEMC Electronic Materials
(WFR)
, which both have big project businesses like SunPower, rose by 7% after the close. The Chinese solar leaders
Yingli Green Energy
undefined
,
Trina Solar
(TSL)
, and
Suntech Power
(STP)
, also shot up quickly after the closing bell by between 5% and 7%.
SunPower has acquired a large pipeline of financing-intensive, lower margin large-scale solar projects in North America and Europe, but SunPower officials stressed on a conference call on Thursday afternoon that the Total deal is transformational for the whole company, not just its large-scale solar business.
SunPower CEO Werner said, "We see it as a 2012 and beyond acceleration and see it being three fold: capacity, cost and new markets."
The SunPower CEO specifically drew attention to opportunities for the company's new concentrated photovoltaic solar panel product and Total's worldwide footprint of markets which offers "real upside." SunPower has previously said it views the concentrator technology -- which uses mirrors to concentrate sunlight on electricity generating panels -- as a "game-changer" in the large-scale project market.
Yet the SunPower CEO also said the Total deal will help SunPower's commercial and residential businesses. Werner noted that the European feed-in tariff models are shifting to a greater focus on the residential and commercial business and away from large-scale ground-mounted solar. SunPower is expanding rapidly in commercial and will be able to deploy more capital as a result of the Total deal.
"This is not a UPP
large scale utility play. This is a company play," Werner said.
SunPower noted that some financing structures it is currently at work on require a higher level of rating structure stability for optimal lending costs, and Total's credit rating can be leveraged in this regard.
In the utility market specifically, SunPower said Total does have relationships that might offer more cost effective lines for short term construction, and with the resultant cash freeing up on the balance sheet, SunPower may also be able to fund smaller projects directly off the balance sheet. "I think it's both short-term and longer term financing, and for UPP
utility it's very advantageous."
Total is also active in financing for the U.S. market, and SunPower said financing of solar projects in the U.S. through Total is "on the list."
SunPower recently received a rating for a bond-financed solar project in Italy, a first-of-its-kind rated-debt deal for the U.S. solar company, and it has said that the rated bond deal is a model for solar project financing it would like to replicate in other markets, including in the U.S.
SunPower CEO Werner said the company has been searching for two years for a deal to help reach its goal of installing 10 gigawatts of solar over the next five years. "We looked at how to accomplish and finance this goal and it's not just balance sheet but capability, and we did an extensive search of what we thought were all the viable options and Total was the clear winner."
SunPower also noted that Total has a 25% interest in a polysilicon business just starting production in the U.S., which SunPower described as an "interesting complement" to its two existing polysilicon partners. In June 2010, Total acquired a 25% stake in Fairless Hills, Pa.-based AE Polysilicon, which has developed an advanced process for fluid bed polysilicon production that is lower carbon and lower energy intensive than standard polysilicon production operations.
Werner will remain CEO of SunPower and Total will take 6 out of 11 seats on the SunPower board.
-- Written by Eric Rosenbaum from New York.
>To contact the writer of this article, click here:
Eric Rosenbaum
.
>To follow the writer on Twitter, go to
.
>To submit a news tip, send an email to:
.