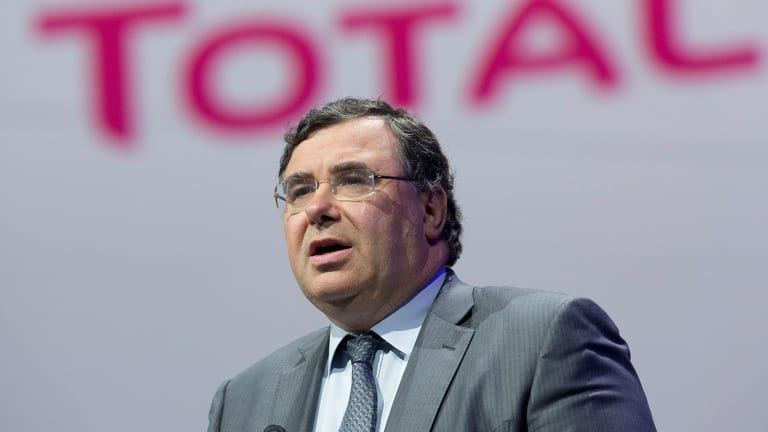 Why France's Total Is a Much Better Oil Play Than Exxon Mobil
Both valuation metrics and risk factors favor the French oil giant over the U.S. one.
Both valuation metrics and risk factors favor the French oil giant over the U.S. one.
Investors wanting an oil play should buy France's Total SA (TOT) - Get Report  over Exxon Mobil (XOM) - Get Report .
Total is a steal when compared to its well-known rival Exxon.
Part of the issue has been Total's recent underperformance. While Exxon's performance hasn't been stellar this last year, it's been far better than Total's. Exxon share have gained 3.5% year to date through Friday, versus losses of 12.4% for Total, while the S&P 500 has gained 11%. All figures exclude dividends.
But that lag could be about to change. The upside potential for Total now looks just too good to pass over especially when compared with what would likely be modest gains in Exxon over the next 12 months.
Cheaper Valuation, Better Earnings
Total holds a far more favorable valuation than does Exxon. The former currently trades at a forward price earnings ratio (P/E) of 10.2. Meanwhile, Exxon fetches a forward P/E of 17.6.
Part of this difference gets is explained by investors' perceptions between U.S. markets and those in Europe.
"Historically [Exxon] has been the premium rated supermajor," states a recent research report from Swiss bank UBS, their emphasis. "Part of this premium...can be ascribed to the difference in US versus European equity markets."
One oil market professional puts it more bluntly.
"France is not exactly biz friendly compared to the U.S... so Total probably should trade at a discount to Exxon," says Adam Johnson, founder of the Bullseye Brief financial newsletter and a former professional oil trader.
But he says the current difference, which is now more than 40% on a forward P/E basis, is just too much.
"It is a great company in the wrong zip code," he says of Total.
When the discount for a good company gets this wide, then there are likely profits to be had by savvy investors.
Another valuation metric,  the earnings yield, shows Total is a superior bet to Exxon. Earnings yield measures earnings per share as a percentage of the share price, which makes comparisons between companies easier.
Exxon has an earnings yield of 5.4% while Total's is 8%, according to Morningstar. Or put another way, when you buy Total stock you get more earnings bang for your buck than you do for Exxon shares.
Sales growth at Total has also outpaced that at Exxon. Sales grew 23% in 2018 for Total versus around 17% for Exxon.l
Exxon's Risk of Multiple Compression
UBS also alluded to the fact that Exxon has a premium price multiple in part due to its historic financial discipline and returns. There's little doubt that it is a well-run company. But there is also some concern that the firm might not return to its glory days unless oil prices continue to surge higher.
The result could be that Exxon loses its stock price power, according to some.
"Returns are unlikely to ever reach historical levels without higher commodity prices, potentially resulting in compression of Exxon's premium multiple," states a recent report from Morningstar.
In such a situation, the stock would fetch a smaller multiple of expected earnings, which at least in the short term could mean stagnating stock returns.
Analysts See More Upside For Total
Analysts sees far more upside for Total's stock price than it does for Exxon. For instance, Morningstar argues that Total is worth $77 a share, or a 40% premium to the recent price of $55. 
Contrast that with Morningstar's view of Exxon which it says is worth $90, or around 13% more than the recent $80 price the stock fetched.
Morningstar isn't the only Total bull on the street. Swiss bank UBS sees Total's stock appreciating 23% over the next 12 months, versus 9% for Exxon. And New York-based research firm CFRA says Total has 20% upside over the same period, while arguing that Exxon is fairly valued at current prices.
There is always plenty of uncertainty when investing in oil stocks, of course, but by choosing Total, there would appear to be more upside relative to the risks than with Exxon.
The author owns none of the securities listed in this story.