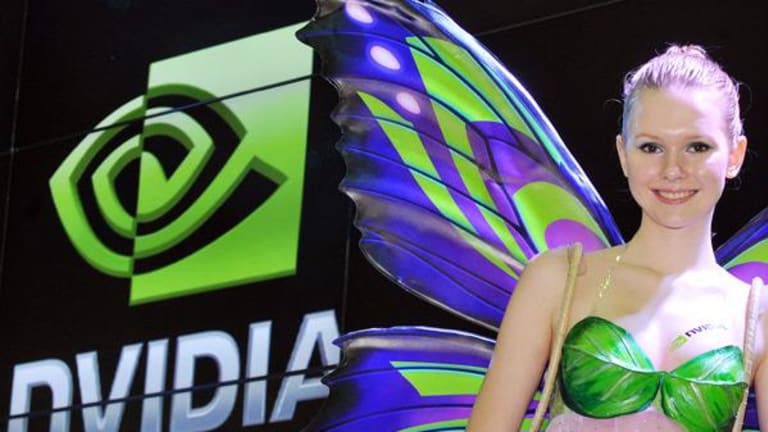 Top Takeaways From CES 2017: Why Tech Giants Like Nvidia and Qualcomm Are So Obsessed With Cars
Prominent CES attendees are keen to show they won't get left out as cars become considerably more intelligent, connected and self-aware. And you can bet Apple is paying attention, too.
If recent editions of the massive Consumer Electronics Show made it clear that hardware makers no longer saw the PC as a growth market and are looking for opportunities elsewhere, this year's version appears to be doing the same for smartphones. And there might be only one market that has any chance to pick up the slack, at least in the near-term.
With close to 1.5 billion smartphones now sold annually and penetration rates very high in developed markets, research firm IDC previously forecast industry shipments would be up less than 2% in 2016. The high-end phone market, hurt by soft iPhone 6S sales early in the year and an industry mix shift towards emerging markets, was likely even weaker.
TheStreet's Eric Jhonsa is attending CES all this week. He'll be covering news events, reporting from exhibit floors, speaking with industry executives and live blogging. Check out all of our CES 2017 coverage here.
In its annual sales forecast (delivered at CES), the Consumer Technology Association (CTA) estimated that smartphone unit sales will rise about 3% in 2017 to 1.44 billion. It also forecast the dollar value of those sales will dip slightly to $441 billion (still easily dwarfing any other consumer electronics market), and that PC and tablet sales will dip again. TV sales are expected to be up fractionally.
Phone makers, carriers and mobile chip suppliers have all clearly gotten the message. Samsung (SSNLF) dedicated only a small portion of its sprawling CES "booth" -- if you can an exhibit covering thousands of square feet that -- to its Galaxy phones, and allocated much of the rest to living room and smart home gear. China's Xiaomi gave its phones more attention, but also dedicated a lot of floor space to things like smart home products and drones.
AT&T (T) - Get AT&T Inc. Reporthas used this week to double down on its Internet of Things and connected car bets, announcing both new services and partnerships with the likes of Delphi (DLPH) - Get Delphi Technologies Plc Report and Honda (HMC) - Get Honda Motor Co. Ltd. Report. And while Qualcomm's (QCOM) - Get Qualcomm Inc Reportjust-unveiled Snapdragon 835 flagship processor is bound to go into many high-end Android phones, the company was intent on making it smaller and less power-hungry than its predecessor (the Snapdragon 820), so as to make it more suitable for products such as VR headsets and drones.
RF chipmakers Skyworks (SWKS) - Get Skyworks Solutions, Inc. Report and Qorvo (QRVO) - Get Qorvo, Inc. Report were also keen on announcing products meant to lower their smartphone dependence. And an Intel (INTC) - Get Intel Corporation Reportexecutive involved in the chipmaker's 5G efforts stressed to me that Intel's 5G push shouldn't just be seen as an attempt to grow the company's smartphone presence, but to get inside the many other devices it expects 5G modems to go into.
Many firms, including quite a few hardware start-ups, are clearly hoping smart home devices will be a big opportunity for them, but this generally feels questionable. The CTA forecasts that smart home hardware shipments will rise 63% in 2017, but only to 29.2 million units, which is equal to roughly just 2% of smartphone shipments.
Moreover, the market is already very fragmented -- I couldn't count the number of wireless doorbells, web-connected toasters and coffeemakers and "intelligent" lighting systems on display even if I wanted to -- and consumer inertia is a real problem. If a family is quite satisfied with what they get from conventional kitchen appliances, convincing them to pay up for connected ones could be a challenge.
But cars look a lot more promising -- over 80 million of them are sold annually, the automotive chip market is worth over $30 billion and growing and the fact that so many consumers spend at least several hours each week inside a car gives them a strong incentive to look at technologies that can significantly improve their experiences as drivers and/or passengers.
Partly and fully autonomous cars are clearly a big part of this push; CES includes a dedicated exhibit area for automakers as well as suppliers such as Nvidia (NVDA) - Get NVIDIA Corporation Report and Delphi (DLPH) - Get Delphi Technologies Plc Report to show off self-driving test cars and perhaps let attendees take a brief ride in one. But connectivity platforms -- solutions that let cars communicate with other cars, in-car gadgets and home devices, among other things -- are also big.
Many firms have used CES to announce vehicle-to-everything (V2X) solutions that let cars exchange information with nearby vehicles, as well as with infrastructure elements such as traffic lights and bus stops. And some automakers, such as Ford (F) - Get Ford Motor Company Report and Volkswagen, are showing off the ability to control home devices through an infotainment system; Ford's solution, like so many other products announced at CES, works withAmazon's (AMZN) - Get Amazon.com, Inc. ReportAlexa platform.
Many exhibitors have also shown an interest in using artificial intelligence for automotive solutions other than self-driving systems. Toyota (TM) - Get Toyota Motor Corp. Report showed off a concept car (the Concept-i) that uses AI to analyze a driver's behavior and mood, and make suggestions in response. Honda (HMC) - Get Honda Motor Co. Ltd. Report also unveiled an AI-packed concept car, and Nvidia CEO Jen-Hsun Huang used his CES keynote to announce that his company is working on AI Co-Pilot, a solution that keeps track of a human driver's environment, and also does thing such as read lips and track face movements to understand what a driver or passenger is up to.
What perhaps isn't appreciated enough amidst all these announcements is how much additional bandwidth and/or processing power many of these solutions will need -- particularly, autonomous driving systems. A Mobileye (MBLY) exec told me his company could have $400 to $500 in content within each fully autonomous car that uses its solutions; that's about 10 times what Mobileye gets for a single driver-assistance feature such collision-avoidance or lane departure warnings.
An engineer for chipmaker Microchip (MCHP) - Get Microchip Technology Incorporated Report mentioned that some autonomous systems will require multi-gigabit networking links to handle all the high-resolution video the systems will take in of their surroundings. And Intel previously forecast that a single autonomous car will ingest 4TB of data per day, and is looking to put its Xeon processors -- far more likely to be found in servers than cars today -- in some autonomous systems. The company also sees these systems uploading and downloading a lot of data via 5G networks.
Many CES attendees have been anything but shy about letting everyone know they've got religion about cars. In addition to automakers and big parts suppliers, quite a few tech and electronics companies parked cars within their CES booths to show how they're going after the market. The list includes Corning (GLW) - Get Corning Inc Report, which created a demo car to show all the ways its glass can be used by vehicles, and Panasonic, which made sure Gigafactory partner Tesla Motors had a presence at CES by putting a Model X SUV and a Tesla charging station in its booth.
Meanwhile, Nvidia conspicuously chose to put its main CES booth in the Las Vegas Convention Center's North Hall, where the auto giants are stationed, rather than in the Central Hall, where so many tech/electronics giants are located. Qualcomm, which is about to buy top auto chip supplier NXP Semiconductor, set up a secondary booth in the North Hall to showcase its existing automotive products.
After taking it all in, one has to think Apple (AAPL) - Get Apple Inc. Report, which is not a CES attendee, will do whatever it has to in order to guarantee a strong automotive presence, regardless of any early missteps. As cars steadily evolve into massive, self-aware, web-connected computers on wheels, getting sidelined here would be much too costly.
Apple is a holding in Jim Cramer's Action Alerts PLUS Charitable Trust Portfolio. Want to be alerted before Cramer buys or sells AAPL? Learn more now.