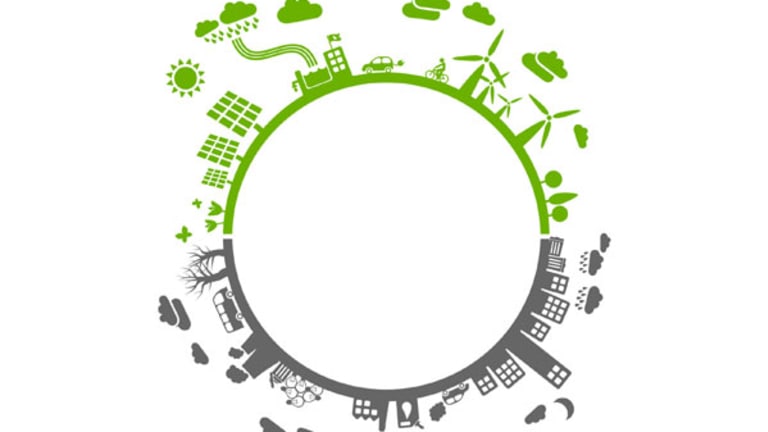 Top Solar Stock Play for 2011: Think Inputs
Solar stocks face challenges heading into 2011, raising the issue of a defensive way to play the volatile sector. We asked investors for their preferred plays. Here are the results.
NEW YORK (
) -- The solar index finished the week down roughly 7%, and all things considered, things could have been worse. Solar stocks received a little help on Friday from a rebound in the euro and less anxiety over the Euro Zone debt debacle -- at least less anxiety for a day -- and Chinese solar stocks in particular bounced back to end the week.
Canadian Solar
(CSIQ) - Get Canadian Solar Inc. Report
led the way, buoyed by an upgrade to buy from Macquarie Securities, and was up 7.5% on Friday. The Macquarie upgrade of Canadian Solar was notable, since Macquarie analyst Kelly Dougherty has been pretty tough on Canadian Solar in response to recent missteps by the Chinese solar company.
>>CSIQ Reputation: a Weakened Currency?
So the Street is getting more constructive on Canadian Solar. Investors, on the whole, though, are still skittish about the sector. The recent losses are still pretty steep for solar stocks, compounded by the bearish call this week by Credit Suisse on oversupply in 2011.
>>Solar Losers: Credit Suisse Call Sends Sector Slipping
Jinko Solar
(JKS) - Get JinkoSolar Holding Company Limited American Depositary Shares (each representing 4) Report
was the poster-child for the selloff, down 20% over the past five trading days. No surprise, as it has run up more than 100% since its IPO in May.
Anyone who follows the fortune of solar stocks must take perverse pleasure in seeing their money toyed with -- and must have seen a sector selloff as a likelihood ahead of annual feed-in tariff cuts in Germany. After several months of rallying, not experiencing a selloff would have violated Newton's First Law of Solar Stock Trading Motion: for every bullish action there is an equal and opposite bearish reaction.
Credit Suisse was far from the first to lay out the bear thesis for solar, and
TheStreet
has noted several times in recent weeks that profit-taking in solar stocks might be right around the corner.
>>Solar Stocks: Time to Take the Money and Run?
In fact, given the uncertainty among investors about the huge capacity increases being made by solar companies amid uncertain demand, last week
TheStreet
ran a poll asking investors if the best offense was a good defense when it came to solar stocks ahead of 2011. Specifically, the poll asked,
What's your favored strategy for solar stocks on a supply chain-specific basis?
For the purposes of the poll, solar was broken up into four segments: (1) module companies with project pipelines; (2) low-cost Chinese module makers; (3) the Chinese solar input players in wafers and cells; (4) the solar inverter companies.
To be fair, the question probably wasn't completely fair.
After all, stock-picking is a company-specific game, and there are plenty of reasons to like, and dislike, particular solar companies that have nothing to do with where they reside in the supply chain. Additionally, the poll left out a few key ways to play the solar sector: a company like
STR Holdings
(STRI)
, which makes the encapsulant that is required for solar panel manufacturing, and is even agnostic about the module technology -- crystalline silicon or thin film.
There's also the play on solar equipment makers, like
GT Solar
( SOLR), which in some respects, is easier to model on forward-looking basis since equipment order backlogs across the tech sector allow them to lag demand slowdowns impacting earnings of companies selling downstream.
That said, GT Solar was among the Credit Suisse downgrades, and suffered a 17% decline in its share price this week.
>>Solar Stocks: After the Selloff: MEMC, GT Solar
STR Holdings has fared little better, with investors poking holes in its bull thesis based on its just-reported third quarter earnings. STR Holdings is down 20% since its earnings last Friday.
Geez. Feels like a funeral around here. Maybe solar investors should just sit out 2011.
Based on the results of the poll, investors don't plan on taking that timid route, though.
In fact, the results of the poll were somewhat surprising, at least as far as contradicting the prevailing wisdom about solar going into 2011 and a potential oversupply situation.
Roughly 35% of investors said that their consensus "best offense is a good defense" solar play in 2011 is the Chinese solar input players in wafers and cells. With the peak point in the supply constraint in wafers and cells expected to gradually decline after the fourth quarter, and the Chinese solar input players still working to prove their quickly developing vertical integration models, it might have seemed more likely that the low-cost, most vertically integrated Chinese module makers would be a more popular choice for an uncertain year.
Only 23% of poll takers, though, are betting on the low-cost module makers like
Trina Solar
(TSL)
and
Yingli Solar
undefined
to lead the way. Even the bearishly inclined Aaron Chew of Hapoalim Securities thinks that Trina Solar is one of the safer bets among solar stocks in an environment of declining prices and oversupply.
The low-cost Chinese module makers weren't even the second-most popular solar pick for 2011, though, and this is where the poll really left
TheStreet
scratching its head as to whether the poll results merely reflected the self-interest of a small group of shareholders already beholden to certain solar companies and tied to dreams of funding their unborn child's college educations in 2030 through green energy.
Approximately 30% of poll respondents are betting on the solar inverter companies to be the best defensive play in 2011 across the solar supply chain. Yet there seems growing consensus, at least among the research community, that 2011 is shaping up to be the year in which the solar inverter group goes through the type of demand oversupply and pricing inflection that the module guys have been dealing with for years already.
Just look at the recent performance of
Power-One's
(PWER)
stock price to judge how anxious the shorts are to see the inverter inflection point be reached.
>>Solar Losers: 5 Keys to the Power-One Selloff
Far and away in last place among consensus picks for the way to play the solar supply chain in 2011 was the U.S. solar companies with project pipelines. Only 12% of poll respondents like this strategy -- which is, again, somewhat surprising given that there's at least a decent case to be made that a captive sales channel with fixed contract pricing at a time of mass oversupply would, in fact, be the most defensive of all solar company strategies.
Then again, logic ... solar stock trading ... just putting those words near each other is a logical contradiction, or at least a dubious semantic arrangement of syllables.
In the end, whatever solar investors think the best offense is going to be in 2011, they better be prepared to defend it against the shorts. The reds of the shorts' eyes might not be visible yet, but the fact that they see solar stocks bleeding red in 2011 seems, as usual, self-evident.
-- Written by Eric Rosenbaum from New York.
RELATED STORIES:
>>Solar Stocks After the Selloff: MEM: GT Solar, MEMC
>>Solar Losers: Credit Suisse Call Sends Sector Slipping
>>Solar Stocks After the Selloff: GT Solar, MEMC
>To contact the writer of this article, click here:
Eric Rosenbaum
.
>To follow the writer on Twitter, go to
.
>To submit a news tip, send an email to:
.