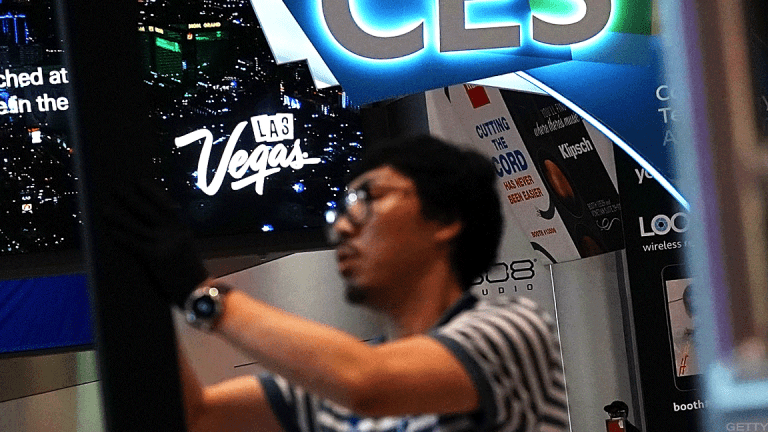 Top 5 Investing Takeaways From CES 2018
Tech stocks are poised to get a boost from many of this year's top CES announcements, including Amazon and Google's focus on voice assistants, the autonomous driving revolution and streaming video.
The annual consumer electronics event in Las Vegas isn't just a place to check out wacky gadgets -- it's also where many of Silicon Valley's top companies make big announcements that could end up being integral to their respective businesses. 
Facebook (FB) - Get Meta Platforms Inc. Class A Report , Amazon (AMZN) - Get Amazon.com, Inc. Report , Alphabet (GOOGL) - Get Alphabet Inc. Class A Report , Nvidia (NVDA) - Get NVIDIA Corporation Report and Intel (INTC) - Get Intel Corporation Report are just a few of the tech juggernauts who were front and center at CES 2018 this week, many of them unveiling partnerships and products that are likely to serve as major trends heading into earnings season and beyond. If they weren't on the main stage, their names were seen on booths, billboards, monorails and other advertisements, like the Google Assistant Playground, which included a giant, twisting slide to show off their voice-activated smart speaker. 
Hundreds of announcements came out of CES 2018, but only a few are likely to move the mega-cap tech stocks. Here's the top five investing takeaways from CES 2018: 
1. Google Assistant and Amazon Alexa will be the next frontier for advertising. 
Amazon and Google were competing head-to-head at CES this year, as they tried to push their digital assistants onto as many new platforms as possible. 
Facebook,Alphabet, Nvidia and Microsoft are holdings in Jim Cramer'sAction Alerts PLUS Charitable Trust Portfolio. Want to be alerted before Cramer buys or sells FB, GOOGL, NVDA and MSFT? Learn more now.
It begs the question of when Amazon and Google will start to monetize their digital assistants, according to Evercore analyst Anthony DiClemente. Many people expect the companies to start incorporating advertising on Alexa and Echo platforms, and not just the interactions that take place on smart speakers, but also TVs, cars, home appliances and other devices. 
Of the two, DiClemente said he believes Amazon may have a competitive advantage in this space, given its dominant position in the e-commerce market. Amazon may already be testing ads on Alexa, and consumer products companies have discussed allocating marketing dollars to ads on Alexa. 
"We don't discount the possibility of a Prime customer asking Alexa to order a household good, say paper towels for example, with Alexa responding with the suggestion of reordering a past purchase or suggesting a sponsored alternative at a discount," DiClemente explained in a note to clients on Thursday. "We see the opportunity of trade promotions on Alexa as highly attractive to marketers, given consumers' expressed purchase intention and thus brands could pay on a cost-per-converted sale basis." 
2. There's room for multiple winners in autonomous driving. 
The connected and self-driving car revolution seems to have taken CES by force this year. Just about every major automaker in attendance announced some kind of partnership centered around autonomous vehicle technology. Nvidia, Intel, Toyota (TM) - Get Toyota Motor Corp. Report , Ford (F) - Get Ford Motor Company Report , Lyft and many other companies made announcements tied to new self-driving car fleets, partnerships with ride-sharing and automotive companies, as well as software used to power autonomous vehicles. 
The news not only gave a glimpse into where the industry may be headed next, but also proved that self-driving technology will have implications beyond just mobility. Toyota's e-Palette concept car illustrated what could be the future of retail, as its autonomous shuttles blend the online and offline shopping experience, putting retailers on the road and directly to consumers. It also announced a self-driving technology platform that can be applied and modified specifically for each partner's use, a group that now includes Amazon, Uber and Yum Brands' (YUM) - Get Yum! Brands, Inc. Report Pizza Hut. 
Companies that develop software platforms for autonomous vehicle producers may be the best off, DiClemente said.
"We contend a platform strategy has a distinct competitive advantage, whereby offering integrated autonomous sensor/software solutions to original equipment manufacturers at little-to-no margin in exchange could unlock exclusive rights to generate high margin platform revenue streams (and the data)," DiClemente explained. "Our analysis of more bullish scenarios suggests that if autonomous vehicles reach low-double digit penetration of U.S. vehicle miles traveled, platform net revenue could exceed $85 billion in 2030." 
Interestingly, DiClemente contends that Alphabet's Waymo (which wasn't present at CES 2018) still remains the clear leader in this space, given their progress with advanced autonomous technology. 
3. The digital ad duopoly is about to get even stronger.
CES 2018 gave an idea of where digital streaming might be headed next, as it becomes easier than ever for consumers to access streaming services from a variety of platforms. Specific announcements, such as Roku's (ROKU) - Get Roku, Inc. Class A Report TCL Smart Soundbar, should benefit Netflix (NFLX) - Get Netflix, Inc. Report , Hulu and Amazon Prime Video, as consumers can now control their Roku device using their voice. So should the plethora of announcements surrounding Alexa and Assistant-enabled TVs. 
Meanwhile, Facebook and Google's stranglehold on the digital advertising market is probably about to get even stronger. In the coming years, a large portion of the digital video growth will come from ad-supported channels, "given the blurring lines in TV and digital ad budgets," DiClemente noted. He believes this trend has the potential to benefit Facebook and Google most, both of which have ad-supported digital video offerings, including Facebook's Watch tab and YouTube Red. 
4. Silicon Valley giants have yet to warm up to blockchain and cryptocurrencies. 
There were endless announcements tied to many of this year's biggest tech trends, including artificial intelligence, augmented reality, virtual reality, autonomous vehicles and drones, but one big trend was absent: cryptocurrencies. 
Bitcoin, Ethereum and other digital currencies have experienced an astronomical rise this year, attracting interest from nearly every market, from the finance industry to consumer goods companies. And while there are plenty of startups throughout Silicon Valley that are built on or have expressed interest around cryptocurrencies and the blockchain, very few tech giants have developed a dedicated strategy in the area, aside from Facebook CEO Mark Zuckerberg, who mentioned
that he's looking into the technology. Outside of some talk at CES around using blockchain as a means of data security, DiClemente noted that there weren't many high-level discussions there on crypto. 
5. Virtual reality technology is still in its very early days. 
Facebook's Oculus and Lenovo both introduced virtual reality headsets at CES 2018 that are lighter, cheaper and untethered from a personal computer. That reflects the larger trend of making advanced visual devices more consumer-friendly, such as Vuzix's (VUZI) - Get Vuzix Corporation Report $1,000 Blade smart glasses, which only weigh three ounces, compared to Microsoft's (MSFT) - Get Microsoft Corporation Report  HoloLens headset, which weighs more than a pound and costs $3,000.
Still, DiClemente maintains that we're a ways away from widespread virtual reality adoption, due to computing power restraints, a shortage of must-have content and few consumer use cases. Additionally, many virtual reality devices on the market are priced out of reach of the average consumer. As a result, if consumers can't find a practical application for VR headsets in their daily lives, they'll be unlikely to reach deep into their wallets for the product.
More of What's Trending on TheStreet: